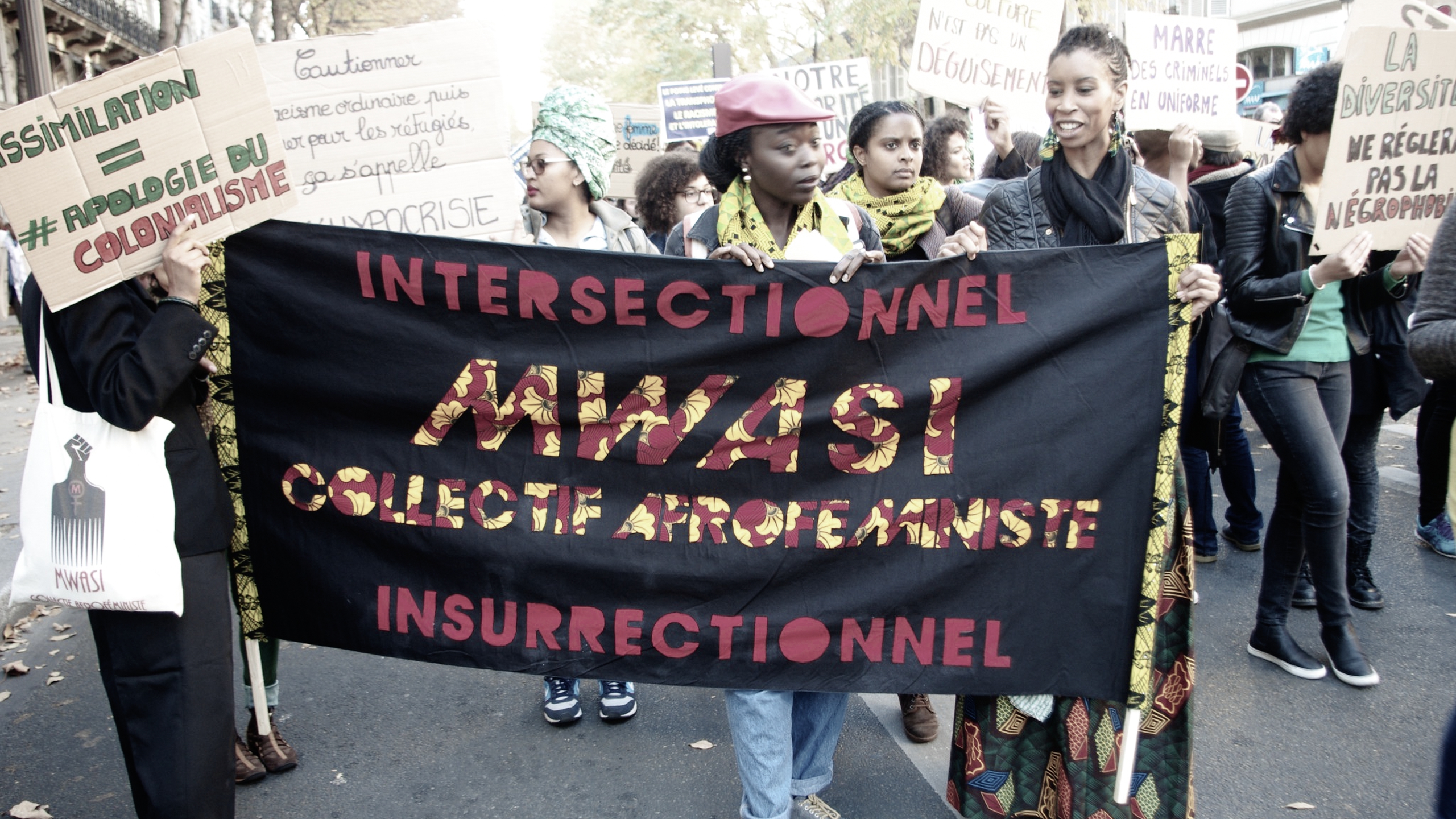 Those Who Fight For Us Without Us Are Against Us: Afrofeminist Activism in France
{ Bad New Times | Books }
---
An archive of French Afrofeminist thought and organising, a tradition which dates back to the beginning of the twentieth century.

2478 words / 10 min read
---
If one didn't know better, one would think that Afrofeminism in France started with us, the Mwasi Collective. However, the tradition of Afrofeminist thought and organising in France dates back to the beginning of the twentieth century. When two sisters, Paulette and Jeanne Nardal, started a literary club in their apartment in Clamart, Paris, it quickly became a hub for Black intellectual thought to flourish in the 1920s. The Nardal sisters focused on creating a safe space to discuss Black literature way before the language surrounding safe spaces was even uttered. They provided an environment where Black minds were free to critique their reality without boundaries.
In this chapter we talk about the movements and individuals that followed in the Nardal sisters' footsteps. Be it via Twitter, academic institutions or occupying public space, Afrofeminists in France have been building resistance against patriarchal, racist, capitalist, ableist, colonial French society by any and every means necessary. The legacy of Black migrant women-led organisations such as la Coordination des Femmes Noires (1976–80) and le Mouvement pour la Défense des Femmes Noires (MODEFEN, 1981–94) laid the foundation for the activism we claim today. One can't speak of Afrofeminism and other forms of Black feminism without mentioning an essential factor: safe spaces or non-mixed environments. One of our biggest obstacles as Afrofeminists is having our spaces and right to meet privately respected, not questioned or attacked as reverse racism. As we near the 100-year mark between the Nardal sisters' arrival in France and our own movement, we gravely realise that little has changed in 100 years. Anti-Blackness still fuels state racism in France: Makomé M'bowole, Bouna Traoré, Luwam Beyene, Lamine Dieng, Adama Traoré, Marie-Reine are just a few of the names of the victims of French police brutality over the last century.1 Archiving our movements is as political today as it was back then. We do so as a testament to our history of Afrofeminist existence, resistance and brilliance.
Afrofeminists in France have been building resistance against patriarchal, racist, capitalist, ableist, colonial French society by any and every means necessary.
PAULETTE AND JEANNE NARDAL
The origins of Afrofeminism in France can be traced back to the Nardal sisters in the 1920s. Upon their arrival in France from Martinique, Jeanne Nardal and her sister Paulette Nardal (1896–1985)2 started a weekly literary salon in their apartment to encourage critical Black thought. At the time, Paulette was a writer, a journalist and the first Black woman to study at La Sorbonne. Her sister Jeanne was also a writer, philosopher and political essayist. Together they carved out a space where the Black intellectual elite, such as Aimé Césaire, Nicolas Guillen, Léopold Senghor, Langston Hughes, met to think about and debate Black French identities.
In doing so, the Nardal sisters both facilitated and contributed to the theorisation of Blackness or La Négritude. Together the Nardal sisters produced reviews, books, and studies on Blackness like Le Revue du Monde Noir, and argued why Blackness should be understood as a global, diasporic phenomena. In our own tribute to the Nardal sisters, Mwasi created les Cafés Afrofem, an ephemeral brave space where we meet and discuss topics that affect our day-to-day lives as Black women and femmes in France.
LA COORDINATION DES FEMMES NOIRES (1976–81)
In May 1976, a group of African and Caribbean women created la Coordination des Femmes Noires (or le Mouvement des Femmes Noires) in Paris. This activist group brought together African and Caribbean women, most of whom were university students and young intellectuals to fight against female genital mutilation (FGM), polygamy, racism, neocolonialism, exotic or miserabilist representations of Black women and women's rights in general.
In July 1978, they argued:
From the confrontation of our experience as women and as Blacks, we have realised that the history of our struggles, in our countries and in our migration, is a history in which we are denied and falsified. This is why our struggle as women is above all autonomous because we fight against the capitalist system that oppresses us and in the same breath, we fight the contradictions from activists who pretend to fight for socialism yet still perpetuate in their practice, a domination with regards to women that they would typically denounce in other areas.3
This analysis of left-wing politics, in which Black women experience racism and sexism in supposedly liberatory spaces, remains as true today as it was almost 40 years ago. Also noteworthy is the necessity of organising autonomously—in non-mixed spaces—in order for Black women to authorise ourselves. Mwasi takes inspiration from this autonomous organising in our work today.
La Coordination des Femmes Noires also participated in anti-Apartheid initiatives in solidarity with their South African siblings. The group disappeared at the beginning of the 1980s but they paved the way for other organisations of Black women in France to exist after their time.4 Gerty Dambury, one of the then members still lives and works in Paris today and continues artistic and activist work individually as well as part of 30 Nuances de Noires, a Black feminist marching band.
LE MOUVEMENT POUR LA DÉFENSE DES DROITS DE LA FEMME NOIRE (MODEFEN, 1981–94)
Cameroon-born journalist and writer Lydie Dooh-Bunya created le Mouvement pour la Défense des Droits de la Femme Noire (MODEFEN) in 1981. The movement opposed racism and sexism while promoting the emancipation of Black women.5 In an interview on the condition of Black women in France, Dooh-Bunya denounces the lack of space for her and her Black sisters in the white-dominated feminist movements:
Our [white] French feminist comrades showed us that they were capable of being in solidarity; their solidarity was crucial to us, and even flawless, with regards to FGM. That being said, we had other issues that were specific to Black women to discuss with them: racism at work, racism for housing, at school, when our children are excluded or killed; because it is common that a child is killed for being African or Arab. We regret that more [white] women aren't more solidaristic pertaining to these human rights violations; or at the very least, that they don't show their solidarity by various actions. This is why it is essential that we, Black women, do not become wagons for others struggles, but that we too say out loud what oppresses us and what we expect from others.6
The organisation ceased to exist in 1994 but the impact of its members' struggles continues with the grassroots organising against police violence against Black and brown French people.
ATOUBAA (2016–PRESENT)
Atoubaa is a blog by and for Black French women, created by Rhoda Tchokokam. On their platform, they write:
Atoubaa was born out of the desire to see and observe ourselves and document existences that are continuously ignored. This blog, named after our editor-in-chief 's mother, is a tribute to the experiences that made our own possible, but it's also an exploration of Black women's creativity. How do they express themselves? How do they represent themselves? Who are the subjects of their artwork? In an attempt to answer those questions, we turned to visual art. The answer(s) we found were quickly dismissed as incomplete. Our creativity cannot be limited to a digital, visual experience. It manifests itself in poetry, music, physical space and defines the way we view the world. We encourage these different forms of expression by creating a platform that understands the importance of legacy, a space that acts like an intersection of [our] past, present and future. What motivates us is providing space for the women whose voices we refuse to listen to. Atoubaa aims to act as a digital gallery where Black women combine art, culture and well-being.
Atoubaa has contributed to the positive representation of Black women since its inception, promoting art by Black teenagers who wouldn't be recognised as 'artists' in the white-dominated art world. Their contribution is essential in the decolonisation of the internet from whiteness and the English language. Indeed, creating space for Black French women to speak about themselves and their peers in their own vernacular, thereby bypassing the omnipresence of hegemonic North American Blackness is an inherently political act. The possibility of Black narratives not merely existing but being amplified in other territories than the United States is crucial to the future of Black representation. The acknowledgement of nuance, context and our respective colonial legacies is a revolutionary goal if we wish to value all Black narratives across the diaspora.
The possibility of Black narratives not merely existing but being amplified in other territories than the United States is crucial to the future of Black representation.
SCIENCESCURLS (2016–PRESENT)
Higher education has always been a space of oppression and misrepresentation not only for people of colour, but for Black women in particular. The lack of representation in curricula as well as tutors and professors are some of the reasons that most Black women students feel neither valued nor wanted in academic spaces.
In 2016, Black and brown students at the Paris Institute of Political Studies, Sciences-Po, created SciencesCurls. Their association aims to raise awareness about 'textured hair' in order to call out and challenge offensive stereotypes in academic contexts.
In spring 2017, only eight months after the collective was founded, the Faculty of Political Sciences tweeted about the student initiative using a sheep emoji to address them.
The group took to Twitter to confront their faculty and launched the #NousNeSommesPasVosMoutons ('we are not your sheep') hashtag to spread the word and demand an official apology from the school. The backtracking that followed (the tweet was deleted from the faculty's account) and reluctance to issue an official apology (instead, they issued a Facebook status) reflect the yawning gap that exists between white French academic institutions and their non-white students.
FRENCH TWITTER'S AFROFEMINISTS
France's 'Black Twitter' is very active and fruitful. Self-identified Twitter-Afrofems have become known for their witty and insightful commentary on society and culture. Economiss, Kiyemis, La toile d'Alma, Mrs Roots, Colonel Nass, Many Chroniques, Le blog d'Elawan, Keyholes and Snapshots, Naya la Ringarde are part of a growing online community who carry the voices of Black French women. Some are artists and writers, others are school teachers, students, entrepreneurs. They share their analysis of pop culture, literature, racism, sexism, misogynoir, neocolonialism, classism, fatphobia, police violence and Islamophobia and promote more nuanced representations of Black French women which break with exotic and racist stereotypes.
30 NUANCES DE NOIRES (2016–PRESENT)
30 Nuances de Noires is a choreographic marching band which aims to question the occupation of public space by Black feminine bodies. The decision to combine dancers and musicians is a nod to marching bands in New Orleans, USA. The marching band was founded by Sandra Sainte Rose Franchine, an Afro-Caribbean choreographer and dancer. When speaking about the marching band, she says: "Dance becomes political when the stakes, on top of being unifying, question the spectator's gaze and viewpoint."
Beyond being a symbol of resilience, her goal is for 30 Nuances de Noires to be a space of self-(re)affirmation. Historically, Black communities have always shared their musical and dance culture and practice in places of socialisation such as clubs, cabarets, battles and, naturally, in the streets. In communities across the Black diaspora, music, dance and customs contribute not only to the memory and maintenance of African heritage but also to its reinvention through spaces of resistance like these. Flamboyance, strength, re-appropriation of one's body and politics in the streets and in public parks allow these women to imagine a world in which they are more visible and less monolithic; an ode to the plurality of Black feminine existence not merely through but beyond their performance.
CONCLUSIONS
Many of the women in this chapter call themselves Afroféministes. A new term for historical struggle for justice and liberation. Women of the African diaspora have carried Black feminism(s) everywhere colonialism and patriarchy have operated. France is no exception to the rule. Its colonial past and its current neocolonial policies have been denounced and challenged by generations of militant Black women; alongside their non-Black comrades, among men or as part of non-mixed organisations. As children of the digital era, today's Afrofeminists use new technologies to continue our elders' militant work. The internet has turned out to be a precious tool in the connection of Black stories of resistance across the diaspora. Online platforms are crucial tools to amplify the suppressed voices of Black women in France. Black women are carving out spaces on the web to bring their struggles to the front line, where white feminism and/or patriarchal anti-racism have failed them.
However, this outspokenness isn't welcomed by everyone. The media attention and subsequent backlash that Afrofeminism attracts in France perfectly encapsulates the asymmetrical balance between the hyper-visibility and simultaneous invisibility of Black women, their labour and their voices. Suddenly, French media can't get enough of us, and yet we wonder where these people disappear to once it's time to march in the street in protest of the death of another Black man at the hands of the police. Where are they to demand higher wages for Black domestic workers who are often women?
Celleux qui se battent pour nous, sans nous, sont contre nous. Those who fight for us without us are against us. The necessity to write our own stories and create our own archives, like we have done with this chapter, is precisely for this reason: to make sure history doesn't get told by anyone other than those who lived it. We, members of the Afrofeminist collective Mwasi, wish to honour and transmit the memory of our sisters' resistance as we follow in their footsteps and pursue their work. We, the daughters and children of our mothers and grandmothers who fought for Black people and women's rights, vow to inspire our communities with positive images and stories of our strength, resilience and sisterhood. For us, by us.
Many thanks to the comrades at Pluto Press for allowing us to publish this edited extract. To Exist is to Resist: Black Feminism in Europe is edited by Akwugo Emejulu & Francesca Sobande, and is available to purchase now from the Pluto website. Support Pluto's crucial, radical work by subscribing to their Patreon.
Pluto have generously offered a 35% discount on this book to New Socialist subscribers at the level of £3 or above per month.
If you enjoyed this extract, why not support Mwasi Collectif with a donation?