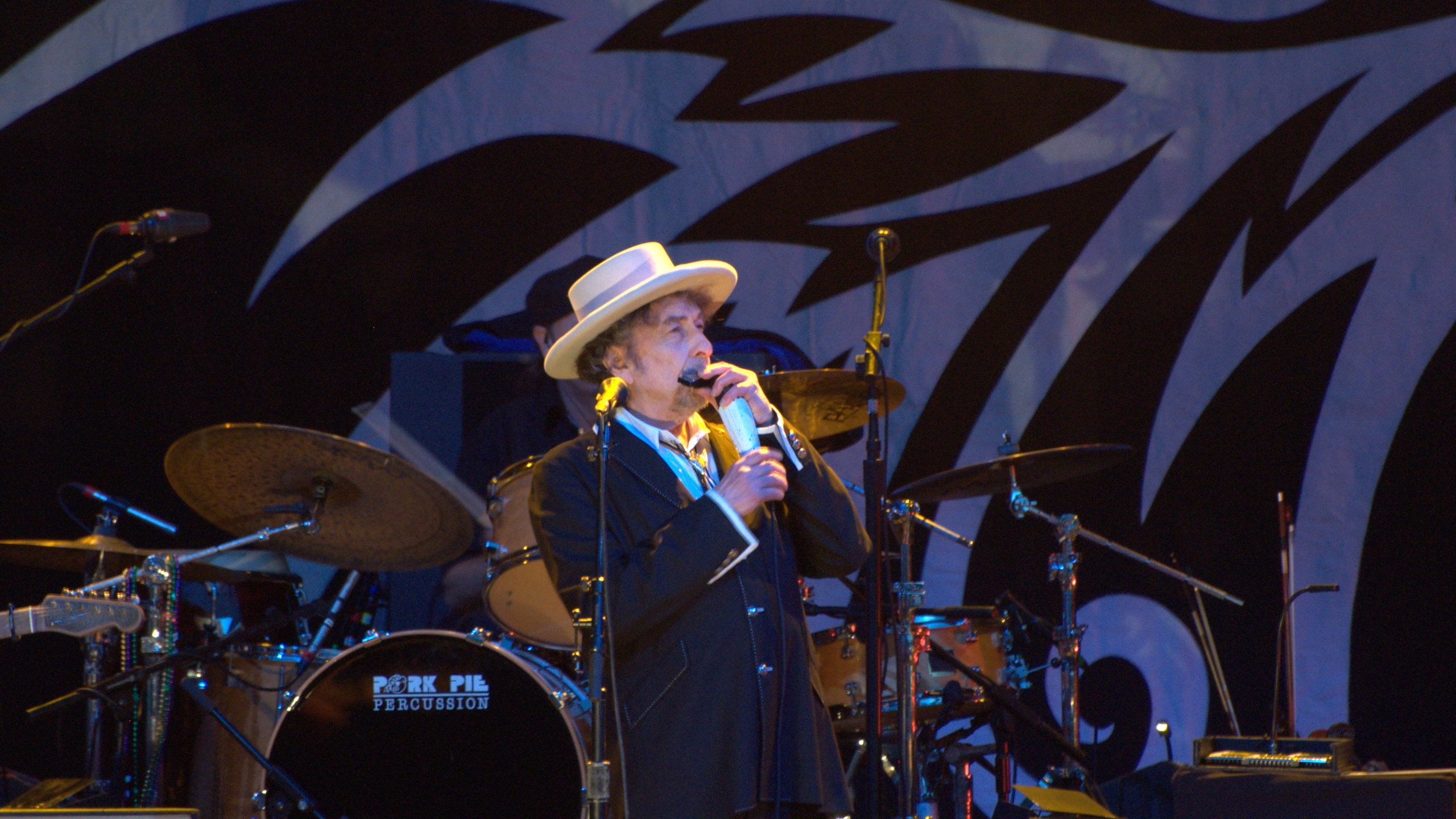 Other People's Songs: Bob Dylan's Never Ending Tour, and evolution through derivation
Image: Bob Dylan in Finsbury Park, by Francisco Antunes, via Wikimedia
{ Bad New Times | Culture Is Ordinary }
---
The Coronavirus outbreak may have sidelined Dylan as a touring musician, but it has also seen the release of his first new work as a songwriter since 2012, "Murder Most Foul".

6202 words / 25 min read
---
I was saddened to learn on May 25th of the death of Bucky Baxter, a Florida musician with the chops to match a quintessentially country name. Recruited straight out of Steve Earle's Dukes, Baxter played pedal steel guitar in Bob Dylan's band between 1992 and 1999, and his keening steel can be found on recordings to lend a necessary lightness to the often brittle sound of Dylan's '90s band, defined as it was by its frontman's own angular stabs at lead guitar, and perennially mutating vocal phrasing. I was heartened, meanwhile, to learn that Larry Campbell - who was both bandmate of and sort-of replacement for Baxter, playing guitar, pedal steel and virtually every stringed instrument under the sun for Dylan from 1997 to 2004 - has recovered from Coronavirus, celebrating by sharing a video of he and his wife, the musician Teresa Williams, covering the Reverend Gary Davis' "Let Us Get Together".
Baxter and Campbell are just two of the characters I've felt a strange closeness to in the midst of my own lockdown obsession - listening to virtually every recording I can find of shows from Bob Dylan's so-called Never Ending Tour (NET), which began in 1988, has since consisted of roughly 100 shows a year, and would be going strong to this day had the Coronavirus not forced him to cancel all his scheduled dates for 2020, making it likely the first year since 1985 in which nobody will have had the opportunity to see Dylan on tour. Dylan himself rejects the "Never Ending" label, saying that everything must come to an end, but I hope that this isn't it. As it stands, I think the thirty-one-year trek is an astounding feat, a daring, one-of-a-kind spectacle that places one of music's greatest back catalogues in a state of constant reinvention.
Among its defenders, this view is certainly the received wisdom. But unqualified it somewhat overstates the iconoclasm of the NET experience; there's consistently been far more of a conventional rock show in what Dylan does than than the odysseys of unrecognisable experimentation he's reputed to subject his audiences to. But, from the dark lighting and lack of big screens, to the pointed refusal to sing the precise vocal melodies of any of his songs' studio renditions (something that, in his defence, was in evidence at least as far back as 1975 - when compared to contemporaneous renditions by their author, many of Dylan's classic songs' vocal melodies on record feel like a variation that that day, in that take, just happened to stick), I understand that there are many factors that might alienate someone from a Dylan concert in a way that there might not be to, say, a show by the Rolling Stones. However, what fascinates me about the Never-Ending Tour is the contradiction in what feels like a perpetual tug of war between the standard beats of the boomer-friendly rock show and something deeper, something that pulls from even further in the past, and yet looks to the future more than any Stones stadium spectacular.
Dylan has supported and played with the Stones at a few of those stadium spectaculars. And a lot of the time his band just play slick, earthy but, yes, reasonably faithful arrangements of his songs. Often the most drastic rearrangements come after a short break from touring, when Dylan's had time for a new round of rehearsals with the band - it'd take forever to write whole new melodies, lyrics and arrangements to everything in a catalogue as large as his, and, pre-2013, when his setlists changed substantially every night, the arrangements to many of the more off-the-cuff song choices often hewed reasonably close to those on the record. With exceptions - notably in 2014, when shows might feature only two or so, among large amounts of post-1997 material, I've rarely heard a Never-Ending Tour show that didn't feature a large number of commonly acknowledged classics from the 1960s and 1970s; often too many, if you're listening obsessively to an even larger number of shows. Everyone has their own bugbears when it comes to Dylan's voice, but he was never a conventionally mellifluous singer to start with, always played around with his phrasing, and adapting the way one delivers one's songs to the passage of time is something any singer of a certain age will have to go through. Jagger has found his own - often dancing-based - ways of coping with a diminished range, and Dylan's particular way of "mangling melodies" (a phrase he is on record as disdaining) is at least more conventionally musical than the comparable manner of Lou Reed.
The scope of the NET is too wide to properly encompass in one article - even the most comprehensive study of the tour, Andrew Muir's Still On The Road, trails off around 2005, in accordance with the onset of the author's own NET fatigue - a shame, because my own interest in what Dylan's doing live has gradually picked up in recent years. The significance afforded to the tour in Dylan's overall body of work is contested; Muir has criticised another Dylan writer, Ian Bell, for his perceived dismissal of much of it. But while we crudely lump it all in as one, the Never Ending Tour has several distinct eras with their own character and texture, dependent on Dylan's preferred musical aesthetic(s), the composition of his band, what new music he has in circulation, what old music he's listening to, and which of his past work he feels has a place in his current repertoire.
There are some constants in the Never Ending Tour - a Hendrix-style arrangement of "All Along The Watchtower" (his single most-played song) has generally occupied a slot either near the start or towards the end of the set, providing a burst of rock and roll to literally thousands of shows (although it sounded more like reggae in 2018) and you're highly likely to hear some permutation of "Blowin' In The Wind" - be it as a folky group singalong in the '90s or in waltz timing in the 2010s. Some things will change constantly, like Dylan's band in the 2000s, then stay the same, as its lineup did from 2009 to 2018. Some will change suddenly and not revert, like when Dylan adopted keyboards as his primary instrument in 2002, never to go back to the guitar other than for one-off songs. From 2006 to 2011, the keyboard in question was a brash electric organ nicknamed - according to Still On The Road - the "I.O.T." by fans, which stood for "Instrument of Torture". While organ plays a key part in many of Dylan's greatest studio recordings, he did not tend to play it himself on those, and his switch to grand piano in 2012 was more than welcome. While Dylan is not virtuosic as a keyboardist, neither is he on the guitar, and though his preference for the former still draws complaints, with the horrors of the I.O.T. consigned to the past, these complaints are more the reflection of a nostalgic attachment to the image of the '60s Dylan, clutching a battered acoustic or a shiny black telecaster, than a longing for the actual music he'd play on the instrument. The sound of His Band, ever-billed on the posters, has evolved from a punky howl of purpose in 1988 (albeit with the odd strange slap bass solo befitting the era but absolutely not the song), to a jam-heavy melange influenced by Dylan's friends the Grateful Dead in the 1990s (in 1992 and 2004 Dylan experimented with Deadlike two-drummer lineups), to the tightly drilled channelling of virtually any band-based music you care to name predating the advent of rock that culminated in the 2015-17 Sinatra Era.
Musicians who've played with Dylan don't tend to give many interviews - loyalty is prized within his camp, and one could speculate that he's not averse to the signing of NDAs. A big part of having a lasting relationship with Dylan seems to be knowing not to shoot your mouth off to the press - there are precious few interviews with Tony Garnier, his bassist of over thirty years and probably his closest musical collaborator in that time, and longtime guitarist Charlie Sexton told Rolling Stone in 2009, "I've never given an interview about Bob. Ultimately he is my friend, and it's not my place to talk about his business." (Sexton has since been somewhat more forthcoming about the band's musical process.) In his charmingly powerpoint-y road documentary Bob Dylan Never Ending Tour Diaries (available to view in its entirety on YouTube), Winston Watson, Dylan's drummer from 1992-96, recounts how he learned not to talk to journalists after he hurt Dylan's feelings by suggesting to one that the singer never spoke to him (Watson says this was not true, and Dylan would certainly deny the charge. He told Bill Flanagan in 2017; "I hang out with my band on the road.").
Where they do talk to the press, though, there are common traits to their accounts. One is that he values a musician's ability to play other people's music as much as his. This might sound like a truism; of course an artist of Dylan's statue is going to recruit experienced musicians with impressive CVs. But once they join his band, they're not simply playing Bob Dylan music, whatever that may be. GE Smith, guitarist for the first four years of the Never Ending Tour, has told an anecdote about an awkward first rehearsal where the ice was only broken when Dylan asked if the band knew the Scottish folk song "Pretty Peggy-O". "Sure!" they enthusiastically responded. "You do?!" Dylan exclaimed. "We played for hours without stopping," Smith recalls, "It was really fun." He attributes his subsequent hiring to the "Pretty Peggy-O" moment, and claims several guitar-bass-drum combos before his were let go because they did not know the song.
Drummer David Kemper told Uncut that, for Dylan, the covers were part of the process of creating original music. Of recording 2001's Love & Theft, he said,
the influences were really so old on that record. It comes from really early Americana, way back at the turn of the century, and the 1920s. And not everybody in the band was familiar with that style of playing. And I know that the songs that he would bring in would be these amazing examples of early Americana. Nobody that I know, knows as much about American music as Bob Dylan. He has spent so much time trying to understand, and collecting these songs – it was like a never stopping resource. He was always coming up with these songs or artists that I had never heard of. And then when we went in and recorded Love And Theft it was like, oh my God, he's been teaching us this music – not literally these songs, but these styles. And as a band, we're familiar with every one of these. That's why we could cut a song a day for 13 days and the album was done.
Chris Shaw, Dylan's longtime recording engineer, would elaborate on this process in the same interview series; "He might say, "Well, I'm kinda hearing this like this old Billie Holiday song." And so we'll start with that, the band will actually start playing that song, try to get that sound, and then he'll go, "Okay, and this is how my song goes."" Some would say Dylan incorporates the music and words of others into his own work to a fault; Eyolf Østrem, admin of dylanchords.info, would go so far as to declare 2006's Modern Times - an album featuring songs of such clear derivation as "Rollin' and Tumblin'" and ; "The Levee's Gonna Break", as well as significant borrowings from "poet laureate of the confederacy" Henry Timrod (and, of course, a name acquired via Charlie Chaplin) - to not be a Dylan album. The artist himself has compared the "evil motherfuckers" who've accused him of plagiarism to the Manchester concertgoer who called him Judas in 1966 for playing an electric guitar, and added for good measure that they "can rot in hell".
The Coronavirus outbreak may have sidelined Dylan as a touring musician, but it has also seen the release of his first new work as a songwriter since 2012's Tempest album. Seemingly apropos of nothing, on March 27th, a slightly gnomic message popped up on his Twitter account; which, it should be noted, he does not run himself. Yet, startlingly adorned by a picture of John F. Kennedy, this seemed straight from the horse's mouth:
Greetings to my fans and followers with gratitude for all your support and loyalty across the years.
This is an unreleased song we recorded a while back that you might find interesting.
Stay safe, stay observant and may God be with you.
Bob Dylan
The song behind JFK's visage was "Murder Most Foul", a seventeen-minute rumination on the president's assassination, the possibility of conspiracy (highly probable, Dylan seems to think), and the pop cultural landscape of 20th century America. I say "20th century" pointedly, as I have not heard Dylan cover a song more recent than Warren Zevon's "Mutineer" (released on the album of the same name in 1995 - although he did sing the White Stripes' "Ball And A Biscuit" with its author Jack White in 2004, two years after its release). And in Murder Most Foul - which revolves in great part around Dylan's repeated incitation to the legendary San Francisco radio DJ Wolfman Jack to play various songs - none of the tracks or artists alluded to came to prominence later than the 1980s. One of the most recent references in there is the film Nightmare on Elm Street, which came out in 1984. You could be forgiven for thinking his interest in popular music appears to wane just as hip-hop comes to define the musical landscape. As Dylan contains multitudes, however, I should clarify that he was certainly an enthusiastic early convert to rap music: in his 2004 memoir Chronicles Vol. 1 he professes a deep admiration for the late-'80s music of N.W.A., Ice-T and Public Enemy, has recited LL Cool J lyrics on his Theme Time Radio Hour, and collaborated with Kurtis Blow. Engineer Chris Shaw has said he was hired by Dylan for his work with Public Enemy. So, whatever "Murder Most Foul"s cutoff point, I'm fairly certain he does like songs made between the release of Nightmare On Elm Street and Zevon's Mutineer. Possibly even afterwards.
But what a list of songs. NPR counts 74 and, although I think some on that list are a stretch, some have counted up to 100. The references, which start coming thick and fast in the second verse, range from unmistakable megahits by The Beatles and Queen, ubiquitous phrases in popular music that could refer to any number of songs like "Let The Good Times Roll" (rhymed with "grassy knoll", where "there's a party goin' on"), traditional blues touchstones like "Deep Ellum Blues", or those of known authorship like Robert Johnson's "Crossroads", country standards by the Louvin Brothers and George Jones, two songs from The Who's rock opera Tommy, Woodstock and its dark flipside Altamont, and more films, including namedrops for Buster Keaton, Frank Capra's It Happened One Night, What's New, Pussycat? - although it's more likely he's referring to the Burt Bacharach-written theme song than the poorly remembered 1965 romcom it appeared in - and the most famous scene from Gone With The Wind. Also included are the folk blues "St. James Infirmary Blues", popularised by Louis Armstrong and the inspiration for the melody of Dylan's own "Blind Willie McTell", folk murder ballads like "Tom Dooley"lighters-aloft soul ballads like Etta James' "I'd Rather Go Blind", outlaw songs like "Pretty Boy Floyd" (performed on that last link on the very first year of the Never Ending Tour), and demands that Wolfman Jack play unspecified tracks - presumably he'd settle for any - by jazz greats Charlie Parker, Art Pepper and Thelonius Monk (rhymed with "junk" not disparagingly, but in reference to Parker's heroin habit). All named mingle with deep Kennedy lore; "three bums … dressed in rags", Parkland Hospital and the president's missing brain, Lee Harvey Oswald being "a patsy, like Patsy Cline". Were I compiling a list for NPR, I'd suggest that he references Sticky Fingaz' ambitious rap opera A Day In The Life - another genre's Tommy - with the line "business is business", but in actuality I think he's saying the mafia were involved in the JFK assassination (see also: "it is what it is"). On the day of its release, I listened to the extremely lengthy song three times in a row, declared it a masterpiece, and found it had reignited my long-held interest in JFK conspiracy theories. Then I got bored with that, and it reignited my long-held interest in Bob Dylan.
I listened to the song three times in a row, declared it a masterpiece, and found it had reignited my long-held interest in JFK conspiracy theories. Then I got bored with that, and it reignited my long-held interest in Bob Dylan.
After completing the urgent task of writing and recording a seventeen-minute song in character as the former Labour/Change UK The Independent Group MP Mike Gapes in which he confesses to the Kennedy assasination, this is the point at which I became lost in bootleg after bootleg of the Never Ending Tour, devouring all the recordings I could find of a live experience viewed by its detractors as a kind of torturous onstage mumblecore.
One of the most satisfying references on "Murder Most Foul" is a subtler one, one for which it helps to have read the liner notes for Warren Zevon's self-titled 1976 album; "play it for Carl Wilson, too / looking far, far away down Gower Avenue." This refers not to a song title, but to the final refrain of the album's final track, the majestic "Desperados Under The Eaves" - Wilson, the California icon with the sweetest voice in the Beach Boys, joins a chorus of singers on the line "and if California falls into the ocean", who then repeat the closing lines "look away, down Gower Avenue." In a rare 2009 interview with the Huffington Post, Dylan cites "Desperados…" as one of his favourites by Zevon, saying; "It's all in there." Though he is recognised chiefly as a songwriter, not an interpreter of others' songs, I can only wonder what he'd do with it if he covered this Zevon masterpiece, as he has done to other songs alluded to in "Murder Most Foul", and to four Zevon songs in 2002. In fact, these pure moments of Dylan-as-music-fan and as performer (or, in his words, "song and dance man") have often been highlights of the NET experience.
This may be, at least for the most part, in the past. The covers that would invariably pepper Dylan's sets in the 90s and early 2000s - when his shows stopped featuring designated acoustic sets, in which songs from any numbers of eras and genres could often be promised at least a couple of spots - dropped off as the new millennium progressed and, from 2013 onwards, the setlists for his shows stopped changing every night and grew increasingly static, to the point where last year he played a ten-show residency without switching a single song. That said, while his 2018 and 2019 sets consisted almost entirely of original material, it's probably safe to assume that by no means are his days as an interpreter behind him. In 2014 he started crooning "Stay With Me", popularised by Frank Sinatra, as an encore. The following year, he unveiled Shadows In The Night, an entire album of cover songs with the same lineage, which he promptly followed up with two others, the third being a triple-album. Once again his live show was full of other people's songs, but - rather than the spontaneous choices and seat-of-pants performances of years gone by - these were extremely rehearsed, controlled performances, drawn from his then-current studio releases. There were exceptions, often inspired by sad circumstances: a spirited "Learning to Fly" on the day Tom Petty died in 2017, a 2019 duet with co-headliner Neil Young on "Will The Circle Be Unbroken" in memory of both artists' former manager Elliot Roberts, or "Moon River" in 2018 in the city of its author Johnny Mercer's birth (Mercer died in 1976, so this was less of a tragic occasion - likewise a stirring "1952 Vincent Black Lightning" for his tourmate Richard Thompson in 2013). Musically, all were beautiful, and singing his heart out on these standards seemed to acclimatise Dylan to his new, lower vocal range. But this was not your father's Never Ending Tour - this was a classy evening's entertainment.
For an exhibition of the spontaneity and variety of the NET at its best, I find 2002 hard to beat. Sexton, in his final year in the band before rejoining for good in 2009, was sharing guitar duties with Campbell. In addition to their fiery leads and all-round versatility, the two were among the few souls ever brave enough to attempt to mesh voices with their boss, backing Dylan up with powerful vocal harmonies. Dylan's bandleader, as always, was Garnier, who joined in 1989 and has appeared on all studio releases since Time Out Of Mind in 1997. George Receli, who would drum for Dylan until last year, had recently replaced Kemper on drums, and fans still debate which of the two completed the definitive NET lineup. The show they played that February in Atlanta is one of the few professionally recorded (though not officially released) post-2000 Dylan shows, and the set consists of original material - largely greatest hits and songs from "Love & Theft", released the previous September (on the 11th, to be exact) - with only two exceptions, both typical of this NET era: the opener, bluegrass legends the Stanley Brothers' gospel song "I Am The Man, Thomas", and Jim Anglin's Civil War ballad "Searching For A Soldier's Grave", both showcases for how Campbell and Sexton's voices could blend with Dylan's (in a similar vein, shows from this era would often feature Elizabeth Cotten's "Oh Babe It Ain't No Lie" - personally. I must credit Dylan for introducing me to Cotten's wonderful songs, between "Oh Babe…" and his hooky '90s covers of "Shake Sugaree".)
It was the final US leg of the 2002 tour that saw a change in musical approach. Although by this point the space for extended guitar solos in Dylan's sound was ever-decreasing, his move to electric piano freed up his two virtuoso guitarists to worry less about "playing around" him - something Bob Britt, who started playing guitar for Dylan in 2019, claims his difficulty doing prevented him from joining the band around the time he played on Time Out of Mind . Indeed, Dylan maintains in interviews that his rationale for playing keyboards is in great part that the guitarists he plays with are always better than him, and that it's a decision principally about band dynamics; "it's a different band when I play guitar". But, as well as the instrumental change, new songs entered the set, drawn not from roots music but from that of Dylan's peers. As the year's second American leg began, the covers seemed fairly orthodox; "Duncan & Brady" - a live staple that Dylan had recorded in the studio in 1992, which told, sympathetically, the ripped-from-the-headlines (from 1890) story of a Duncan, a barman who shoots a too-big-for-his-britches cop called Brady dead after he storms into his bar determined to "shoot somebody just to see him die" - plus gospel songs like "Somebody Touched Me", "A Voice From On High" and the apocalypse-welcoming This World Can't Stand This Long. This would change after a month off the road.
On October 4th 2002, Dylan would play the KeyArena in Seattle. Added to his setlist were Warren Zevon's "Accidentally Like A Martyr", the Stones' "Brown Sugar", and two other Zevon songs; "Boom Boom Mancini" and Mutineer. The following night in Eugene, Oregon, Zevon's hilarious satirical rocker "Lawyers, Guns & Money" showed up too, as well as the Grateful Dead's Friend of the Devil, which Dylan had played throughout the 1990s. Two shows later, these were joined by "The End of the Innocence" by Don Henley (referenced alongside Eagles bandmate Glenn Frey in "Murder Most Foul") and Neil Young's Old Man. By the time the tour wound up in November, Old Man, Brown Sugar and Mutineer were being played at every show, and Van Morrison's "Carrying a Torch" was in the mix too. Dylan closed a show at Madison Square Garden with a heartfelt rendition of The Beatles' "Something", played in memory of his recently departed friend George Harrison, a tribute concert to whom Dylan had been unable to attend due to - naturally - touring commitments.
His earnest reading of Something was a treasure, and "The End Of The Innocence" was somehow transformed into something that at least felt profound, from the cornball '80s boomer bitterness of the original, which I'd never actually heard before I sought it out per Dylan's recommendation, and was horrified. For all his superlative songwriting talent, the songs have always been lent extra gravity by his delivery, and this applies to others' songwriting too. This is especially true of his dalliance with the Zevon catalogue, and it was these covers that would have the greatest impact of those among his 2002 repertoire. Dylan had got word that Zevon had been diagnosed with terminal cancer, and was determined to honour him in style; maybe even spread the word about an artist who, commercially speaking, was still quite marginal.
That October, he played two dates at Los Angeles' Wiltern Theatre. At the first, Zevon was in attendance, and would witness Dylan play Accidentally Like A Martyr, Lawyers, Guns & Money and Mutineer. According to a posthumous profile of Zevon, the singer told Black Crowes drummer Steve Gorman, "People had to tell me because I couldn't recognize (the songs). Nothing tells a man he's about to die like when Bob Dylan starts doing your music." Elsewhere, Zevon would say that, "There are levels past which things no longer connect, there's nothing to relate them to; there's no way to really analyze them. To hear Dylan sing not just one song, but another. It's a big thrill, but beyond the honor, it's just so strange, beyond even computing." On the final Warren Zevon album, 2003's The Wind, he would cover "Knockin' On Heaven's Door", inspired by the Wiltern shows. When Zevon - who, writer of an album called "Life'll Kill Ya" before he was even diagnosed with cancer, had always possessed a macabre sense of humour - first suggested recording the song, Gorman says "everybody laughed. It was like, yeah, this would be the time, dude." But Zevon was not joking, and his cover is passionately sincere.
Backstage before showtime at the Wiltern, Zevon had visited Dylan in his dressing room. According to the New York Times, the two "traded a long glance", Dylan offered (or mumbled, as the NYT would have it) his sympathies regarding Zevon's illness, and Zevon said he had "come to value every moment", more or less reiterating his parting words of wisdom from his final David Letterman appearance, on which he incidentally played "Mutineer"; "enjoy every sandwich". Dylan reportedly told him, "I hope you like what you hear" and, by my estimation, the tapes bear out that Zevon would have had little reason not to; in their previous shows, Bob and the band had whipped "Accidentally…", "Lawyers…", and "Mutineer" into fine shape, and each song choice seemed to play to the band's, and Dylan's, strengths (witness how, on the former, Dylan's ramshackle piano subtly falls back to let the pros in the band handle the classically-trained Zevon's complex instrumental break.) A version of Mutineer from a different show would be released on a fine Zevon tribute album in 2004, and is one of my favourite post-2000 Dylan recordings, even if it does sound suspiciously like it was recorded by a member of the audience. Few musicians are as equipped as Dylan to sing Zevon's immortal line in that song; "I was born to rock the boat." And he would continue to show admiration for Zevon - in the 2009 interview where he'd name him as one of his favourite songwriters, Dylan would cite Lawyers…, Boom… , and "Join Me In LA" alongside "Desperados...." as his favourite of Zevon's songs, which he'd call "down hard stuff."
There's something wonderfully symbiotic about Dylan's rendering of "Accidentally Like A Martyr", a clearly Dylan-influenced song with a name straight off Blonde On Blonde, particularly when he sings the line "time out of mind", five years after using the phrase as the title of the first album of what is often a late-career renaissance, possibly inspired by Zevon.
I think every record he's made since Time Out Of Mind has been a terrific piece of work, but the heart of this music lies in the concert hall, and the real renaissance began on June 7th 1988, at Concord Pavilion in California.
There's a broadcast-quality recording of the show out there, and the performance is strong: its main downside is that special guest Neil Young's scorching leads on a majority of the songs are only audible enough that you know what you're missing. There's an awful lot of professional recordings from 1988 in circulation, and a lot from the 1990s - especially 1993, a year I'm consequently well-versed in without even being especially fond of - but from 2000 on you'll be hard pressed to find any soundboard shows; there are none whatsoever on the bootleg circuit from after 2009. Fortunately, the quality of fans' audience recordings has grown considerably since the already-quite-listenable early days of the NET, and for that those making the recordings must be commended: in stark contrast to his comrades in the Dead, a Dylan show is not a hospitable environment for anybody who wishes to make any kind of unauthorised record of it.
To anyone looking for an entry point into the thirty-one years and thousands of hours of music that have constituted the NET, I'd suggest the excellent blog A Thousand Highways, whose creator has uploaded carefully constructed compilations of particular years or legs of the tour, in addition to pre-1988 live performances. These highlight reels of such lengthy sojourns are perfect for the curious but not yet fully converted; the selections are consistently apposite, the quality nearly uniformly strong, and they save having to wade through hour after hour of the same old songs. Their 2002 compilation focuses on the latter leg of the tour, and features all the covers I've mentioned in this piece plus deep cut originals like "Yea! Heavy and a Bottle of Bread" and a harmony-heavy "You Ain't Goin' Nowhere". Many of the performances I've linked to on YouTube are drawn from their mixes. "Keep Humming" covers performances of folk, blues, country and gospel covers from 1992-2002, as well as seminal standard "That Lucky Old Sun", which would later appear on Shadows In The Night. From the same era, The Lonesome Valley: Field Recordings captures the range of songs from Dylan's back catalogue that were appearing in the wildly varying setlists, with later masterpieces like "Dignity", "Tryin' To Get To Heaven", and his then-current and soon-to-be Oscar-winning single "Things Have Changed" sitting beside numerous songs from the period of 1967-70, when Dylan had all-but vanished from the public eye but continued to make some of the most influential music of his career, and some of the best in terms of sheer songcraft.
Official releases of songs from the tour are far and far between: from 1997 to 2009, some appeared as single b-sides, four performances by the Sexton-Garnier-Campbell-Receli band feature on the soundtrack to Dylan's deeply strange 2003 collaboration with Borat director Larry Charles, Masked & Anonymous (plus a couple more in the movie itself, for the brave of heart) and, in 2008, the most contemporary edition yet of Dylan's official Bootleg Series, Vol 8: Tell Tale Signs: Rare and Unreleased 1989-2006, featured eight live songs - albeit spread across several different editions - drawn from this era. The only full live album since 1988 is 1995's underwhelming attempt to cash-in on the Unplugged phenomenon, which is serviceable at best, the singer acceding to network executives' demands for a hits-based set: Nirvana's Unplugged album contains more (one) traditional folk song than Dylan's. While it's true that nobody forced him to sell out, his four 1993 shows at New York's Supper Club (all available online in pristine soundboards) are closer to what was reportedly his original vision for a much better live album.
The eight years between Tempest and "Murder Most Foul" was the longest period in Dylan's career without the release of new material, eclipsing even the seven years between 1990's Under The Red Sky and Time Out of Mind (and, even then, two new songs originally recorded for 1989's Oh Mercy were released on compilations). Like 1990-7, Dylan's prolificacy as a live performer, as well as his standards albums - the '90s equivalent were two solo acoustic records of traditional folk songs, Good As I Been To You (1992) and the following year's World Gone Wrong - have kept him present in the popular imaginary, although the sheer variety of songs performed in the 1990s probably eclipsed even the fifty-plus songs recorded as part of his "Great American Songbook" project of the 2010s. But, as of the 19th of June, there is more even than the new music, new arrangements, and new lyrics of a Dylan show to dig into: a whole album of ten new original songs, hilariously titled - in an example of his late-career penchant for adopting a kind of outlaw posture, and mirroring the increasingly violent turn of his lyrics – "Rough and Rowdy Ways" (drawn from a song by Jimmie Rodgers, the short-lived yodelling country legend who defined that genre's early years, and to whom Dylan put together a tribute album in the 1990s). As well as seven other songs, it contains his three 2020 singles – "Murder Most Foul", "I Contain Multitudes" and "False Prophet", a song that has already been accused of plagarising rock 'n' roller Billy "The Kid" Emerson's 1954 b-side "If Lovin' Is Believing", and not particularly unjustly: the chords and riff are practically identical. The credit for each one of the album's 10 songs reads "words & music by Bob Dylan", and the ethics of this are, if deserving of another essay altogether, highly dubious. Dylan certainly does not have a consistent approach to the issue, either: while "False Prophet" or "The Levee's Gonna Break" are apparently originals, on 2009's Together Through Life, he would credit blues innovator Willie Dixon - who died in 1992 - as co-writer of "My Wife's Home Town", a song that is basically "I Just Want To Make Love To You" with different lyrics. This is only Dylan's latest brush with plagiarism accusations, after he was accused of taking passages on his literary influences in the otherwise wonderful lecture he gave upon winning the Nobel Prize for Literature wholesale from their online Cliff Notes summaries.
But the band sound great on "False Prophet", and they sound like a whole different - also great - band on the two prior singles. Dylan's voice, full of the gravitas of advanced years and virtually peerless stature in the culture ("I've got the blood of the land in my voice", as he sang, is soft and sonorous on them, a braggadocious bark on "False Prophet". And his lyrics, again, are a whole other essay. In the couple of weeks prior to Rough and Rowdy Ways' release, I tried not to get burned out devouring all the available documentation of Dylan's own thirty-year equivalent of one of the works of literature he cited in the Nobel lecture; Homer's Odyssey. Happily, this was when I happened upon the large trove of 1993 soundboards.
This piece was written in that time, as I conducted this retrospective of Dylan's work in lieu of having new songs by him to listen to. Although I have reshaped it in light of the album's release, it would undersell Rough & Rowdy Ways to try and convert this analysis of the NET and its role in Dylan's creative process into a hurried "premature evaluation" of a record I'm extremely impressed by, but have lacked the adequate time to process (of particular relevance here, I was delighted to the allusion to "Duncan and Brady" on the last line of "Black Rider"). What I hope is that - if not this year, in 2021 - we get to hear these songs in a live setting, and the Rough and Rowdy band get to continue the collaboration in reshaping Dylan's vast body of work that they began on the road last year. Long live the NET, and here's hoping for Never Ending Tour 2021 - or would that be…a new tour?