Subscribe to New Socialist.
---
With the launch of our ECOLOGIES edition, we are also launching our subscription drive, #NS500.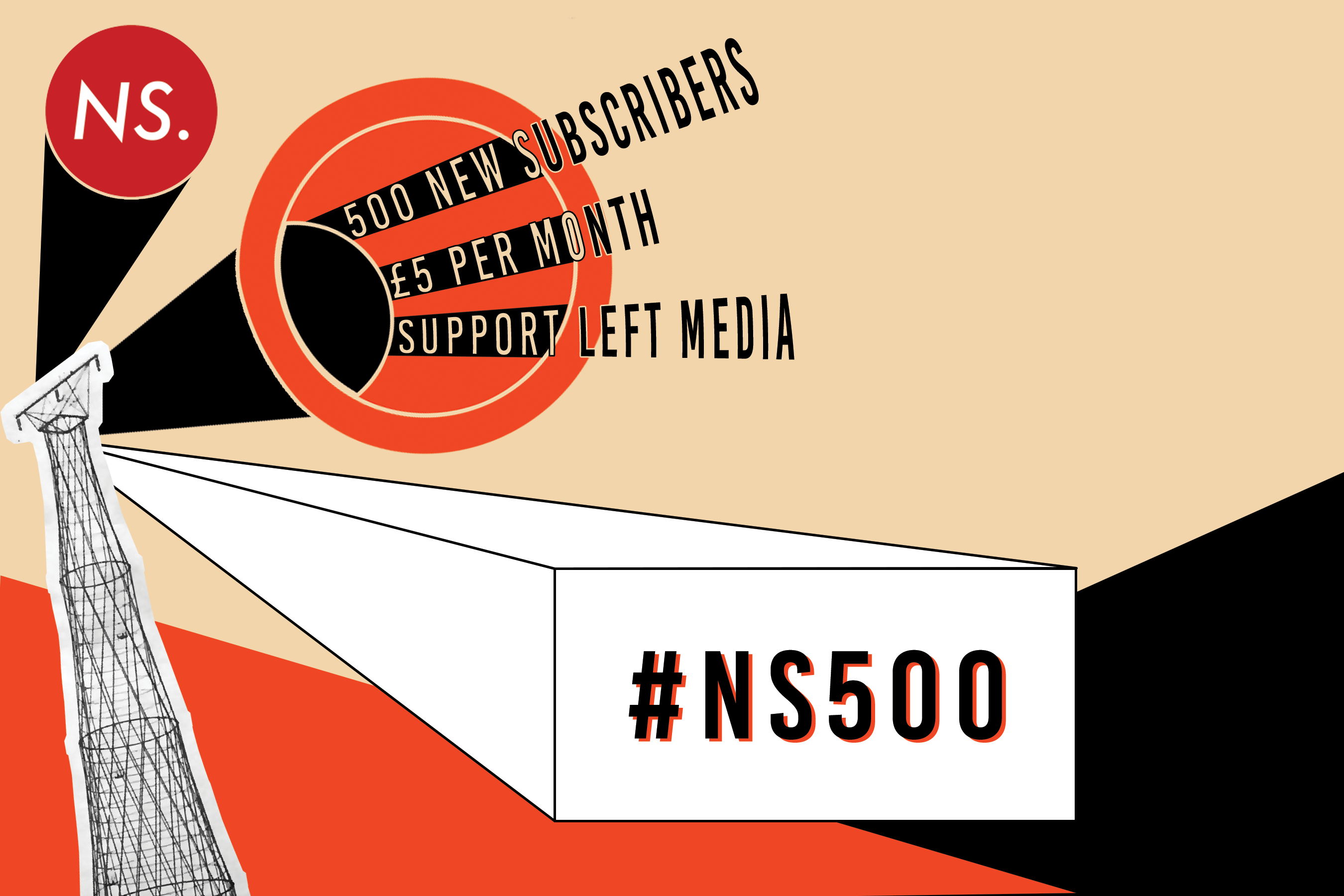 At the moment we remain incapable of doing what we want to do, and what we think is necessary in terms of contributing to the intellectual and practical life of the left. Even given the significant constraints imposed by a lack of resources, we believe that what New Socialist is able to do is unique. With ECOLOGIES, we have extended the thoughtful, careful, theoretical work—often with a strategic focus—that we have undertaken over the last four years.
But we could be doing so much more.
We hope to attract 500 more subscribers at £5 each (though if you are able to afford more than £5 a month, please feel free to be more generous; and if you're unable to afford £5, even a small subscription helps so much).
Rewards.
Our commitment to making our work freely available necessarily limits the 'rewards' that are available, though we'd like to reiterate the discount on books that our comrades at Pluto and Repeater are kindly continuing to offer, as well as the discount from Polity on the books covered in this edition.
Our "ECOLOGIES" edition is now available in epub format for all £5+ subscribers. We will be producing ebooks for all future editions, and aim to compile some from work in our archives.
We will also be inviting our subscribers to an open editorial meeting every two months. These meetings will offer a space for subscribers to contribute ideas, critiques, and perspectives, as well as offering us a chance to explain and account for editorial decisions, discuss plans for forthcoming editions and events, and build community with those of you who make NS possible. Connected to this latter point, our hope is that the meetings can act as catalysts for political action, new friendships, and a deeper sense of a shared project. We will also be developing further plans for engaging with, and being responsive to, our subscribers.
Why #NS500? Why now?
At the moment, we feel in rather an unhappy position with regard to "professionalism"; stuck between, on the one hand, expectations (both our own and those of others) of what we should be doing and how, and, on the other, the limits of resources and capacity that we face.
If #NS500 is successful, it will allow for a positive resolution of this contradiction. It is not possible to sustain a publication like New Socialist on a purely voluntary basis. There is a need for a regular and dependable amount of editing, administration, relationship building, and maintenance to be carried out. At the time of writing, this work is only partially resourced, and at far below minimum wage.
We also believe that, as far as possible, work should be recognised and resourced—not at the level of $3 million houses, of course, but at a level of decency and security. At the moment, the under-resourcing of this work, as well as producing exhaustion, also leads to failures from the point of view of professionalism—most notably the length this edition has taken to come out. Our lack of resourcing also means the pressure on the paid time of editors from all directions makes it harder than it should be to organise and make the most of potential voluntary work.
More information on what we will be able to do if #NS500 is successful can be found in our ECOLOGIES editors' letter.
For comrades in the UK, subscribing via. Donorbox may be easier, and we will receive more of the money pledged.
Thank you so much, comrades.
Subscribe via. Donorbox: