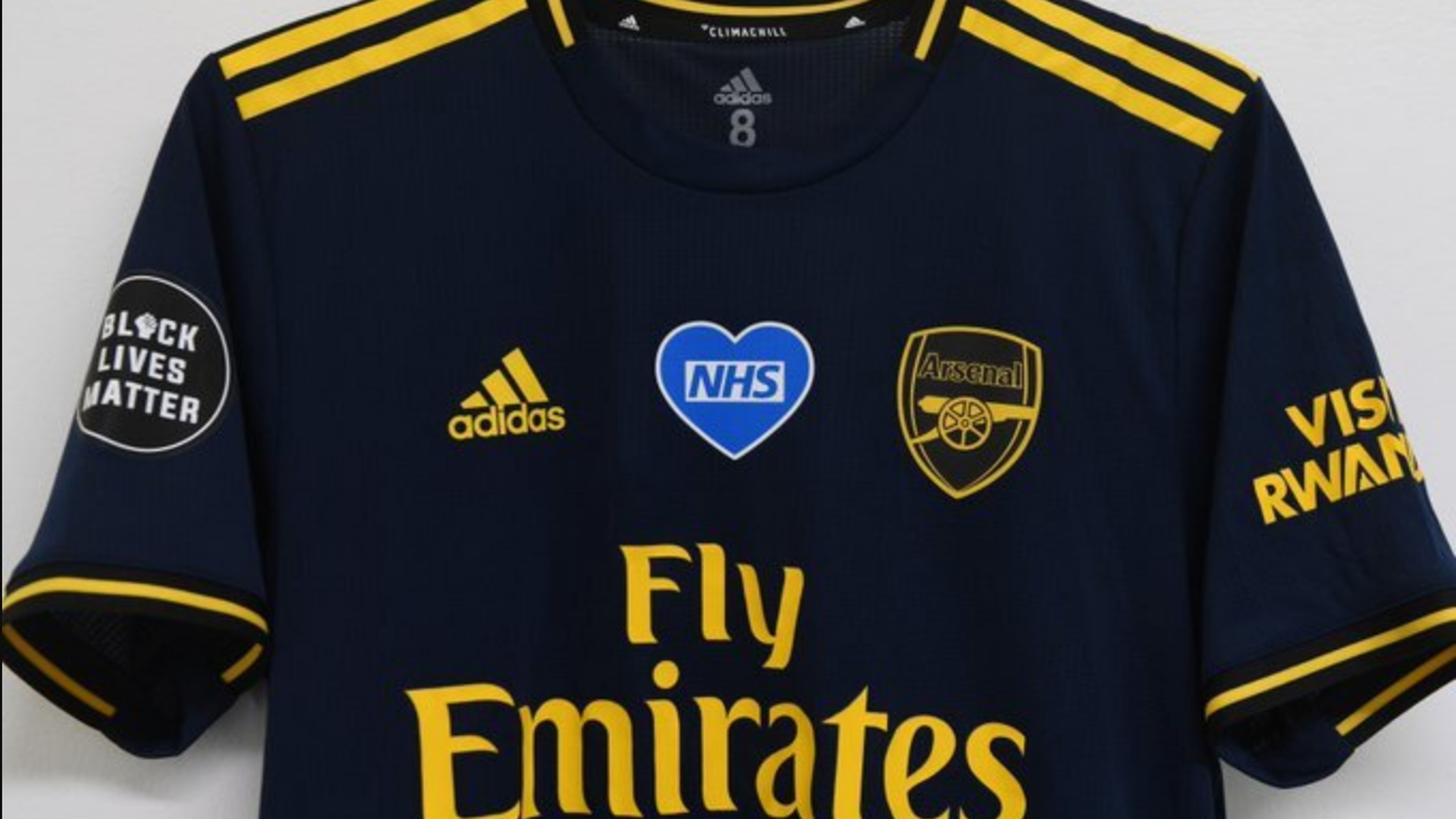 Black Lives Matter and Football's Racism Problem
{ Bad New Times | Culture Is Ordinary }

Jude Wanga / August 25, 2020
---
Pressure from Black footballers as workers forced a significant symbolic shift in the acknowledgment of racism. However, there remains much to do in a wider context that is becoming ever more embittered.

1408 words / 6 min read
---
Following the death of George Floyd at the hands of a US police officer who acted with impunity, there was an unprecedented display of revulsion at the state of affairs in the USA. But quickly, that revulsion, perhaps explained and encouraged by the presence of the widely loathed and palpably racist Donald Trump, spread across the world.
Black players in the Bundesliga, German's top-flight, such as Marcus Thuram (Lilian Thuram's son, named after Marcus Garvey) and Jadon Sancho made their own gestures in support of Black Lives Matter. Thuram took a knee, while Sancho revealed a t-shirt demanding justice for Floyd.
Over the last couple of years, Black players were increasingly vocal about the injustices of their treatment, in terms of managerial opportunities and also how they are portrayed by the media. Raheem Sterling, a victim of numerous racist stories that focused on his wealth and tattoos, has been a prominent figure before and during this pandemic.
This protest came against the backdrop of the coronavirus outbreak, with a number of Black players expressing their horror at being put in the firing line. Danny Rose wondered why football was even under consideration at a time of catastrophe. Troy Deeney refused to take part in football with a newborn child at home and was aware of the risks posed to BAME and black people specifically when it comes to coronavirus. The Premier League was asked to look into the impact of coronavirus on BAME players, though little if nothing has come of it.
Such was the level of anger coming from players, fans and an increasing number of journalists, it is clear that Premier League clubs understood that they could not ignore the crisis as they might have in the past. The clubs worked with players and the Premier League to ensure that Black Lives Matter is on every shirt until the end of the season, and Burnley have condemned a White Lives Matter slogan flown in support of the club during a match against Manchester City.
Nevertheless, the slick new feel to a Premier League-endorsed Back Lives Matter campaign does feel superficial. It's important to remember that around £762 million could have been at stake in terms of broadcast revenue for games yet to be completed.
football authorities have taken some of their biggest steps towards acknowledging racism, while at the same time exposing those most at risk
The Premier League probably needed to save the season's interruption by giving the chance to Liverpool to complete a famous league title, their first in three decades. To have left the season hanging would have been a disaster and ending the season with an asterisk by Liverpool's name would have been worse yet. In order to protect the brand and to keep the books balanced, the allure of Project Restart was overwhelming. Clubs, much more than players, would have been desperate to keep the grand jolly going. In this context Black Lives Matter might be regarded by those in charge as a necessary sop to its workers rather than a principled stand. In their rush to get the game going again, football authorities have taken some of their biggest steps towards acknowledging racism, while at the same time exposing those most at risk, demographically speaking, to more danger than many of the public are willing to face. There is an irony that, despite the wealth on offer to Premier League players, they are still facing institutional and systemic racism as those of the same colour with less wealth.
The response by players has been heartening. No player has felt the need to claim that all or white lives also matter, and there has been an embrace of wearing the #BLM slogan and taking a knee. But further up the chain, there remains much to do.
Liverpool are a team that has radically changed since the Suarez incident, but even so their apology to Patrice Evra was private. That is a necessary step, but there has been no acknowledgement that the club, fans and particularly their hero-manager Kenny Dalglish were a massed disgrace during and after the controversy. There has been no public acknowledgement that the club met the description of an institutionally racist organisation as a result. The same can be said for Chelsea. The suspicion must be that both clubs know that their fanbase would still not be able to wear the guilt were this racism to be properly addressed.
Kick it Out, which is the pre-eminent anti-racist football charity, takes funding from the PFA, Premier League, English Football League and the FA, which is an appreciated gesture by the state and football's regulators, but poses a problem – limiting its ability to take up positions that may be unpopular with those who fund it. Yet, Kick it Out needs to be an organisation that isn't afraid to criticise those with the ability to actually make change and stamp out racism in football.
In 2006, Joleon Lescott criticised Kick It Out for failing to censure Emre Belozoglu for racially abusing Joseph Yobo. Rio Ferdinand felt let down by the support offered to his brother Anton during the John Terry case. Compounding these worries are the lack of concrete action arising from the expert group that was tasked with looking at racist abuse aimed at players through social media.
If Kick It Out was militantly or aggressively anti-racist, as Black Lives Matter protestors and other activists have been, and if they were as outspoken on the structural and direct racism experienced by athletes, it is hard to envision that their funding would remain at the same level. From a business and capitalist point of view there is little merit in funding a challenge to your hegemony.
The organisation is no longer headed up by either a Black man or a former professional footballer. Instead Sanjay Bhandari has no professional links to football, and is a former employee of KPMG. Whilst Kick it Out does not necessarily need a Black person at its helm, it needs a greater level of radicalism and bravery and Bhandari's CV does not point towards any radical beliefs.
As an example of the complicit and compromised nature of the group, Kick It Out did a "Call Full Time on Hate" campaign in 2017 to tackle homophobi)a, biphobia, and transphobia, but partnered with the Home Office. The same Home Office that demands proof from LGBT people seeking asylum to confirm their sexuality. the Windrush scandal and Grenfell would be revealed a few months later.
The change in mood which lies behind football authorities' embrace of Black Lives Matter feels like it has come as a result of players emboldened to speak out against racism. The past shoddy handling of racist incidents by Nicolas Anelka, Luis Suarez and John Terry caused such a naked display of partisanship that the extent of that partisanship itself as well as the shoddy handling undermined any suggestion that English football did not have a racism problem. Fans began to be arrested for racist outbursts against players, including a Liverpool fan for racially abusing Patrice Evra.
Similarly, the poor processes for the Suarez and Terry cases in particular, with relatively minor punishments and extremely slow reactions, demonstrated that players on the receiving end of abuse could not trust the system.
The traditional print media shows deliberate and malign misunderstanding of the wider issues at hand and does what it can to derail specific incidents.
The change from a decade ago is noticeable, but so is the scale and the ferocity of the problem to be faced down. Racist attitudes have not softened in the intervening period. The Suarez-Terry sagas did not embolden anti-racist attitudes, and coupled with Brexit and austerity, white supremacy is in the ascendancy. There have been nods from those in power that structural racism exists, finally, but that has not been acknowledged by the government and many other institutions. Players speak out, and some of the press support them, but most of the traditional print media shows deliberate and malign misunderstanding of the wider issues at hand and does what it can to derail specific incidents. The Rooney Rule, a requirement simply to consider Black managers for vacancies that applies to Football League clubs, but not to the Premier League, has made barely any difference, as Black players feel ignored during their nascent managerial careers. There is much to do, and the task is only getting harder and more embittered.