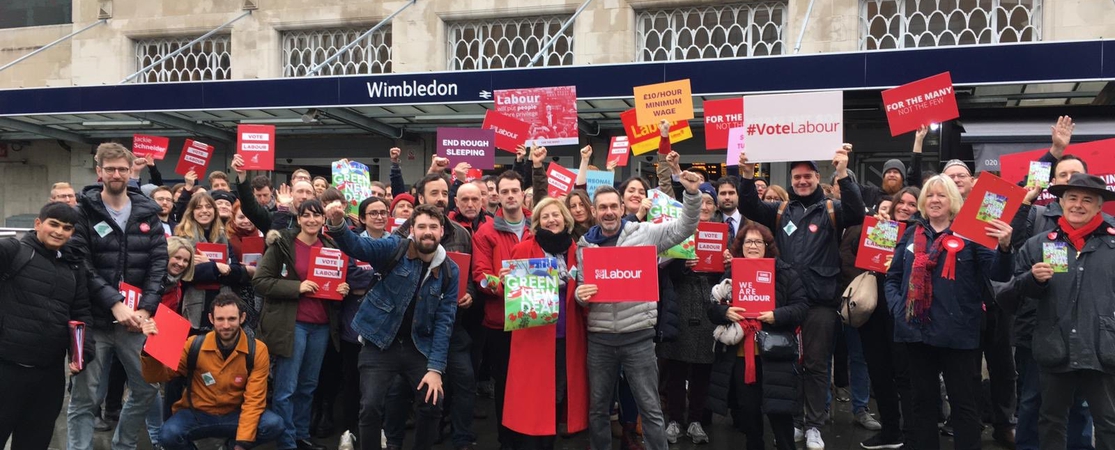 Activists' Inquiry - Hopes and Frustrations
{ General Election 2019 | Activists' Inquiry }

The Editors / December 20, 2019
---
In our final inquiry of 2019, we have collected together submissions reflecting on hopes and frustrations felt during the general election. 1562 words / 7 min read

A submission from Greater London
---
Through the general election, New Socialist sought to gather experiences from the campaign in the form of shorts contributions – words and images – from activists on a series of themes. We collected responses on the beginnings of the election, campaigning with kids and canvassing with care. In our final call of the campaign, we asked for respondents to reflect upon the hopes and frustrations which the election aroused. These – some submitted before 12th December, others after – can be seen below.
In the New Year, the Activists' Inquiry will continue on a monthly basis – please keep an eye out for the first call for submissions of 2020.
Man, South East England
There's a lot said about the mass canvass and mass campaigning as an experience of joy, but often less said about doing so in a constituency where it is, mostly, pretty awful. Of course, this is partially strategic; as a comrade said, it's hard to get good numbers out by telling them, "Have I got a miserable task for you to do!"
When you are campaigning in a huge group, in a winnable seat, with a good candidate, and are well organised and resourced, going canvassing truly can shake you out of any depressive hole that the media forces you into. But in a lot of seats, this is not how things look from below.
In my home seat of Brighton Pavilion, we have the unenviable task of campaigning against a candidate who not only has a reasonable history of being a left-wing voice in the Commons, but also has a local celebrity status. This gets to the point where even in the Labour Party itself, people will raise questions about why we are running against her.
This leads to a problem where even from the start of a conversation with a voter, you are already on the back foot in having to justify why you are even there. A lot of Green voters seem to have a very personal identification with Caroline Lucas, and it leads to an immediate hostility towards volunteers.
The difficulty of overcoming this is a real drain on the morale of activists, and I have been on more than one canvassing session that has been abandoned after too many confrontations on doorsteps. We have a large Constituency Labour Party (CLP), but due to this kind of experience, we have a very poor turnout at meetings, with most people wanting to focus on nearby constituencies with a better chance of winning.
From a strategic perspective, this is correct. If we are going to overcome media, gerrymandering, and political disengagement, we need to be using our resources where they have an effect, but effectively throwing a campaign in a constituency has wider ramifications for the state of the movement in the area.
One only need to look at what happened in the local elections in Brighton to see what happens when we abandon our base to the Greens because people are fond of Caroline. In the entirety of the constituency, we are now down to only two Labour councillors, our traditional vote in local elections has completely collapsed, and for a large CLP on paper, we are unable to turn out many members for party events and meetings. This in turn has severely limited building an experienced activist base.
Some of this has to do with wider demographic shifts. With Brighton becoming part of the commuter belt, it has been subject to a form of social cleansing in the centre of the city, with lower income and younger people being moved out to the edges and replaced by more upwardly mobile Londoners. Without a solid activist base, it's hard for us to compensate for these demographic shifts, with so much churn and new house-shares in the city.
I think sometimes when we focus on a 'politics of joy' we can fall into a more tactical affair of campaigning only where it's fun, rather than having a wider view. Which isn't great for a long-term, strategic building of our local base.
This can end up with a downward spiral for some activists; our poor mobilisation and turnout in the local elections meant that many people completely disappeared, dispirited by the result, only to resurface in, for example, neighbouring Kemptown once the general election was called. This is understandable given a likeable left candidate, well-organised campaign and – crucially – a good chance of winning. Frankly though, local elections in general are never going to be fun, they don't feel historic, they don't even feel especially important. However, if we are going to be able to transform the country and solidify the new socialist moment, at every level we are going to need to be in and against the state. We need to be winning locally and building the kinds of structures that can be activated by a socialist government. So even if it doesn't go well, when we've done the hard graft of knocking doors the sense of satisfaction is real.
Man, Greater London
In October, a small group of us in South West London decided to organise in support of Labour for a Green New Deal. We had an initial meeting attended by 30 people and, within a few weeks, we had a WhatsApp group with 50+ people and had raised almost £300 in small donations. Our group decided that we needed to take the Green New Deal's positive vision for a bold, transformative agenda out to marginal constituencies and ensure that voters knew about Labour's climate plans. As we approached the end of the campaign, we had organised Climate Canvass sessions in five London constituencies, including the Tory-Labour marginals in Putney and Wimbledon. Having a hopeful, positive message to take out to voters, and a strong visual identity to match, helped massively to enthuse people and to encourage them to canvass for perhaps the first time. It has also helped to have worked closely with two fantastic Prospective Parliamentary Candidates (PPCs) who care about the climate emergency in Jackie Schneider and Fleur Anderson.
We hope that our small actions in the past few weeks made a difference in these key contests. But [even though Jeremy Corbyn will not be Prime Minister by New Year] the act of organising, taking decisions collectively and getting people excited about a bold, transformative agenda has been an important process in itself, which has prepared us for the challenges to come. To quote (a perhaps unlikely source of hope) in Rick Grimes from The Walking Dead: "If we start tomorrow right now… with everything we've beaten, everything we've endured… no matter what comes next… we've won. We've already won."
Non-binary, Yorkshire and the Humber
Towards the last weeks of the campaign, I noticed a significant cooling off in receptiveness to canvassing and interactions on the doorstep. The conversations got increasingly short and media lines on the party, uniformly negative, would come up and be repeated more regularly. It got me thinking that we ought to pay attention to what can condition people's reception to lines from right-wing media; how certain affects can and do shut off a critical relation to it. Surveys regularly show that journalists are mistrusted, media barons are reviled and dissatisfaction with the BBC is widespread. The reputation of right-wing papers still doesn't seem to have recovered post-Leveson, even if it is only reputation (not practices) that have been affected. I think, in strategising for future campaigns, that we would do well to remember that our degree of agency with regards to media can go underestimated. Maybe a reason why our campaign in 2017 cut through the din in ways that this one did not was that after a year of constant headlines around Brexit the Tories could profit off exhaustion and its attendant affects: ambivalence, tiredness, uncertainty. I think 'non-linear borefare' is incredibly effective among those outside a dedicated and well-informed activist base, and it was stark to see how even people we had as Labour voters would deflate the manifesto promises in light of Brexit, the leadership, etc.
Could a future Labour campaign target not only the misinformation, lies and smears but also the attendant mood around the news? Can the leadership or the activist base foster a popular critical agency in relation to them? We urgently need to develop a program of mass political education that not only trains up people and presents factual information about the current crisis but also undermines the affect that lead to an uncritical and passive reception of media.
Man, North West England
One of the problems I often have with campaigning is that, whilst I understand that we need to stick to the boards, it often creates a narrow focus about how we represent Labour on the streets. Small acts like saying hello to people we walk past as we go should be just part of every canvass session. Another small example: canvassing during a weekday in an affluent area of a seat that would eventually go from red to blue, I noticed that many houses were having building works done, but that our board-runner would get frustrated if I spoke to the builders rather than the homeowners. We should be treating every moment of human contact as an opportunity to, politely, be seen to be representing Labour in the community, and that means speaking to everyone.