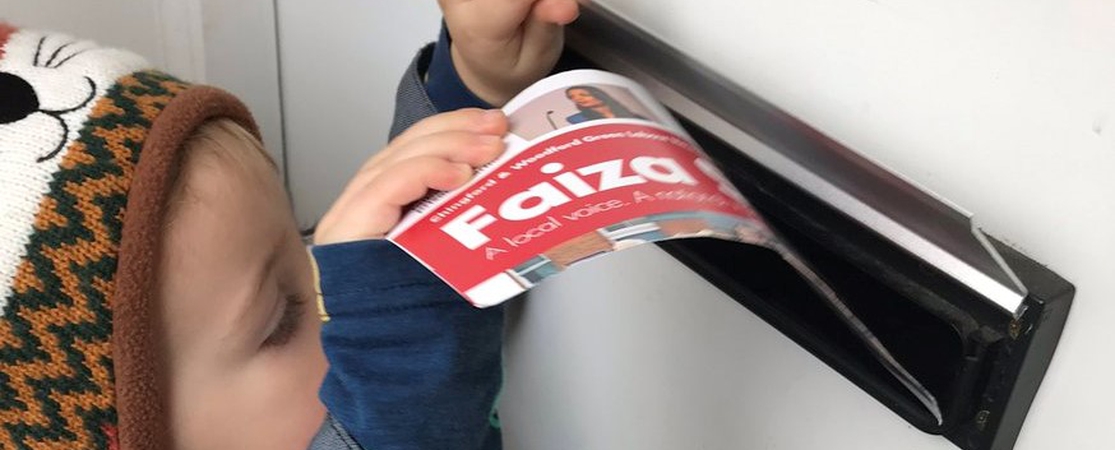 Activists' Inquiry - Campaigning with Kids and Canvassing with Care
{ General Election 2019 | Activists' Inquiry }

The Editors / November 29, 2019
---
Each week for the remainder of the election, New Socialist are inviting contributions of no more than 200 words about an aspect of the campaign. Last week, we asked about experiences of campaigning with children. 1022 words / 5 min read

Patrick delivering leaflets
---
New Socialist is inviting short contributions throughout the rest of the election campaign, gathering reflections on people's experiences as the general election unfolds. Last week, we asked about campaigning with kids, whether that was alongside them or speaking to them.
For the next week, we're looking for submissions on the theme canvassing with care. There were reports this week of assaults and intimidation targeting Labour activists, including two older canvassers who were hospitalised. We are looking for written contributions (<200 words) and images responding to questions which might include: Have you experienced threats or violence whilst canvassing in this election? What was that like? Are there examples of best practice by campaign organisers in ensuring that activists remain safe? Are there examples of campaign organisers not taking safety seriously? How have campaign organisers approached activists' mental health? Have you felt pressured or coerced into campaigning? We are also interested in wider questions around care: How have people responded to Labour's policies on childcare and adult social care? What sorts of care have activists provided 'on the doorstep'? What kinds of care are they unable to offer? How can we be more careful with the people that we speak to?
The form for the next round of submissions can be completed here.
The responses from the last week's prompt are below:
Man, Greater London
I've been canvassing with my three-year-old Patrick, which he has really taken to. Patrick's enthusiasm was helped by him going trick or treating the week before meaning I had to disabuse him of the notion he would get sweets. I've explained why we're canvassing: to protect forests, for better buses, so his parents and grandparents can work less and can spend more time with him. Children are part of the struggle for socialism, it encompasses all of life. Everyone we've canvassed with has been welcoming. Canvassing with Patrick has been useful, focusing questions of need and hopes for and worries about voters' (grand)children away from what circulates as "political": Brexit and "Corbyn". Patrick also establishes a connection, which, given the dominant image of Corbyn, has been helpful and has charmed three wavering voters towards Labour. Patrick hasn't softened everyone, a builder called us dickheads and particularly in the richer parts of Chingford, has encountered anti-Corbyn hostility. Patrick pointed out, "people who have big doors don't like Jeremy Corbyn". Patrick's budding materialist political sociology has two insights: the link between wealth and voting, and that the expressed motivations are much more personalised: anti-Corbyn rather than engagement with Labour's programme.
Woman, Greater London
My kids campaigned with me most days in 2017. We did as many as four sessions a day in our nearest marginal. They still speak fondly of running up to board runners shouting, "No data! But we asked the bee and the bee is voting Labour!" Two years on and my girls are a bit older, we now live in the marginal and the stakes are even higher. Somehow campaigning with them is a million times harder though. The weather is making it virtually impossible to be out for long periods with kids. Even if the kids are ok, "adorable little girl out in the pouring rain" isn't the best look for the party. The atmosphere is different too. Maybe it's the weather, or the fact that there are less people hitting this particular marginal or maybe it's just been another two years of Labour Party activism and we're all older and kind of exhausted. But for whatever reason, I don't feel like me and my babies are all out fighting, side by side, this time. I feel like an activist with childcare problems, and absolutely no provision being made for childcare.
Man, Greater London
A little kid, maybe three years old, answered the door the other day; he quickly went and retrieved his slightly older sister, who told me their parents were home but didn't speak English. She offered to get her sister – I'd guess about fourteen – who explained the same. I find this sort of thing quite interesting, and in the past I've had children translate what I'm saying for their parents, but that didn't happen this time. It made me think about how often we end up interacting with children on the doorstep, and how we can talk to them about the election – because often they do have a certain influence over their parents. A few days later, a man answered the door and said he hadn't made up his mind, but his son (who I could tell from the canvassing sheet won't be a voter until next year) chose who he voted for in the last election. Another woman told me that she was voting for the Conservatives, but her son was in Extinction Rebellion. It's a perennial problem that we can't talk to young people directly – but when we can, it sometimes provides a route to ultimately convincing their parents.
Woman, Greater London
My interactions with children have mostly come about leafleting at primary school gates in Battersea. There have been some responses from children asking what we are doing, though generally they seem pretty nonplussed. It's been interesting to notice how some parents, on the other hand, have seem almost threatened by a political presence outside the school – a couple of people telling me I shouldn't be doing this outside schools, or that it is not allowed. This seemed to be the case a bit more outside the school in the wealthier area in south Clapham - where the response was generally a bit more frosty. On the whole though, having conversations outside schools has felt good. Battersea are really organised giving us info about cuts affecting the various schools, and some of the best moments come when parents talk to one another about the election – sparking conversations about politics and their children's education that it seemed like they hadn't had before, and encouraging one another to register to vote (Labour!). Having kids around kept things pretty jovial and fast paced, which is also good for mixing up dynamics of campaigning and the conversations being had.