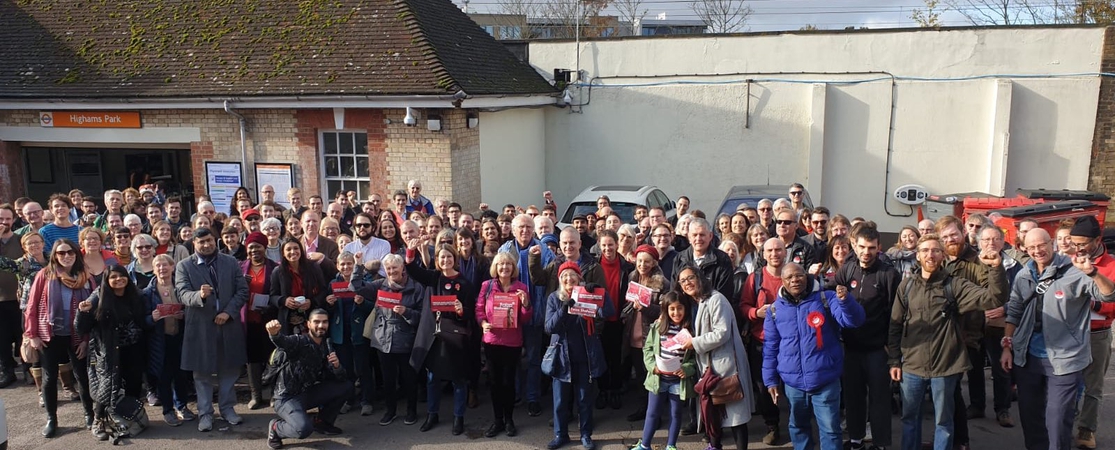 Activists' Inquiry - Canvassing with Care, and Hopes and Frustrations
{ General Election 2019 | Activists' Inquiry }
---
Following attacks on Labour canvassers, we asked for submissions on the theme 'canvassing with care'. In the final week, we're asking for contributions about hopes and frustrations experienced in the campaign.

792 words / 4 min read
---
New Socialist is inviting short contributions throughout the rest of the election campaign, gathering reflections on people's experiences as the general election unfolds. Last week, we asked about canvassing with care: in the light of attacks on Labour canvassers, we wanted to find out about people's experiences of intimidation during the campaign, how organisers were responding, and more broadly about the relationship between canvassing and care.
In the final week of the campaign, we're asking for submissions on the theme hopes and frustrations. As the election draws to a close, we are looking for slightly longer submissions (<800 words, or images) dealing with questions which might include, but not be limited to: What hopes have been aroused by the campaign? How might our energies be directed after polling day? What possibilities have been opened by the experience of campaigning? To what extent has the language of hope and change resonated with voters? Or, on the other hand, what frustrations has the campaign brought to light? What could have been done better? How did you rally yourselves when campaigning was difficult? To what extent has the campaign drawn upon experiences of missed opportunities, blighted lives, and frustration with the status quo?
The form for the next round of submissions can be completed here.
Woman, Greater London
Yesterday evening, while out door knocking we were followed around by a man shouting abuse at us. Constantly calling us 'terrorists'. He also said he was going to 'get us' and 'burn our car' as 'Labour supporters are not welcome here'. As we walked over to the next road, he called a mate and said, 'They're walking towards [street name], get them when they come your way.' Of course we went a different way, but it was incredibly scary being yelled at by someone telling us he was going to get us. I've been completely shaken by the entire experience.
Group submission, Greater London
Discussing our mixed feelings over a message on 'how not to lose canvassers', where the jist of the solution was 'add everyone to a WhatsApp group and share a live location' – definitely not the most caring or safe way to keep track of people, especially on winter nights – got a group of us discussing what care on the doorstep might look like. Some of what came up was: does there need to be more discussion about how different canvassers, of different demographics and identities, are received on the doorstep? Both in what kind of discussions and disclosures people might be dealing with, but more importantly, in how safe and confident they may feel when out canvassing? What are we as fellow canvassers and board-runners doing to create an atmosphere where these discussions can be had, and where we can be adaptable in different situations? Maybe, for instance, allowing people to switch out and run the board, or having board-runners aware of keeping close to those feeling more vulnerable, we even floated the idea of coming up with a kind of 'I'd like backup' signal.
We're planning to implement some of these thoughts, discussions around them, and any solutions we come up with over the weekend in Dudley and see how it goes. This discussion goes beyond simply day-to-day safety in this election. It's a question of who feels supported and able to become a part of Labour. If we don't feel we can be open and have difficult discussions about these things within Labour, we won't be as successful taking these ideas outwards!
Man, Greater London
Canvassing in one of the more difficult parts of the constituency (a Leave-voting area where activists have been intimidated in the past) the board-runner ran the 'slip system': rather than giving activists voters' names and their door number, then entering the data once they return, the board-runner cuts up the sheets and hands them to activists to fill in themselves. Although some people regard this as a quicker method, on a dark and wet night along a long road slick with leaves, with difficult driveways, and canvassers sometimes expected to knock two doors before going back to the board, it's easy to see how things could go wrong. Normally, a board-runner writes down the initials of canvassers on the sheet to track where they are – with the slip system, there's no way of knowing which canvasser took which slip. Even with precautions – canvassers all had access to the board-runner's phone number – it doesn't feel like safety was properly considered. Momentum canvassers are sometimes accused of spending too much time talking, but rushing canvassers means leaving some activists behind – a few extra minutes on the doorstep, not always avoidable, can leave you stranded when the rest of the board is moving quickly.