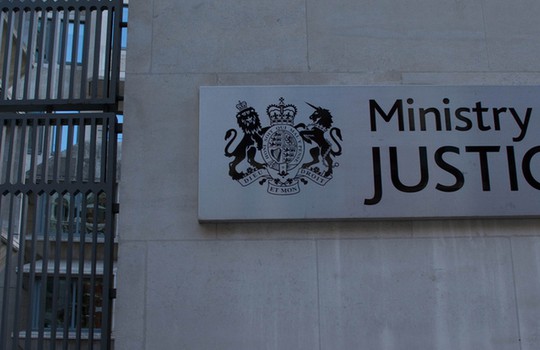 Whitehall, Unite!
From 7am tomorrow (22 January), outsourced workers across two major government departments — organised through two very different unions — will strike together.
Cleaners, security officers, and receptionists organising through UVW will picket the Ministry of Justice's (MoJ's) Petty France building; simultaneously, support staff organised through PCS will strike at the Department for Business, Energy and Industrial Strategy (Beis). All the strikers are outsourced.
UVW's MoJ workers struck first in early August; the two unions then rallied together on 5 September. Their coordination, for the London Living Wage (LLW), plus parity of terms with directly-employed staff, is the first joint strike between UVW and a TUC-affiliated union in the smaller union's history.
At a party celebrating UVW's fifth birthday earlier this January, organiser Petros Elias said: "We're looking towards the end of the minimum wage in government. There's no uniform policy across departments, but if we [UVW and PCS] both win, it'll be a big step towards the end of poverty pay in Whitehall. It could mark a massive shift, a huge redistribution of wealth."
And with the pickets fewer than five minutes' walk from parliament, pro-Corbyn shadow cabinet members are actively supporting the strikes.
Shadow Secretary of State for Justice Richard Burgon supported the August strikes. On his support for tomorrow's campaign, he said: "I think people welcome the fact that Labour MPs are showing, more and more — with our socialist leadership — that the industrial and the political are linked."
Other prominent left-wing Labour figures will attend the morning pickets. As Brexit rends parliament, who's building the Whitehall strikes?
No Recruitment Except Picket Recruitment
Over those three days in early August, UVW members at Kensington & Chelsea Town Hall struck simultaneously with MoJ workers, forcing managers to pay the LLW (backdated), and - this was unexpected - prematurely end cleaning firm Amey's contract. At Petty France though, MoJ and outsourcer OCS were unmoved.
On the third day, UVW's occupation of the MoJ's reception forced senior civil servants to "promise to push our demand onto [subcontractor] OCS, and to update us, neither of which they did", said Elias. Since then, "there's been no attempt by MoJ or OCS to settle this dispute at any point", he added: "emails, couple of calls?" "Nope. Nothing."
The MoJ cleaners' colleagues were moved. Forty OCS security officers joined the union within days of the strike. One of them, Cristina Albores, worked in the Petty France canteen for six years, before becoming a receptionist in 2016. "What courage they had", Ablores said, "I went to see the cleaners, and encourage them in their fight, and introduced myself to the union".
MoJ security officer and UVW member Sidney Spencer said that, between support workers, "there is good communication. We all see and respect one another".Since August, Ablores added, UVW's MoJ members have "had many meetings, deciding how we want to progress".
And the MoJ civil servants? "Two said recently that 'they don't support the strike', because 'the security are rude' — what, all of them?", said Elias. And why did so many people join UVW, and not another union? "PCS [at the MoJ], they're not bad, they're just not strong", said Spencer.
Workers' Rights
If MoJ civil servants didn't much support the last strike, Beis' PCS branch had been in contact with UVW months before it; the September rally was a statement of activists' intent to develop a collaboration. Through October and November though, things appeared to go quiet.
Then, on Monday 17 December — the same day Business Secretary Greg Clark announced the enactment of the Taylor Report (meant to 'cement the UK's status as a world leader in workers' rights') — Beis' PCS branch announced a 100% "Yes" vote for strike action from its outsourced members.
"Yep, it was timed beautifully", a Beis PCS activist said. "It ruined his [Clark's] Taylor announcement".
Reps had been working; the number of outsourced workers in the branch had doubled, ensuring the high turnout. But, activists think, civil servants responsible for Beis' contracting still hadn't understood the threat. "I don't think they [Beis management] got it until the ballot came back — they didn't realise we were talking about strike action", one said.
The strike's timed for further recruitment. "It's in the morning", PCS rep Katie Leslie said, "when the night guards come off shift, who we don't see very often. They'll come off shift, see us on the picket line, and we'll speak to there and then."
Scores of civil servants crossed the UVW picket in August. Are PCS worried about the same at Beis? "On Friday [19 January], Beis put out some advice on the strike, suggesting that people had to work, had to cross the picket line", Leslie said. "Legally, we can't tell people not to cross it, but we can say to people 'Beis' flexible working still applies'".
Understanding Negotiations
The joint strike presents a series of firsts - the first organised by outsourced workers across government departments; the first UVW has coordinated with a TUC-affiliated union; and it'll be the first time several front-rank politicians have together stood on a picket, outside a ministry. Will those precedents set new pace?
With so many support staff expected to strike, UVW have claimed MoJ managers may be forced to close the Petty France building; department spokespeople deny this, and a leaked internal letter told staff "there will be arrangements in place to ensure the building remains operational and secure".
Either way, the most likely initial damage will be less against capital — though subcontractors have lost bids for less — than reputations and, maybe, relationships.
There's already been low-level tension between civil servants and contractors, with OCS "bandying around [Permanent Secretary] Richard Heaton's name", UVW activists say, whilst MoJ civil servants have, in turn, blamed the subcontractor
That deferring is the hallmark (and probable motive) of outsourcing - but whilst responsibility for support staff contracting formally lies with civil servants across the departments, the press and the public will assume politicians have a degree of informal power over the basic organisation of their own offices.
Increasing those tensions — forcing responsibility on someone — will involve not only solid pickets, but also solid press. Now though, 29 March is in sight, and the unions aren't guaranteed the same coverage they got last August.
There'll be a lunchtime rally Tuesday lunchtime, past the press corps now perma-camped on College Green, opposite parliament. And, since both Beis and the MoJ are crucial to the UK leaving the EU, activists suggest it's already a Brexit story: "At no point has [Beis] management team ever actually negotiated with us", said Leslie, "which is bit embarrassing, for a major Brexit delivery department, to not seem to understand what negotiation is. It isn't sitting in a corner, coming up with your own figures, and saying 'yep, we're going to pay you this'''.
Unfolding
Beyond the blame, the shame, and possible headlines, the coordination constitutes a substantial industrial step, towards organising support workers across Whitehall and the wider civil service.
Driving, cooking, cleaning, security are crucial to the state's day-to-day working - and tend to be done by people on or just above the minimum wage, in a city where rents have increased by 50, 60, and 70% over the last decade. And, "it's primarily migrant workers", said Richard Burgon, explaining his support, "who people didn't expect to take the fight to their employer, and who have been treated very badly."
One way or another, 3000 outsourced MoJ workers will be affected by the campaign; Beis has offices across the country; and there are currently 25 ministries, plus the non-ministerial departments. With the economics of their work so close to the politics of parliament, creative unionism could mean increased workers' across a large section of the public sector.
Beis' PCS branch though is uniquely well-organised, driven by a core of experienced reps towards recruiting outsourced workers.
"Around Whitehall, we [PCS] just have such low density", Leslie said, "and when you're organising outsourced workers, they have to trust you. I don't know any other branch in Whitehall that's as active as we are. That's for UVW, to be honest."
PCS Beis were previously able to leverage their wider civil servant membership to ensure all directly-employed support staff are paid at least the LLW. But, UVW have no civil servant members, and so can't easily reach the directly-employed support staff, even at the MoJ, much less other departments — that is, the unions need each other.
"Yes, it's good to see the PCS working closely with the workers in this dispute", said Burgon. "What these smaller unions are doing is very refreshing — taking action with smaller groups of workers, who the bosses have previously viewed as un-unionisable, as unlikely to join a union or take actions".
This round of strikes are vital, and unpredictable. Speaking to a pre-strike solidarity meeting the last Saturday before the strike, Petros Elias told the room "Wednesday will unfold according to Tuesday".
As UVW builds on each win — as the wider movement comes closer in step with the union — new vistas and new risks are appearing; more members, higher numbers, in workplaces and amongst workforces that demand — and that are now producing — collaborations across the movement.
---
You can financially support the strike here.
First picket: 7am, 22 Jan, opposite St. James' tube station.
---