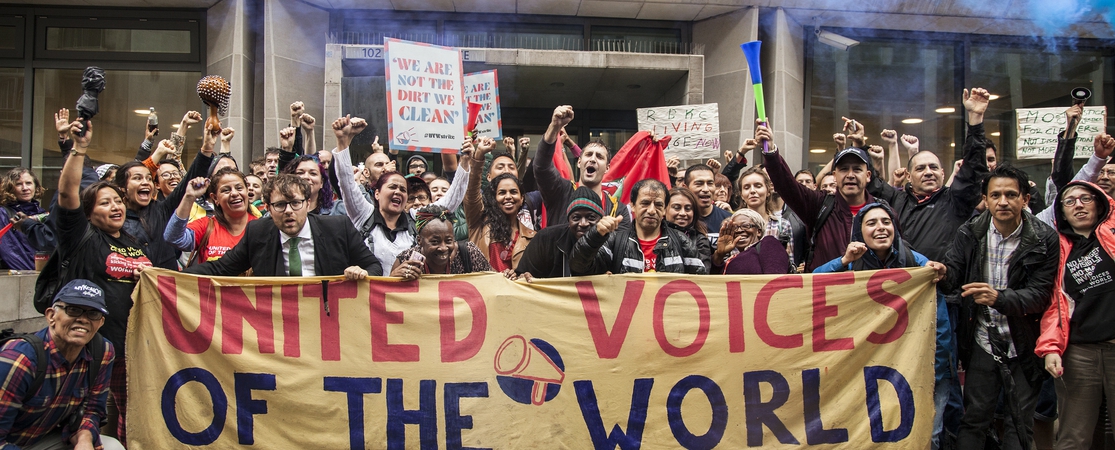 The Cleaners' Triple Strike: PCS and UVW Join Forces
by Joe Hayns / September 4, 2018
{ Beyond Westminster }
---
UVW and PCS are going to be demonstrating together on the 5th September against both the Ministry of Justice and the Department for Business, Energy and Industrial Strategy.

2277 words / 9 min read
---
September 5th - tomorrow - United Voices of the World (UVW) and a branch of the Public and Commercial Services (PCS) union will host a joint rally against pay and conditions at two government departments, inaugurating what is, by activists' reckoning, the first strategic collaboration between UVW and a TUC-affiliated union.
For UVW, the rally is an extension of the "Triple Strike" campaign, involving cleaners Kensington and Chelsea Town Hall (RBKC), the Ministry of Justice (MoJ) and - with a successful ballot announced last week - cleaners across Health Care America's (HCA) London sites. In turn, PCS activists see UVW's MoJ strikes and tomorrow's protest as, potentially, the first phase of a new militancy amongst support staff across Whitehall.
To better understand the impetuses and prospects of the collaboration, I spoke with PCS rep Katie Leslie, at the Department for Business, Energy and Industrial Strategy's (BEIS; 'Bays') Westminster HQ, and UVW organiser Juliana Salgado Vega.
The protest starts at 12.45, as MPs are leaving Prime Minister's Questions, outside the MoJ's Petty France building. The interview was conducted in UVW's Elephant & Castle office, and lightly edited for clarity.
---
JHJuliana, were you surprised at various employers' reactions over the first week of "Triple Strike"? Activists seemed nervous at operating at what is a larger scale for the union, but it seems to me as if things moved quicker than they'd expected.
JSWe did strike actions, we did protests, we made lots of noise. What happened during these days, we confirmed that if you don't do that - if you don't do these actions - nothing happens.
At RBKC, councillors were involved in a planning meeting, which we occupied - that was our first action - and a Tory councillor committed to going to the picket the next day, and they actually went, and they had to stay there - maybe they wanted to be there for fifteen minutes, but, with cleaners introducing themselves, they were there for forty five.
The next day, we occupied the reception at the MoJ, and made them commit to a meeting, to negotiations.
If you have a strike, doing an extra thing adds to it - for us, it always means better results. When we occupied the reception, it was very noisy. At first, nothing happened, but in the end, they had to come. Two senior managers came, cleaners shared their stories - it was very real, very impactante.
JHShaming managers face-to-face, and on social media, is a now an established tactic of UVW. Isn't it more more discomfort than compassion that's motivating employers?
JSYes, they act, they improvise - we know that these people don't themselves clean, they don't listen. Definitely, the embarrassment is there.
JHPCS' campaign for a national pay increase for civil servants recently failed to achieve the 50% turnout, as demanded by Theresa May's Trade Union Act 2016. We've got rid of the Act, and previous legislation. But, I think, we should also try and understand why 50% is such a challenge for trade unionists. What happened?
KLWe held a consultative e-ballot for civil servants, then a substantive ballot - that was by post - which did not meet, as you said, the 50% threshold required under the Trade Union Act 2016. Not reaching the threshold was no surprise, to be honest. There are three reasons.
First, PCS National Executive Committee (NEC) has long been disconnected. I worked at the Financial Conduct Authority, and when I arrived, they'd never heard of PCS. The union likes to say "we're member led". Well, they don't know you exist, so how can we form a branch? You have to be visible, seeking membership, and we'd stopped engaging with members and non-members, in my opinion.
There've been times when PCS HQ have asked whether we're "strike ready" at BEIS - "how far off are you?" - and we've always said, at least in our branch, "we're not".
Second, the cuts in 2010 in Whitehall were ideological - they were going after union members, older people. It was not about saving money, but getting out a certain cohort, and getting in a new one. And, we've been saying for a long time, pay is not an issue. It's like the UN in Whitehall - it's rammed full of young, white, upper-middle class people, on fairly high pay. Pay isn't an issue for them, especially if their parents have given them a deposit for a flat.
And, the third reason was the pay deal at the Department for Work and Pensions (DWP), where the vast majority of our membership is. PCS' National Executive Committee said "back it", told them to accept it. Then, a few months after, they were balloting all of the civil service and, in the DWP - where most of the membership are - people said "you'd just told us to accept a pay deal".
JHThe rally is distinct from that national pay deal - it's not about civil servants' pay, but rather about support workers' wages, sick pay, and in-housing, possibly.
KLYes, I would say it's distinct. It's something we've been fighting for over a couple of years now and, to be brutally honest, we haven't been as on it as we should have been. UVW spurred us on with "Triple Strike" - we said "we'd better do something here".
During the national pay ballot, we were stood outside, leafleting, encouraging people to vote in the civil service ballot - and some support staff said "this is a bit of liberty, they're getting the union to do something about your pay, what about ours?" Of course, civil servants are paid significantly more than support workers.
This has been a real problem, with PCS and Unison being the biggest culprits - they lose on privatization, services are outsourced, and then say to those outsourced workers "good bye".
JHAnd could you give a sense of strategy for achieving the demands?
KLPart of the point is is to boost morale, and to get people to more join - quite a lot of catering are already members, since the union does casework, but recruitment is still needed.
We suspect they might cave on LLW quite quickly - the question is whether that's enough, or whether we should leave the rest of the demands to negotiation. Or, now we've built this momentum, keep the train going, and say "you've got two weeks, and we'll ballot" If we got to that stage, to balloting for strike action, PCS HQ would have to get involved.
JHThe point of the working with UVW is to generate a militant dynamic in the workplace, and also, I suppose, PCS?
KLUVW is what the traditional unions should be emulating. But, a lot of them sit around in pubs, complaining about Thatcher, talking about how revolutionary they are - meanwhile, the rest of the world has fallen onto it's knees. Our President has been re-elected 17 times, on a 6.2 % turnout - and they think that's a mandate. They shouldn't congratulate themselves, they should be ashamed.
We've always suggested getting them in, saying "they can teach us", from around 2015. We've put motions to conference, saying "let's work with UVW".
JHAnd that pro-UVW motion, it didn't get across the crucial 6% threshold?
KLA lot of officers are terrified of anyone taking their power - but I don't want to be General Secretary, I just want to do stuff.
You say to them "we want to do this", and they say "well, there are all these rules preventing it", or, they say "we'll do it", and never do.
Then, when something gets sexy, they're all over it. Today is the most I've ever heard from PCS HQ - ah, now they're all calling me. The plebs are getting interesting, I guess? At UVW's MoJ demonstration, there was a plan to go down there with PCS flags, PCS banners. We told them "don't do that. It's sort of your fault they're on strike, that they've got to this stage, because you've done nothing".
Someone from HQ called me up today, asking "are they going to poach our members?"; well, they can poach me, if they're getting it done.
JHJuliana, could you give a sense of UVW's activists attitudes towards the TUC-affiliated unions? At LSE last year, there was a degree of animosity towards Unison, after the branch had failed to address workers' demands.
JSThis is the first time we've done something we've with a larger union - we are absolutely not closed to working with them.
We have noticed that the attitudes towards us have changed recently. Now, we have lots of activists and members who are, in some way, within the big unions. They support us, come to our pickets - we are now connected with them in that way.
Workers should organise and fight together, whatever union they are in - even if they're not in a union - and whether or not the union leaders are interested or not. The workers don't exist for the benefit of the trade unions. If they want to do things that benefit workers, we are completely open to working with any trade union.
JHI think it's fair to say that this support has tended to come from activists, rather than officers, with a few notable exceptions. Katie, can you see any impediments to this from the unions' bureaucracies?
KLThough delays, yes. They do it insidiously. They say, "of course, of course, we just need to do it by the proper channels". Those "proper channels" - usually made up as they gone along - and then it goes nowhere.
What we're riding on is that there's a factional fight currently at the top of PCS. They're all saying "democracy, democracy, we want to be member-led!". And, because we're a branch that's not involved in any faction, they're now letting us do things that, previously, maybe they wouldn't have.
JHLike recently divorced parents?
KLYes. And we're milking it.
Ultimately, there's nothing much they can do. They can make it more difficult, more and more hoops, and this'll put people off. There are people with us that know John McDonnell (Shadow Chancellor), that know Rebecca Long-Bailey (Shadow Business Secretary), and so they can't stop us.
But if you were a branch without those contacts, without experience - which is the majority, I think - you're really stuck. If you wanted to do something, you're reliant on HQ, to help and support you do it: and, you'd be stuffed. "I don't think that's really for you", they'd say.
JHWorking with PCS in this way is a welcome addition to the basic "Triple Strike" strategy - to organise cleaners across London workplaces, for the London Living Wage, plus better sick pay.
Workers at RBKC and MoJ have already struck; cleaners at HCA's London clinics were always involved, but their balloting took longer. Could you give a sense of how the HCA prong has developed recently?
JSActually, it's not just cleaners now. Perhaps you know, but the security officers who had guarded the first strike at the MoJ, they have joined now. There are around 40 security guards unionised with us now. They will be ready to strike also, with the cleaners at the MoJ.
After the first strikes, HCA offered to increase workers' pay by 17%, though not to the London Living Wage. Well, the members want that, and that is why 70% of them voted, and all of them for strike action, 100%. We won't say when yet, but, we will strike.
JHOnly 33,000 workers struck last year, being the lowest number since the 1930s.
It's easy to say "green shoots", but it seems to me that the gains that UVW members make - a 40% pay rise, which is, of course, huge when you're on the minimum wage - are more examples of long-term defeat than a "spring", so to speak.
Do you think your collaborations will be part of the renewal of trade unionism, or do you think there are deep, structural features - of the unions, and the economy - that will prevent the UVW "model" being generalised? Are the conditions of its members, the methods, the personalities too specific, maybe?
KLMy Dad learned to read and write in a trade union - he couldn't before he joined a union. But, it's been decades now that the main unions haven't been going out, engaging, educating, and organising.
You can't just build it up overnight. It will take a long-term plan. But, I don't think there's much recognition that's what it will take.
I think that UVW has sparked something that bureaucrats have all clocked - the fact that they're sometimes so aggressively against them suggests UVW have hit a sore spot. It's difficult to admit that you haven't done anything for 30 years.
JVThe balance of power is still firmly in favour of the bosses, yes.
But, anyone can do something - all the unions can do what we're doing, which is go to the street, direct actions. UVW is member-led, and it's combative. All of the official unions don't like these things; but, we feel like we're doing something they should be doing. Official unions should be more assertive, more confident, I think.
What are we doing? It's not magic. We don't feel special. We are not so different from them that they can't do what we do.
---
As this interview was going to press, UVW announced that cleaners at RBKC will be paid the LLW by December this year, with backdated pay, and that their terms and conditions will be reviewed as part of an early termination of the Council's contract with subcontractor Amey.