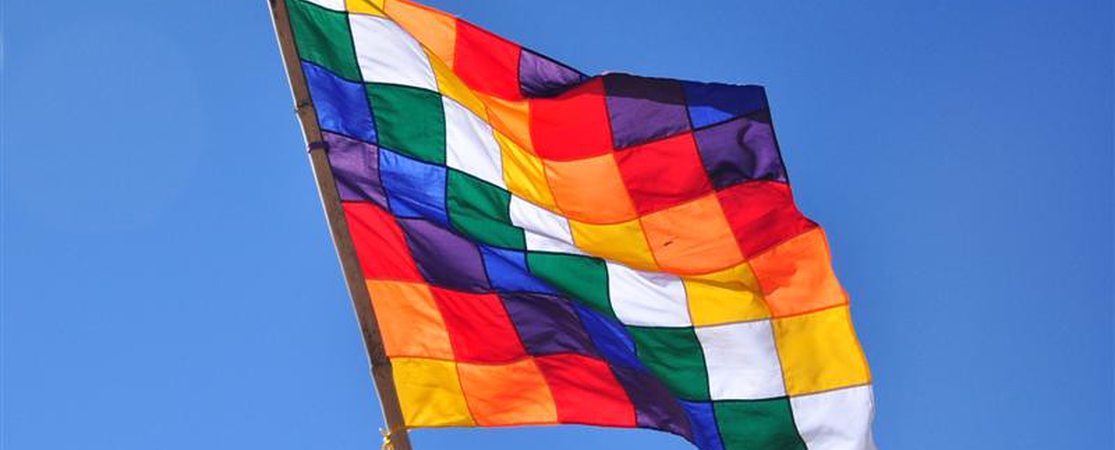 You will return as Millions: Solidarity Statement with Bolivia
We are writing as socialists in Britain to express our solidarity with, and our love for, Evo Morales, Álvaro García Linera, the Movimiento al Socialismo, popular movements, and all our comrades in Bolivia, especially Indigenous people. We welcome the unequivocal statements of solidarity and condemnation of the coup from Jeremy Corbyn and from Momentum. Dominic Raab's cynical response to Corbyn's statement of solidarity neatly demonstrates the attitudes of the British ruling class towards democracy and popular sovereignty, as well as their grubby insistence on treating real struggles between real people as opportunities for petty point-scoring and dogwhistle electioneering.
Bolivia's Democratic-Cultural Revolution has been the most inspiring political, social, and cultural process of the last two decades. Alongside very significant reductions in poverty and successful projects in meeting basic social needs, Bolivia has undergone a genuinely revolutionary process. The past 14 years have seen a whole host of social relationships transformed, processes of popular empowerment and the transformation of the state, from a former colony founded on the dispossession and exclusion of Indigenous people to a proud plurinational state in which Indigenous people and women sat in the highest offices of government, the Earth was granted unprecedented legal protections, and all IMF debt was repaid, liberating the people from the narrative of austerity. This period has arguably been the biggest interruption of the colonial hegemony in over 500 years: a glimpse of what it might mean for a society to hold different values, to value different things.
There can be no equivocation about what has happened. This is a coup (un golpe) instigated by those who hate democracy. What else can we call a President acceding to military demands for his resignation amidst a mutiny from the police, violence towards his family and comrades and threats of its intensification? What else can we call it when a brave man is forced into resigning to prevent a civil war? What the golpistas hate is not just the broad democratic project of popular dignity and empowerment but, above all, the specifically Bolivian project that is the presence and self-assertion of Indigenous people. The reactionary forces do genuinely believe in their lies about "electoral irregularities", because for them, poor rural indigenous people having in say in the politics of Bolivia is the political impropriety.
Of the coup in Chile, Eric Hobsbawm wrote, "the left has generally underestimated the fear and hatred of the right, the ease with which well-dressed men and women acquire a taste for blood." In Bolivia we see this manifesting not only as the revanchism of class hatred, but, most vehemently, as anti-Indigenous racism. Indigenous politicians and militants, especially women have been attacked. The Wiphala has been torn down and burnt. Entering the vacated Bolivian Palace of Government, coup leader Luis Camacho placed a Christian Bible on the Bolivian flag, declaring, "the Pachamama [Indigenous Mother Earth] will never return to the Palace. Bolivia belongs to Christ." The colonial resonances in this gesture are as clear as they could be. What the reactionary forces desire more than anything else is to crush the processes of Indigenous dignity and political-cultural assertion, as well as the aforementioned (and related) ecological commitments, all of which are symbolised by Pachamama's presence in the Palace. Amid astroturfing calls to "listen to Bolivians!" from recently-registered, coup-supporting social media accounts, it is important to remember this statement of racialised supremacy. Many Bolivians doubtless hold right-wing views: no set of humans is a monolith, and settler-colonial societies often give rise to extreme expressions of reaction and revanchism as well as revolutionary possibilities. But when those right-wing views manifest in statements such as "Pachamama will never return to the Palace" – a clear statement of genocidal intent, of Indigenous repression and disenfranchisement; a threat of ecological destruction in the name of profit – our obligation to simply "listen" to those people ceases. Both-sides-ism has no place here.
This year saw the industrialisation of lithium production in Bolivia, which has at least 50-70% of the world's lithium. This move represented a qualitative shift in Bolivia's position in the international division of labour, meeting part of the promise that by 2025, "no materials produced in this country will be sold without some type of industrial processing, without some added value." This would have ensured more wealth and autonomy being retained by Bolivia, enabling it to extend social programmes, as well as
increasing the essential social benefits of the labouring classes and, on this basis, creating the cultural, educational and material conditions to democratise control of the common wealth, even to the point of going beyond the state institutions by establishing community ownership and control of property and social production itself within a perspective of deepening social mobilisation and gradually overcoming extractivism.
This shift interrupted the processes of capitalist accumulation through dispossession – a particularly important move given that lithium is necessary for many of the technologies that are proposed as solutions to the ecological crisis. The notion that that lithium might be slightly less cheap in future is, it seems, too much for some to bear. Cheapness, as Jason W Moore has said, is violence. This coup is that violence of cheapness made all too real; an attempt to restart the process of capitalist accumulation, and maintain Bolivia's total subordination within the global division of labour. As supporters of ecosocialist politics in the imperial core, we must ground our politics in respect for the lands and the peoples who provide the clean energies that we promote. We must refuse to allow the Green New Deal to become part of a justification for a new green imperialism.
There can be no equivocation between a deep, long democratic process of building popular power - the struggles of the Indigenous and popular majority of Bolivia towards full social, economic, and cultural dignity - and an oligarchic coup backed by the United States that is built on, and unleashing, revanchist violence against the Bolivian left, the Bolivian working classes, and Indigenous people.
Pachamama will return to the palace. You will return as millions.
In love and solidarity.
josie sparrow, New Socialist
Tom Gann, New Socialist
Connor Beaton, NUJ Dundee (Personal Capacity)
Joe Williams, Valleys Underground
Ben Bowsher, PhD researcher, Newcastle University
Edward Webley
Juliet Jacques, National Union of Journalists
Hywel Roberts, Labour Party Member
Jamie Lolley, N/A - Eco-Socialist
Nicole Froio
Ben Ferguson
Helen Reynolds, Labour Party Member
Jon Greenaway, UCU
Hedy Hume
Jonty Leibowitz
Andrew John Miles, Leeds West CLP (Personal Capacity)
James Potts, Labour Party Member
Martha Shearer, Tower Hamlets Momentum
David Clarke
Patricia Johnston, Youth officer for Edinburgh Northern & Leith CLP, Campaign for Socialism member
Fielding Hope, Cafe OTO / Counterflows
Conor McFall
Stewart Smith, UCU, Newcastle University, Freelance writer
Ariel Goodbody, Youth Communist League
Daniel Willis
William Yong, Labour Party Member
Alex Elmore
Peter Gowan
Derek Wall, UCU
Joe Bilsborough
Julian Wilson, Labour Party Member, Unison
Michael Edwards. AUT
Gareth Fearn, Labour Party Member, UCU
Paul McAllister
Ed Rooksby
Joseph Hamm
Raymond Thompson
Melissa Hope, IWW
ben scott, Labour Party Member
Oliver Levingston, Postdoc, Sciences Po (Paris, France)
Peter Nicholls, Vansterpartiet, Sweden
Gabriel McCook, Unite in Finance, Political Education Officer Brighton Pavilion Labour Party
Max Shanly
Alex Doherty
Cllr Jess Lennox, Leeds City Council, Unite the Union
Emily Coatman, Labour Party Member
Josh Bowsher, Brunel University
Robert White, Copeland CLP, Unite
Sean Leggatt-Bulaitis, Secretary, Leeds Young Labour
Laura Wirtz
Josh Kitto, Mitcham and Morden CLP
Loki Nash
Patrick Elliot
James Dudley, CWU, IWW, Labour
Michael Coleman
Julia Davis
Liam Cosgrove, Labour Party Member, Newcastle East CLP
Sam Foster, Southwark Momentum
Jon Bounds, Abingdon Labour Branch Secretary
Archie Woodrow
Lewis George Bloodworth, Phd student - University of Kent
Seb Grey
Lai Ping Lee
Paul Fenney, Labour Party Member
Joseph Aneurin Hopkinson
Conran Tickle, Eddisbury CLP
Anna Roberts
Marlon Pather
Sarah Bradley
Elinor Taylor, UCU/University of Westminster
Tom Munday
James Smith, Royal Holloway College, University of London
Benjamin Kunkel
Tom Allen
Barney Carroll, Labour Party Member
James Kenney
Rhys Gould
Gwyn Rees, Unite & VC Southampton Momentum
Fletcher O'Leary
John Fullerton
Jack Sheehan, Trinity College Dublin
Daniel Howdon, UCU / Leeds Central CLP
Chris Rawlinson, Labour Party Member/Unite
Charlotte Weatherill, Labour Party Member
Julie Wrigley, Labour Party Member
Jenny Warren
Glenn Fitzpatrick, Unite ROI
Connor U, Labour Party Member
Charles Umney, UCU
Tom Williams, Southampton Test CLP
Shelly Asquith
Christine Hebenton
Tom Colclough, Hackney South CLP
Angus Hebenton, Labour Party Member
Jack Yates, Freelance writer
Matt Creasey, Labour Party Member
Kenny Love, Hackney South and Shoreditch CLP
Daniel Frost, New Socialist
Peter Rix, Labour Party Member/Earth Moves Co-op
Jason Annadani, Ealing Central & Acton CLP
Yussef Robinson, Labour Party Member
Lorcan Mullen, CFS, Momentum NCG
Leo Cookman, Labour Party Member
Samuel Wright
Nicholas Preston, Labour Party Member
Harry Moss, PCS/Labour Party Member
David Cullen, Labour Party Member
Sinan Kose, Labour Party Member, Nottingham South CLP Youth Officer (Personal Capacity)
Jessica Thorne, PhD Researcher, Royal Holloway / Labour Party Member
Chris Morehead, RMT
Rebecca Hughes, Labour Party Member
John Beresford, Labour Party Member/Unite
Jaime Peschiera
Dan Grace, Unision/IWW/Labour Party Member
Michael J Flexer, Labour Party Member
Josh Pointing, Isle of Wight CLP
Daniel Neofetou
Joe Corcoran, New Socialist & Labour International CLP
Kieran Curran, University of Highlands and Islands/EIS
Michael Sykes, Unite
Maura Hazelden
Oliver Daly, Labour Party Member
Michael Prosser, Labour Party Member
Arthur Salisbury, Tottenham CLP
Katy Jago, Labour Party Member
Charlie Clemoes, Failed Architecture
Steffan Blayney, Sheffield UCU
Tom Greenwood, Leyton & Wanstead CLP
Gavin Maclean, EIS
Theodora Polenta, LGBTQIA+ Officer, Rushcliffe CLP
Elle O'Rourke, New Socialist
Alex Kemp, Labour Party Member
Daniel Wernberg, Holborn & St Pancras CLP
Kate Flood, IWW South East Organiser
Matthew Willis, Southampton Itchen CLP
Adam Whitworth, Macclesfield CLP
R Nisbet
Barry Ewart, Unite Community
George Gray, University of Kent UCU, Woking CLP
Sam Edwards, Southampton Test CLP
Owen Hatherley, Tribune
Matt Power
Gabriel Everington
Jamie Davidson, PCS
To add your name, please fill in this form.