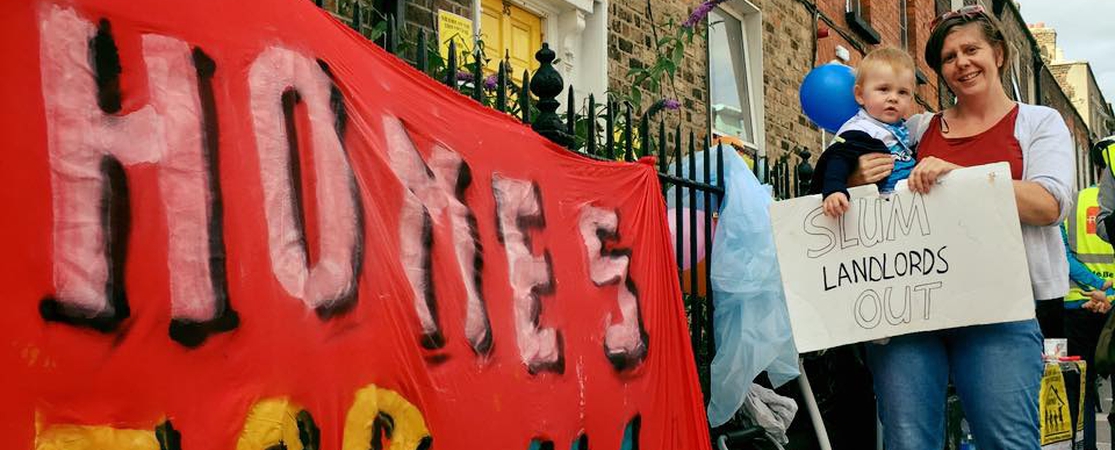 From the Summerhill Occupation: On the Fight for Public Housing in Dublin
Summerhill Parade was as quiet as any inner-city street could be at 10:30 on a Saturday night. Locals celebrated the Dublin Gaelic football team's fourth successive qualification for the All-Ireland Football Championship final in two pubs, the Bridge Tavern and Lowry's; cliché as it will sound to any Irish reader, a punter smoking outside actually said "up the Dubs". After pulling in at the Bridge Tavern, it wasn't until I saw the banners, the boarded up doors and the men in high-vis jackets across the road that I knew I was in the right place.
The darkness was the only excuse I had for not immediately picking out the most prominent of the banners: a red cloth with "HOMES FOR ALL" scrawled across it, hanging between two windows on the second floor of 35 Summerhill Parade. Earlier that week, a huge coalition of leftist and housing groups had occupied number 35 to protest its owners, Pat and P.J. O'Donnell, and their illegal eviction of at least 120 tenants from seven houses – numbers 33 to 39 – on the street, in May of this year. The attached Georgian townhouses, where tenants had been crammed into rooms of between six and eight people for prices ranging €350 to €450 a month, had lain vacant since the evictions until the occupation began on August 7. The demands of the Summerhill Occupation were simple, yet radical: the compulsory purchase of the seven houses by Dublin City Council, the return of the buildings to the community in the form of public housing – with evictions banned and rent capped at 20% of income or €300 per room maximum – and that all other vacant land and property in the city be similarly purchased and repurposed. These demands were made alongside an explicit call for activists in other areas to undertake similar actions.
The occupiers came from everywhere; their leaflets named Dublin Central Housing Action, Dublin Renters Union, Take Back Trinity, North Dublin Bay Housing Crisis Community, Migrants and Ethnic Minorities for Reproductive Justice, Blanchardstown Housing Action Committee and Brazilian Left Front as participants, but over two visits last weekend, three spokespeople, all of whom expressed a preference to remain unnamed, and various other participants told me that more groups had decided to keep themselves off of the leaflet and that individual members of left parties such as the Workers Party, Communist Party, People Before Profit, Solidarity and Left Unity had taken an active role. That Saturday night, nightshift occupiers, including Workers Party councillor Éilis Ryan, came one by one to relieve their evening shift comrades. These were the quiet moments, unlike an event dubbed Leo's Early Risers, where participants donned masks of Taoiseach Leo Varadkar to parody Varadkar's statement that Fine Gael would be for "people who get up early in the morning." If moments like that are the ones that attract the media and build a positive, fun image for actions like this, what I witnessed were the small, seemingly insignificant moments that keep morale high enough to win the war on the ground: the seamless handovers, people popping their heads out the door to see if anybody wants tea, the local walking a heterochromatic dog named Bowie who stopped to express solidarity.
The reality of actions like this is just how unglamorous they are. "I was in the cinema on Tuesday night and I ended up occupying a house," one spokesperson told me. What they found was a house in need of renovation, but with all the basics from water to electricity fully functional. The only reaction they had gotten from the owners before my visit was the boarding up of the other six houses the Wednesday morning immediately after the occupation. The action was taken against a backdrop of all-time highs in both rent prices and homelessness in Ireland; that it was done on the same week that pictures of six children sleeping on chairs in a Tallaght Garda station went viral made it feel as if the week could be looked back on as a breaking point, for the public at least. The government has so far remained unmoved, refusing to recall the Dáil to discuss two crises that go hand-in-hand. Housing Minister Eoghan Murphy refused to cut his holiday short and return to Ireland to discuss his inability to do his job, hence the spray-painted banner that read "EVICT EOGHAN MURPHY" hanging on one of the boarded up houses. Even if the government were to be recalled, there is nothing in the centre-right Fine Gael's ideological makeup that could possibly ameliorate a crises that can only be addressed through building social housing and rent caps.
Summerhill Parade and the wider Ballybough area that surrounds it are in a precarious position. They are working class enclaves all within thirty minutes of the city centre, high-paying employers such as PwC, the Central Bank of Ireland, Facebook and Google, train stations such as Connolly Station and Drumcondra Station and cultural hotspots like the Hugh Lane and Olivier Cornet galleries and the James Joyce Centre. Factor in the multiple surrounding parks and the en vogue high ceiling/big window combinations of the Georgian townhouses, Summerhill Parade and similar streets are a gentrifying landlord's dream project, a yuppie paradise in waiting. The O'Donnells have already made their move to transform the area. After buying Aldborough House, a derelict mansion just a few minutes walk away from Summerhill Parade, they secured planning permission to turn the building into an office block.
Huge, empty buildings are a regular sight in Dublin, a city where it was reported in March that 2,801 children are homeless. Some of the occupiers of Summerhill have experience with a similar action, when the empty ten-storey Apollo House was occupied in December 2016. The difference between Summerhill and Apollo, one of the spokespeople said, was that nobody lived in it. Whereas Apollo provided vital services like food and a bed to the city's homeless, Summerhill, given its smaller stature, was instead being used as an organising hub. "The hope is that this can be a catalyst," another spokesperson said; that Saturday night there was talk of a socialist Expendables like occurrence earlier in the day when six activists left the house and jumped into a HiAce van to protest another eviction elsewhere. All of the spokespeople touched on the more readily translatable nature of the Summerhill Occupation; not everybody has an Apollo House in their neighbourhood, but almost everyone in Ireland has at least one vacant house near them.
Too much of Irish homelessness discourse has focused on some nationalistic and nebulous idea of "looking after our own," first, as if people of all nationalities are not affected by the price gouging of landlords who see no passports, only monetary figures. Summerhill was a refreshing respite from this sentiment, with all 120 of the tenants having been foreign nationals – most, if not all, Brazilian – and internationalist organisations such as Migrants and Ethnic Minorities for Reproductive Justice, Brazilian Left Front and the Anti-Racism Network to the fore. "They need places to live as well," one of the spokespeople said on my second visit, as crowds passed by on their way to nearby Croke Park to discover who would be Dublin's opponents in the All-Ireland Gaelic football final. "We're all humans and I think that's the key thing that they need to remember when they're of a mind to say 'look after our own'… We are." With a talk from Thapelo Mohapi, General Secretary of Abhahlali Base Mjondolo – South Africans who live in self-built homes with self-organised plumbing, electricity, childcare, sanitation and services – Summerhill showed that the fight against homelessness in Ireland is one best fought with solidarity across racial, national, gender and any other lines usually used to divide the general public. There was fun too, with music, face-painting, magic, food and arts and crafts at a Family Fun Day intended to introduce the organisers to the local community and spread information about the occupation. All spokespeople regarded it as a great success and as an enjoyable experience.
Things moved quickly after my visits, the O'Donnells were granted a High Court injunction and by the time agents for the owners visited the property on Friday morning, the house had been emptied. The action wasn't over however, it had instead showed the fluidity that comes when organisation is emphasised and moved to another empty house on nearby North Frederick Street.
The seven houses on Summerhill Parade weren't compulsorily purchased and returned to the community, but it would be unfair to call the occupation a failure; I can't help but think of the local walking Bowie the dog, who said that other locals hadn't realised the houses had been vacant because the evicted tenants, with nowhere else to go, had continued to congregate on the steps of the houses. Summerhill was most likely never going to result in the occupiers' demands being met; what was important was to begin the process by which at least some of the empty houses in Dublin can be compulsorily purchased and turned into rent-capped social housing. Dublin City Council did not build a single unit of public housing in the first quarter of 2018, yet the city is now lined up for 79 new hotels; it is old hat cite James Connolly when discussing Irish leftist struggles, but when the behemoth for whom nearby Connolly Station is named wrote "our demands most moderate are, we only want the Earth," he knew that the Earth was to be taken, not granted. Eventually Dublin City Council will have their arms twisted into building or purchasing social housing they so clearly aren't interested in. When the Earth is your goal, North Frederick Street seems as good a starting point as Summerhill Parade.