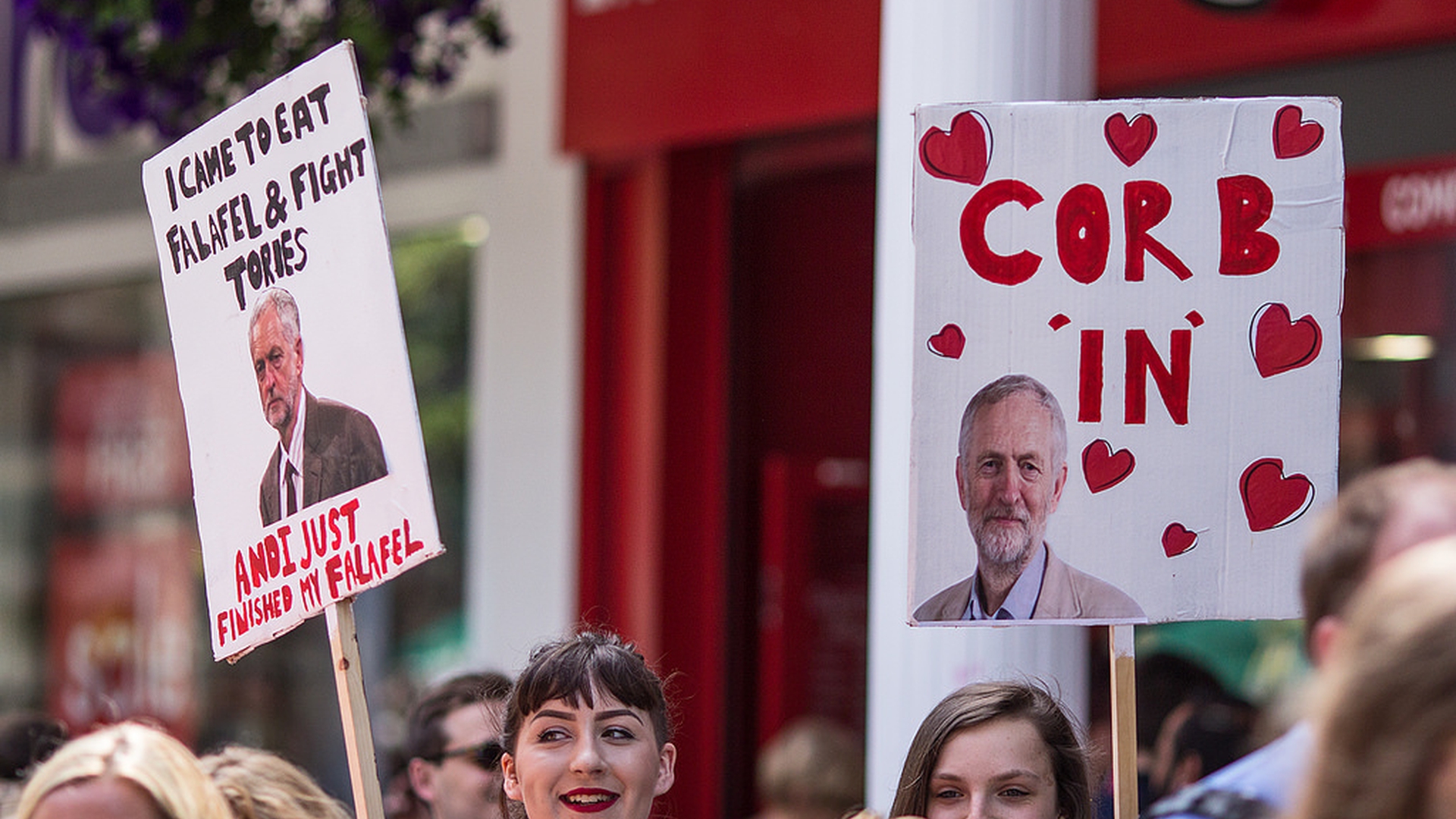 For a Socialist Young Labour: Back the Momentum Slate
by The Editors / September 11, 2017
{ Beyond Westminster }
---
Voting is now open, until this Wednesday (13th September), for the upcoming Young Labour policy conference.

938 words / 4 min read
---
Voting is now open, until this Wednesday (13th September), for the upcoming Young Labour policy conference. Known for being a bastion of young careerists from the right of the party to earn their stripes on their rise up the career ladder, the Labour Party old guard are keen to keep it this way, particularly as Young Labour's national conference elects a representative to Labour's National Executive Committee.
Last February's Young Labour conference was mired in scandal after it emerged that the prevailing candidate, Jasmin Beckett – whose win was by the tightest of margins in fairly dubious circumstances – had undertaken a vicious smear campaign against her rival James Elliott. New changes to the makeup of Young Labour attempt to help the right wing regain its stranglehold over the organisation. It's therefore crucial that the left gets as many members as possible onto the policy committee, and while the Young Labour policy committee elections across the country are of great significance, nowhere is it more important to have left wing unity than in London, which remains a key outpost for the young Labour right.
New Socialist is encouraging a vote for the Momentum slate. This slate includes three New Socialist contributors - Frankie Leach, Charlotte Nichols and Daniel Frost. The Momentum-backed candidates are as follows, and we are calling on the Young Labour left to offer them support:
Scotland: Lauren Gilmour, Emily Robinson, Chris Barber and Michael Muir
Greater Manchester, Lancashire and Cheshire: Frankie Leach, Lauren Stocks, Charlotte Nichols, Kirstie Smith, Leigh Drennan, Rob Wood and Connor Naismith
Cheshire and Merseyside: Liz Warnock, Sarah Doyle, Zoe van Couter, Damian Bailey, Fieldhelm Doolin and Andrew Peak
Yorkshire and the Humber: Annie Maloney, Connor Fisher, Liam Penny, Charlie Hind
East: Annie Hatley, Rox Middleton, Lizzy Kelly, Emily Fox, Ollie Hill, Sean Leggatt-Bulaitis, Christy McMorrow and Isreal Geniuss
London (North and East): Jenny Killin, Lydia Gray, Asher Mohammed, Beth Foster-Ogg and George Charalambou
London (North West): Artin Giles
London (Central): Lara McNeill, Elisabeth Mahase, Faisa Hassan, Sahaya James, Freddie Seale, Owen Lowry and Louis Mendee
London (South and South East): Faiza Mahmood, Daniel Frost and Tom Hymas
West Midlands: Huda Elmi, Rida Vaquas, Mohammed Mumit, Minesh Parekh, Felix Ling and Harry Shaw
East Midlands: Emily Carter, Lauren Mitchell, Danie Chance, Mairi-Frances McKay, Nadia Whittome and Arthur Aitchison
Hampshire and the Isle of Wight: Cal Corkery
South East (Sussex, Kent and Surrey): Sarah Cundy, Charlie Mower, Nathan Phillips and Josh Chown
South East (Berkshire, Buckinghamshire, Oxfordshire): Becky Boumelha, Nekisa Gholami, Ali Avci and Tom Zagoria
South West: Alex Mockridge, Kiah Tasman, Charlotte Owen-Caw, Zoe Shipton, Riley Cox, Logan Williams, Kieran Glasssmith, Zachary Murrell-Dowson
International: Lola May
(If we've missed any Momentum-backed candidates from this list, please contact us at @NewSocialistUK on Twitter or email [email protected] to let us know.)
It is, however, disappointing that some supporters of the Alliance for Workers Liberty (AWL) are running their own very thinly-disguised slates for the Young Labour policy committee elections in the central and north-east London regions. Using the tell-tale moniker of 'Grassroots Socialist Candidates for YLPC', photos depict the candidates at a picket line with their copies of Solidarity and Clarion, two AWL papers. When asked how the slate was decided, its organisers responded that it was a group of friends who knew each other from the National Coalition Against Fees and Cuts (another AWL front), the Clarion and through supporting the Picturehouse strike - in other words, despite the 'grassroots' tag, with no input from other party members. In putting themselves forward, they stand against the official Momentum left slate made up of socialist Young Labour members and committed trade unionists.
These rival slates pose a real risk of splitting the left vote in central and north-east London - crucial battlegrounds for the future of Young Labour and the Labour Party as a whole. Their stated policies are to support the McDonald's and Picturehouse strikes, defend and extend free movement and promote a democratic and autonomous Young Labour. There is no doubting that the Momentum candidates support the McDonald's and Picturehouse strikes – Momentum itself has done considerable promotion of these strikes on social media. Indeed, Momentum's video on the McDonald's strike is estimated to have been seen by a quarter of the company's UK workers. It's also evident that most if not all of the Momentum slate will support free movement in the EU. There are indeed AWL-aligned candidates on the official Momentum slate, and New Socialist urges its readers to vote for them. But the regrettable decision to run these contending London slates can only be described as sectarian and self-indulgent, done in a fit of pique rather than on a genuine point of principle.
The antagonisms between the AWL-backed 'Grassroots Momentum' faction and the Momentum leadership are well-documented - we do not propose to go over them in any further detail here. Suffice it to say that the presence of the rival slates on the ballot could potentially weaken the position of the Young Labour left, tipping the balance in favour of the right and thereby preventing Young Labour from providing Corbyn's leadership with an important source of support. If this 'grassroots' slate splits the Young Labour left vote in London, it could hand the right a crucial advantage and enable it to restore its grip on the organisation as a whole. This would be a serious setback for the Labour left, as well as ensuring that the concerns and views of Young Labour's membership (which is predominantly socialist and pro-Corbyn) end up effectively marginalised by an ugly combination of bureaucratic manoeuvring on the right and sectarianism on the left.