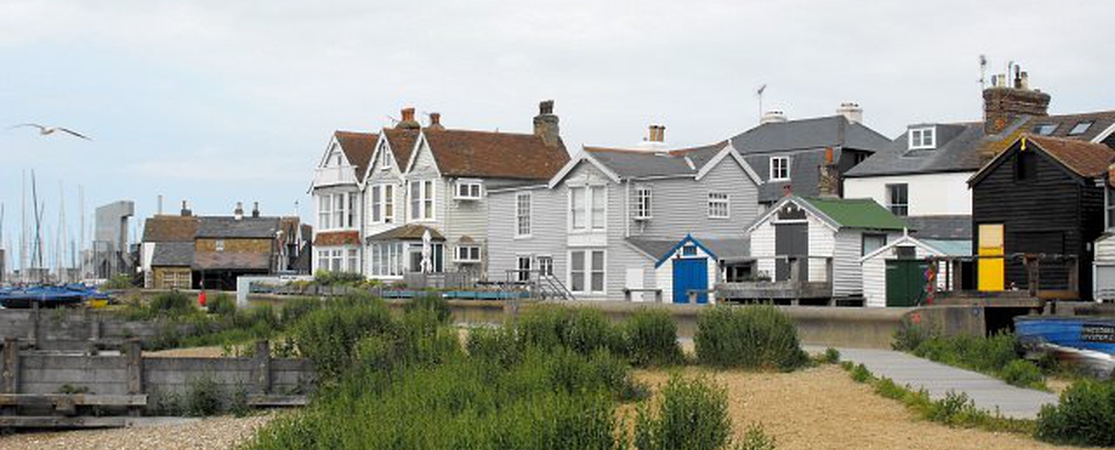 Another Pardoner's Tale: Labour in Canterbury and Whitstable
by Leo Cookman / November 28, 2019
{ Beyond Westminster | General Election 2019 }
---
The media discourse on the election in Canterbury suggests that Remain will be decisive if Labour is to hold the seat, this erases questions of material need throughout the constituency.

2659 words / 11 min read
---
The Liberal Democrats and the Conservatives are setting out for Canterbury to ruin Labour but in their greed they may end up turning on one another.
Telegraph columnist Tim Walker stood down as Liberal Democrat candidate in Canterbury last week in deference to incumbent Labour MP Rosie Duffield. This was due to the fact both are fighting for a Remain stance on Brexit and Duffield only beat the Conservative candidate by 187 votes in 2017. The narrative at the moment is that the Lib Dems don't have much of a chance in the area so all they would accomplish by standing is siphoning off votes from Labour and ensuring a Conservative win in December. The local party agree with this and are unwilling to fight for a candidate that would disrupt what has become the defining pledge of their party: to Remain in the EU. Despite all this Jo Swinson and Lib Dem HQ have forced through a replacement candidate, Claire Malcolmson . It is a strange tactic and reveals a great deal about Swinson's intentions for this elections, amounting to a somewhat warped "Death or Glory" strategy with the added bonus of doing as much damage to Labour as possible whatever the outcome. All of this has been poured over in the national press. What has been lacking is a perspective on this at local level.
I've lived in Whitstable since 1985 when my family moved here when I was only a year old and I must say having the gaze of the National press trained upon you I can only liken to being fixed by the Eye of Sauron, only scarier. I have lived and worked in both Canterbury and Whitstable in those past four decades and the transformation in that time has been quite something. My father ran as a Green party candidate for local council in the Thatcher years and my mother has always been a socialist of the Benn school. Being brought up with Left values in what was one of the safest Conservative seats in the country (held by them for 185 years until 2017) was depressing. The council has always been Conservative as long as I've known it (and still is) and Julian Brazier was the Conservative MP my whole life until the upset two years ago. Little was made of the truly remarkable feat Duffield and the local CLP managed in overturning this entrenched Tory stronghold but what discussion there was was attributed to the growing student vote (Canterbury now has two Universities, the international UKC and the newly minted Christchurch). Though undoubtedly significant it is only one part of the story. In the run up to what could be a transformative election for Britain it's worth looking a bit closer at what has quickly become a 'Battleground' marginal.
To the city of Canterbury then. As the seat of the Anglican church, home to the Archbishop and a sadly crumbling medieval castle ruin (make of that metaphor what you will), tourism is one of the area's biggest trades and always has been. There's a reason Chaucer was the world's first travel writer. Retail is central to Canterbury's success too, with a never-not overwhelmingly busy high street like a lot of towns and cities in the UK but with the added bonus of almost every building being 500-years-old and listed. Then there's the University of Kent & Canterbury, or UKC, ranked 55 in the country by the Guardian and the Times and resolutely international with over 20% of its students from overseas. Add Christchurch, which attained University status in 2005, to this and you have an even larger young population in a relatively small area. This set of demographics creates an interesting dichotomy: a thriving, thoroughly international city with a large student population set in the suburbs of the Garden of England, alongside the seat of the Church of England. A broadly young and international population set inside a very old, tradition drenched constituency. If you look at the local 2016 referendum vote share you can see this demographic reflected in the result and a startling similarity to the national result too: 51% - 49% in favour of Leave. Fewer than 2,000 votes would have changed the outcome. When the 2017 election delivered its shock result of a Labour win many pointed to an energised pro-European electorate turning out to rebut the referendum loss as a key reason for Duffield's success. While certainly a factor it is worth remembering this constituency is not Canterbury alone.
Unlike the city over the hill, Whitstable has seen a huge demographic shift over the last 20 years. In the 80s and 90s, when I was growing up here,this was a harbour town. A seaside town surviving on industry rather than tourism. A lot of it was run-down and mainly populated by commuters (despite the godawful, newly privatised train service which has only got worse), one of whom was my father. We were the ugly duckling of the bucket-and-spade towns that populate the Kent coast like Margate, Broadstairs and even Herne Bay. Whitstable and the villages could not have been more Conservative. The stereotypical provincial English village that was also near the coast and consequently Europe combined with a large amount of history attached to the World Wars and therefore considerable residual hostility towards Europe. Whitstable is referred to alongside 'The Villages', the rural communities populated by wealthier landowners and farmers, who generally skew Conservative. I am to this day - of the friends I am still in touch with from my youth - the only one with overtly left views. Whitstable, far more than Canterbury, was Conservative heartland. A few things had come to change by the early 2000s, however. This started with the growth of the Whitstable Oyster Company, who beginning in the 90s, started buying local businesses and land (including a portion of the harbour), which kickstarted the process of gentrification. It was this that prompted multiple large features in the Guardian about the town and the Oyster Company at the turn of the century, followed by a 2002 BBC adaptation of the novel Tipping the Velvet set in Whitstable and filmed right here. Housing prices consequently rocketed and so began the rise of the 'Duffel', a corruption of the acronym 'DfL' short for 'Down from London'. Those commuters stopped commuting and became either residents or bought homes here, many of which are now AirBnBs. Since the 2008 crash Whitstable has counterintuitively thrived. Depending where you look…
Weekend and international tourism has boomed but there is a lack of hotels and traditional B&Bs so locals have been priced out of housing due to demand for the AirBnBs that Londoners who own a second home here are only too happy to provide. This also means many houses on my street lie empty in the off season while many life-long locals are unable even to rent due to the continual increase in house prices which is a result of this. Schools groan under the weight of admittance requests due to the influx of younger families migrating here from the city. Canterbury A&E, which was the closest A&E to Whitstable (and where I was taken when I broke my shoulder at the age of 13), was closed over a decade ago, meaning you have to travel to Ashford or Margate in an emergency (that's a long way). This also resulted in the need for the building of 'Estuary View' medical centre, a minor injury unit placed at the top of the hill just outside town designed to ease emergency calls. One wonders why that money was spent building an entirely new facility when they old one worked fine. Traffic in town is punishing. The tiny high street, built for horse and cart, must now accommodate buses, delivery lorries, parents on the school run and Duffels, choking every available road in and out of town. This pressure is compounded by the side-streets becoming single lane due to cars parked on both sides of the tiny roads, a result of the lack of designated parking areas. High street shops, present since my youth, are closing every week, instantly replaced by coffee shops and estate agents. The 'Big Tesco', where I worked in my late teens, and which was once protested against as drawing trade away from the town now provides the largest amount for the local food bank. Meanwhile we've seen an increase in homelessness in the last five years, a problem that Whitstable had never had to deal with before. This may all seem like unnecessary detail but it is THIS shift in local businesses and demographics that flipped the seat in 2017 and not purely a 'Remain surge'.
This influx of more metropolitan families that have put colossal pressure on local infrastructure has resulted in demands for a change in local policies. Labour activists in Whitstable however skew older than the local Conservatives derisive (and sexist) term they use to define this new type of broadly progressive voting family, the 'Yummy Mummy' vote would suggest. But despite all this they show signs of real cheer and energy at recent meetings, no doubt a result of having spent decades in the wilderness but now having a chance of even greater success. Despite still having a Conservative council, having a Labour MP has changed the discussion on local policy too. It is an admittedly less radical , perhaps even 'trendy', desire for social reform, both nationally and locally, that is driving a Labour vote in 'The Bubble' (a local abbreviation of the town's nickname 'WhitstaBubble') but it is social reform nonetheless. For instance, local policies like more money for the Canterbury hospital, reversing cuts to local schools, support for Green initiatives like renewable power in the off-shore wind farms and using local brown site for solar farms, are all broadly popular, inoffensive policies that would never cross a Conservative's mind. And this is precisely the sort of vote Rosie represents. Yet, I feel, to her detriment. There is a far deeper well she could tap. Proposals for a one way route through the high street in Whitstable were greeted warmly by locals but locals quickly raised the idea of purely pedestrianising it, much to local businesses' chagrin so this plan was nixed. And as soon as more affordable housing is mentioned people are crying out for it, so restricting AirBnb's ability locally would free up homes but landlords (who also tend to be councillors here) aren't in favour. The radical Labour Manifesto with its tougher demands on landlords could transform the housing market locally. Rosie Duffield could hugely increase her lead just by pushing these policies more and this recent debacle with the Lib Dems is proof of that. While yes, local anger at Walker was justified (especially in his use of mental health slurs), the notion that he would be siphoning votes ONLY from Labour is perhaps misguided. Yes, the Lib Dems standing a high profile candidate undoubtedly would impact the Labour vote but it probably would have been less extensive than you have been led to believe . People outside the city of Canterbury did NOT vote Labour because of a Remain stance, they voted on local issues. Like everything about this election, Brexit isn't the main issue for most voters. People voted Labour in Whitstable because it was the right choice, Rosie was the only candidate talking about the hospital, parking, homelessness, rents and house prices, she was meeting with locals and being very visible and welcoming of discussion. The Liberal Democrats and even the Greens (whom I voted for in 2005 and 2015) share of the vote is based purely on ideological grounds rather than openness to voters and attempting to see unmet needs met and are, consequently, negligible. The Lib Dems only got a little over 4,500 votes compared to the Conservatives' 25,000 and the irony is an increase in Lib Dem votes could harm the Tories more than Labour.
I have two local friends of a similar age to me who are both ardent Conservatives, one of whom was a Party member. It is also worth noting they both voted Remain. They have both made it known they feel they can't vote for the Tories in this election for pretty obvious reasons. They would never vote Labour though so the natural assumption then would be that they're voting Liberal Democrat. They're a perfect fit! They have more MPs who were elected as Conservatives on their bench than original Lib Dems now. This is the element recent coverage is missing. While a surge in the Lib Dem vote here would undoubtedly hurt Labour, it would probably hurt the Conservatives more because purely voting on an ideology of centrism, or 'pragmatism' as my Conservative friends might call it, favours a Tory swing to Swinson not necessarily the equivalent swing from Labour. . The Remain vote has an MP already in their corner. This is why I'm still quietly confident Rosie might squeak this one again, especially now Swinson has insisted on fielding a candidate (for whatever unfathomable motivations she might have).
I do not share Rosie Duffield's politics. I am not in favour of a second referendum, which she is, for instance and her, though well-intentioned, appeals and camaraderie with the Liberal Democrats and the more right-leaning elements of the Labour party can be damaging and, far from 'unifying', makes Labour look divided. I am not her demographic. I am, however, incredibly grateful to have her as my MP. More than simply being another seat in Parliament for Labour she has been a local figure representing the constituency in a proactive, helpful way. I never saw Julian Brazier except once at the post office in Canterbury. The only TV interview I ever saw him on was when he lost in 2017. He was a complacent MP who did nothing for his constituents and voted consistently against any and all progressive policies, relying on a large Tory majority to carry him through an election each time. I never saw him campaign and any leaflets I remember only bore his signature. We did not have an MP, we were simply a Conservative seat, it didn't matter who sat in it. 2017 changed all that. Since her election Rosie has actively campaigned for reopening the Canterbury A&E, been present at local Pride celebrations, appeared on local and national broadcast news, delivered a genuinely moving speech on the domestic abuse bill that drew national attention to the topic and has broadly voted in line with the party. I feel represented for the first time in a constituency where that has never been so. While I may lean heavily to the left of the party and its policies, and therefore to the left of Rosie, far from holding my nose on the 12th I shall cheerfully sign my cross next to her name and look forward to a brighter five years with her representing me. This is what she should be capitalising on in her campaign. Having only sat for two years she's already changed local politics and local discussion about policy issues. As opposed to leaning heavily on Remain (though I don't expect her to change her stance) she should be leaning on the fact she already represents change, something the Lib Dems can't do, and something the Conservatives couldn't hope to represent given over a century of totally static policies. If Swinson wants to rely on the Remain vote, let her. Labour and Rosie already offer that and have much, much more to offer not just Canterbury but the whole area over the next five years and as a local myself that entices me more than any single issue ever could. I think she'll be surprised at how many others feel the same way.
To help Canterbury CLP with the campaign, take a look at the website, or for details of campaigning events, look at the Labour website