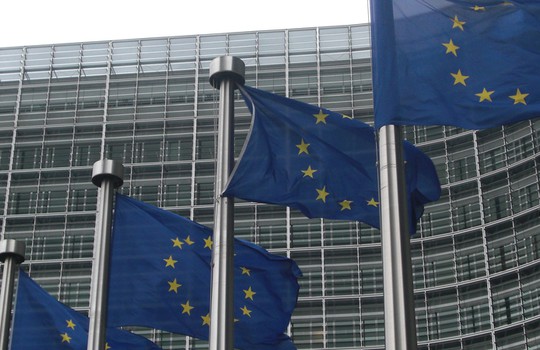 A Socialist Europe from Below?
When Ursula von der Leyen was announced as the European Council's nominee for the European Commission presidency, newly converted British observers of EU politics were taken by surprise.
During the European Parliament election campaign, pro-EU activists on the left made the case that a strong result for Labour in the UK could help swing the balance of power within the European Parliament in favour of the centre-left group of Socialists and Democrats (S&D). This in turn would help boost the chances of Frans Timmermans, the S&D's favoured candidate, to head up the European Commission, and lead it in a more progressive direction.
But neither Timmermans nor his main centre-right rival Manfred Weber emerged victorious. Instead, von der Leyen, a German conservative politician and defence secretary in Angela Merkel's government, was chosen to lead the Commission, with the S&D (including UK Labour MEPs) controversially lending her their support.
Von der Leyen's appointment is the product of a compromise brokered by national leaders who are concerned less with the 'European project' (let alone European democracy) and more with their own domestic political agendas, bilateral relationships and international priorities.
This is important to take into consideration when we try to understand the controversial portfolio of commissioners that von der Leyen has unveiled this week, including Margaritis Schinas as commissioner for "Protecting our European Way of Life". If the implication was not obvious, von der Leyen clarified that this appointment was indeed about immigration: Europe, she said, must address "legitimate fears and concerns about the impact of irregular migration on our economy and society."
It is nothing new for Europe to adopt a hostile approach towards migration and refugees from outside Europe. For all the talk about a 'Europe of solidarity', this solidarity has not extended to the refugees drowning in the Mediterranean. Resources are not deployed towards helping people fleeing conflict and environmental catastrophe but rather put towards increasing surveillance and militarisation of the EU's external border. Pro-Europeans might talk about human rights and democracy, but European leaders are more than willing to disregard these principles when striking deals with authoritarian regimes to detain refugees that Europe does not want. The EU's cooperation with Libya, for example, exposes an incredible level of cognitive dissonance between the European self-image of liberal democracy and the actual values it puts into practise.
The reality of European migration policy is often far closer to that envisaged by far right leaders in countries like Hungary and Italy (both of whom, incidentally, supported von der Leyen). The far right likes to portray Europe as a white, culturally homogenous, Christian bloc. This fantasy Europe must be protected from the influx of immigrants who, they imagine, will undermine European societies. Some go as far as proclaiming that migrants of colour – especially Muslims – will eventually "replace" white Europeans, a conspiracy theory gaining increasing traction in the conservative mainstream. Another of von der Leyen's newly-created commission posts is the "democracy and demography" portfolio, which could also be interpreted as a nod to far-right obsessions.
This further underlines how the political mainstream is proving singularly incapable of turning back Europe's neo-fascist tide, and indeed, bears responsibility for legitimising it. By appeasing and enabling the far right, rather than confronting it head on, the European Union is playing with fire, and exacerbating tendencies that have already led to dehumanising and lethal migration policies across the continent. Labour MEPs, and others on the pan-European left, must reject any approach that normalizes far right language or ideas, or that posits migrants and workers as two distinct categories, and their interests as incompatible. To start with, they must use what limited opportunities the European institutions provide to challenge the creation of these offices and reject the new slate of commissioners outright if von der Leyen is not willing to change her approach.
There has been some limited backlash against von der Leyen's plans, including from S&D MEPs, including its Labour members, who published a statement vowing to scrutinise the suggested appointments, using European Parliament hearings and their right to reject the new Commission in a vote of confidence.
But this resistance is essentially tokenistic, and there is little hope that our elected representatives will push back too hard against von der Leyen. Many on the European centre-left have used similar language about migrants, and many more will want to safeguard the Commission places allocated to their bloc (Timmermans, for example, has been handed responsibility for climate policy and for coordinating a 'European Green Deal').
But it is not acceptable for socialists to engage in horse-trading with the far right for a number of positions in bureaucratic structures. No just green transition or indeed social democratic society can be built upon a foundation of far-right thought. In the end, even if portfolio titles are being rejigged to sound more acceptable to Europe's centrist leaders, if the EU's policy approach on migration and identity does not change, it makes no difference.
Once more, pro-EU socialists will feel the painful limitations of our current structures of governance as nation states and the international institutions they control continue to push forward a reactionary agenda. While we need to do everything we can at this current stage to resist and rebel against the direction our politics is headed, an urgent rethink of how we apply our tactics for pan-European mobilisation against the far right and for a democratic, socialist Europe must become a priority for the left. We cannot rely on bureaucratic institutions and political parties to drive forward change alone. It must come from a coordination of activists from below.
Between 2002 and 2010, social movements and trade unions were mobilised within the European Social Forum to coordinate campaigns on global issues. Such initiatives must be restarted to bring together political movements and actors from the left to develop a shared strategy for defending migrants, addressing the climate catastrophe and building true solidarity with marginalised people inside and outside Europe's borders. Socialists in individual nation states will not be able to tackle the political crises we face on their own – the continent requires change at scale. John McDonnell's International Social Forum is a step in the right direction, and socialists in Europe need urgently to build on this kind of initiative before it is too late.
---
author