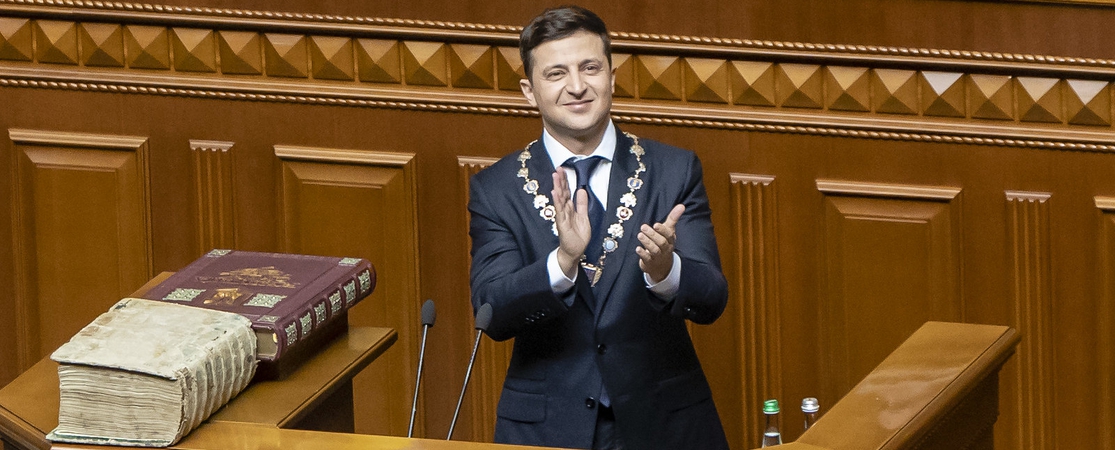 Make No Mistake: Ukraine's New President Is Not an Actor
This year's vertiginous media spectacle that brought to power Ukraine's new president, Volodymyr Zelenskyi, should go down in the history of film, as well as the political history of Eastern Europe. For sure, we've seen actors-turned-presidents before, while stand-up comedians entering political life are the new normal in world politics. The real novelty brought about by Zelenskyi's spin doctors is that for the first time in contemporary politics, someone had to pretend to be an actor in order to be elected president – and, what's more, was very successful at that.
How was this even possible? In fact, Ukraine has just witnessed a very innovative solution to one of the basic riddles of capitalism: How do you keep selling people more of the same stuff while making them think they're buying something new?
It is up to political scientists (and film scholars) to scrutinize the nearly four-year-long political project that started as an ordinary TV series and ended with an overwhelming 73 per cent of Ukrainian voters ushering its plot into existence. The series, titled Servant of the People, is about a school teacher, played by Zelenskyi himself, who unexpectedly becomes president of Ukraine and, as an outsider to the country's corrupt political system, stages a fight against the oligarchs.
Still, the real message of this TV show is pretty conservative. The struggle of Zelenskyi's character is ultimately futile, and any genuine protest against the corrupt system will be crushed, because the cynical power politics structured by Ukraine's oligarchs is omnipotent and inescapable. Towards the end of the show's final season – screened days before Ukraine's election in March 2019 – Zelenskyi's character finally manages to achieve a kind of success, re-unifying Ukraine after the country collapsed into dozens of self-proclaimed statelets as a result of political turmoil. So, the unconscious political desire of the series' makers implies, in fact, nothing more than a return to the status quo.
You don't have to treat yourself to dozens of hours of nauseating post-Soviet television to verify that message; it would be enough to watch a feature film based on the show's second season, Servant of the People 2 to get a grip on Zelenskyi's 'politics-is-dirty-and-everyone's-a-liar' ideology. This film is curious outside Ukraine mostly for delivering perhaps the clumsiest ever criticism of the IMF and its policies – an unfortunate case indeed, as the IMF's conduct in Ukraine deserves a much harsher assessment. (In the film, the IMF officials suggest to Zelenskyi's character that he agrees to turn the Kyiv region into a nuclear waste storage facility, a quite outrageous example of scaremongering directed at the post-Chernobyl generation, but a quite different case from the IMF's real-life actions in Ukraine, which have included a currency devaluation, a bank bailout, public spending cuts and a sharp increase in energy prices).
But this is Zelenskyi's politics in a nutshell: take an authentic problem or a grievance, and turn it into a harmless, cynical stunt. And this is exactly the reason why Zelenskyi has been planted into Ukraine's highest office. In a country with an unprecedentedly unpopular system of governance run by the oligarchs, his role is to help this very system survive through another five years – by claiming he's a political outsider or 'just an actor'. In fact, Zelenskyi is neither of those things. And that's the most interesting thing to know about him.
In much of Ukraine's political discourse, Zelenskyi is widely seen as a mere political puppet, fully under the control of a clan around the oligarch Ihor Kolomoyskyi who is opposed to his arch-rival, confectionary tycoon Petro Poroshenko, who was ousted from the presidency in the recent election. This stance could open up a curious perspective on artistic labour and its precarity under the turbo-capitalist regime that reduces all cultural production to show business (which is what's actually happening in Ukraine). According to this view, Zelenskyi is just a successful stand-up comedian whose artistic career, nevertheless, was fully dependent on the owners of a TV channel airing his shows, which allowed them to coerce Zelenskyi into running for the presidency and converting his media popularity into victory.
This interpretation misses at least one factor crucial for understanding not just the Zelenskyi phenomenon, but, more broadly, wider global trends in contemporary politics, that rely more and more on a vague set of practices called 'populism'. Most crucial of those practices is the ability to successfully claim the position of a 'political outsider' while remaining deeply rooted within the current political system. To do this, Zelenskyi successfully convinced voters that he was 'just an actor' – and this cynical lie effectively became a commonplace in the global media. Whereas, in fact, Zelenskyi is a businessman – and, as such, he is part of a post-Soviet political regime that relies on an ever-increasing merger between private enterprise and public politics, exemplified in an endless privatization of public assets that started in the 1990s and, surprisingly, has not ended to this day (which probably testifies to the fact that the Soviet Union had produced such an amount of public goods that even after 30 years of looting there's still something up for grabs).
Zelenskyi first entered show business over 20 years ago – around the same time his predecessor, Poroshenko, first entered Ukrainian politics as a noveau riche looking for ways to secure his wealth in a tumultuous post-Soviet reality. The decades that followed these two debuts were marked by a perpetual convergence of business and politics – up to the point when, following the uprising at the Maidan in Kyiv in 2014, which sought (among other things) to curb the power of the oligarch class, an oligarch in the form of Poroshenko nonetheless emerged as Ukraine's new leader. To no-one's surprise, Poroshenko was unable to restore public faith in the country's political system. So what would be the next logical step for the oligarchic model to survive? To try and deny that Poroshenko's successor has anything to do with big business. To claim he is 'just an actor'.
In the meantime, Volodymyr Zelenskyi is co-owner of one of the largest and most profitable production companies in any post-Soviet state, responsible for a large amount of content sold not just in Ukraine, Russia and other countries of the region, but also to a global audience via Netflix. He's the producer of numerous feature films, and popular TV shows and sitcoms. The fact that Zelenskyi also occasionally stars in some of them should not disguise the fact that he's probably a much keener performer in negotiation rooms than in front of the cameras – otherwise, his business empire would not work. He is in no way a novice to politics – simply because he's not a novice to big business, and in Ukraine, you can no longer distinguish between the two.
In the end, a typical CEO of a large company often serves as a stage performer – for instance, doing TEDtalks or motivational speeches – yet no one considers them 'actors'. Which is a pity – some of those people would for sure do a much better job than Zelenskyi, lousy actor that he is.