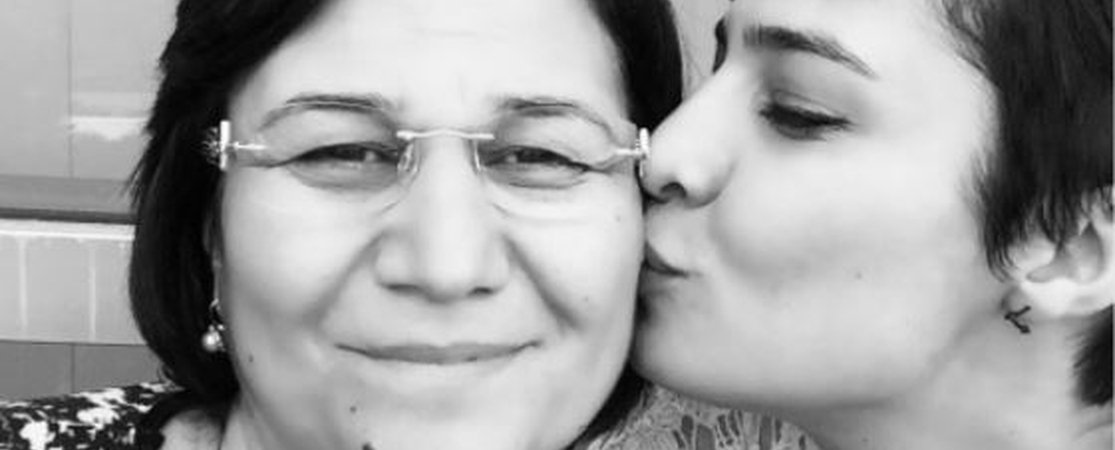 Leyla Güven's Struggle for Justice
{ International & Foreign Policy }

Ezgi Mete / February 3, 2019
---
Kurdish politician and activist Leyla Güven's hunger strike enters it's 88th day today. Her struggle against the AKP's fascism and oppression deserves international solidarity. 2512 words / 10 min read

Photo:Sabiha Temizkan
---
A Woman MP resisting for human rights: Leyla Güven
The state of emergency has been lifted in Turkey, but state fascism continues. The public workers who were fired have been left to suffer, new arrests are carried out every day, solitary confinement in prisons continues, workers strikes are repressed with great brutality and MPs elected by the people are still imprisoned. A woman who was chosen by the people and devoted herself to them for years has decided to take action with her body, her last object of resistance.
What has been going on in Turkey since 2015?
The June 7 2015 elections were promising for the masses who demand democracy in Turkey. The Peoples' Democratic Party (HDP) (formed by the Socialists and the Kurdish national movement, with 6 components), surpassed the anti-democratic 10 percent election threshold by winning over six million votes, and President Recep Tayyip Erdoğan's Justice and Development Party (AKP) lost their parliamentary majority for the first time since the 2002 elections.
Before the elections, the HDP became a direct target not only for Turkish nationalists but also for ISIS. On May 18 2015, bomb attacks took place in the southern cities of Adana and Mersin, coinciding with HDP rallies - luckily there were no casualties in either city. Only two days before the elections, on June 5 2015, a bomb attack took place at the HDP's rally in Diyarbakır, the largest Kurdish city. 5 people lost their lives as a result of the explosion of a bag left in front of a transformer during the rally, and a large number of people were injured. These "warning" attacks before the election were unfortunately only the beginning. HDP blamed the AKP government and accused the AKP of cooperating with ISIS.
After the elections, the AKP government tried everything to avoid a coalition and was determined to lead the country to a new election. The AKP government was ready to take the country to war if it meant ensuring their majority. On July 20 2015, members of the Federation of Socialist Youth Associations (SGDF) and volunteer activists set out from various cities to assist and to help reconstruct the city of Kobane in Rojava. In order to cross the border they went to the Suruç district of the city of Urfa, however, SGDF members were attacked directly in front of security forces and state institutions. 33 people lost their lives as a result of a suicide bomber attack, more than 100 were injured. SGDF members were waiting for permission from the district governor to cross the border at the time of the attack. They were attacked whilst making a press statement in the garden where they were waiting. The suicide bomber Şeyh Abdurrahman Alagöz, was on the "terrorist missing persons" list and was already known to the authorities. Despite receiving military training from ISIS in Syria he was able to move about freely in Turkey, meaning there was a negligence and a connivance on the part of the state.
Two days after the Suruç massacre, on July 22 2015, two police officers were found dead in their homes in Ceylanpınar, another district of Urfa. Blame for these murders was attributed to the Kurdistan Workers' Party (PKK), with authorities claiming they were trying to take revenge for the young socialists who lost their lives in the Suruç massacre. The AKP government also blamed the HDP for the murders. Today, the HDP members who were arrested have been acquitted, the PKK refused to accept the charge and there was little physical evidence in the house except for those of the two police officers' colleagues. When the colleagues of the deceased officers gave false statements, they were not investigated. The murder remains unsolved, but has been used to legitimize the government's now daily attacks.
Following the peace process that began in 2012, on April 25 2013 the PKK announced that they would move all armed forces from the territory of Turkey (Northern Kurdistan) to the north of Iraq (Southern Kurdistan). According to the Turkish government, the Kurds and most of the press, this movement signalled the end of the 30-year conflict. Throughout the peace process, the AKP government has shown many times that their real goal was not peace. One of the most memorable examples is the slaughter of Kurds who were smugglers in the village of Roboski in Şırnak on December 28 2012 with military aircraft. Ending the 30-year war was so important that the Kurds preferred to sit at the table, even with the AKP. Following the murder of the police officers in Ceylanpınar, the peace process was officially completed by the government on July 24 2015. Today, some think that the murders were carried out by counter-guerillas to create an environment of heightened conflict.
On October 10 2015, two suicide bomb attacks took place at the Peace and Democracy Meeting organized by trade unions against the conflict in Kurdistan. The identity of one of the suicide bombers is still unknown except that he was not Turkish, but the other, Yunus Emre Alagöz, was the brother of the person who had detonated himself in the Suruç massacre. 103 people lost their lives in the massacre in Ankara. After all of this, a civil war began in Northern Kurdistan. This massacre, in the center of the capital city Ankara, is the largest mass murder in the history of the Turkish Republic. The massacre caused fear in the democratic masses. The subsequent bombings after showed that this fear was not unjust. However, people in Kurdistan and Turkey did not give up, and continued to go out into the streets.
The Kurdish national movement declared self-government to hold its territory, and the people supported the self-government. The Turkish state attacked the region, making little effort to distinguish between militants and civilians. Many civilians died during these attacks, and cities were razed to the ground. In Cizre and Nusaybin, people died from hunger, thirst and illness while taking shelter in basements. In Silopi, 57-year-old Taybet İnan was shot in her street, and her children could not get their mother's corpse from the street for days, because of Turkish snipers. In Cizre, 10-year-old Cemile Çağırca was killed by a bullet which came from through the window while sitting in her house, and her mother hid her body in the fridge for days, so her body would not decompose. The state continued its attacks by insisting that everyone in the region was a terrorist. Amid such a process, the AKP came to power once again with elections on November 1, 2015.
The beginning of the war was the massacre of socialist youth on 20 July in Suruç. One year after the massacre, on July 15 2016, a military coup was initiated under the leadership of the Gülen community, the former partner of the AKP. Due to their failure to convince the upper echelons of the military, and President Erdoğan's maneuvering, the coup failed. Following the failure of the coup attempt, a state of emergency was in place for two years. In this process, HDP Co-Chairpersons Figen Yüksekdağ and Selahattin Demirtaş and many other MPs were arrested, many of them were decommissioned, and many public employees were dismissed, arrested, and their passports were confiscated.
On November 4 2016, HDP MPs houses were raided and many of them arrested. This was only the beginning, but it was not new - in the 1990s, Kurdish MPs had experienced similar processes. The only evidence of the accusations of "membership and propagandising for a terrorist organization" were their election campaigns and their speeches at public meetings.
On April 16 2017, the AKP brought forward a new referendum on constitutional change, approved by a 'Yes' vote of 51%. Turkey passed to a presidential regime. Many objected to the results and drew attention to evidence of votes stolen in many cities, and held protests on the streets for days. In the presidential elections held on June 24 2018, Erdoğan took 51% of the votes and left behind his social democrat rival Muharrem İnce. HDP's imprisoned former Co-Chairperson Selahattin Demirtaş received more than 4 million votes, despite the circumstances.
On July 19 2018, the state of emergency was removed, but little has changed as the repressive regime continues.
Leyla Güven: Indefinite Hunger Against Absolute Isolation
Leyla Güven, HDP MP for the Kurdish region of Hakkari in the far south-east of Turkey, has been on an indefinite hunger strike since 8 November 2018. She was elected in the June 24 2018 elections while she was already a prisoner. Leyla is a 55-year-old politician who played an active role in the Kurdish political movement and dedicated most of her life to human rights and women's struggle. In 2004, she was elected to serve as the mayor of Küçükdikili in Adana. In 2009, she became the mayor of Viranşehir in Urfa. The same year, she was arrested, subsequently spending five years in prison. In the June 7 2015 elections, she was elected to the Turkish parliament as an HDP MP for Urfa, but lost her seat in the snap elections on November 1 2015. At the time she was detained on January 22 2018, she was co-chair of the Democratic Society Congress (DTK). Güven spoke out against the AKP government operations against the Afrin canton of Rojava, and as a result was arrested on January 31 2018 on charges of "establishing and leading a terrorist organization". She faces up to 31 years and 6 months in prison due to her statements on Afrin and other speeches she made as a Kurdish politician.
Leyla Güven was told she would be brought handcuffed to her third trial in Diyarbakır. She did not accept this, so she was not taken to a hearing from the Diyarbakır E-Type Closed Prison. Güven attended the hearing via the SEGBİS system (software that specializes in providing video chat for courts in Turkey). On November 7 2018, during the third hearing of her case at Diyarbakır 9th Heavy Penal Court, she announced that she had begun an indefinite hunger strike in protest at the Turkish state's illegal military invasions and occupations of Kurdish regions, against Turkey's continuing human rights abuses and the solitary confinement of Abdullah Öcalan, leader of the Kurdistan Workers' Party (PKK), who is in İmralı Island Prison, as well as that of other Kurdish political prisoners.
Turkish authorities have refused more than 750 applications by Abdullah Öcalan's lawyers to visit their client in the İmralı Island Prison. The last time Öcalan's lawyers visited him was on July 27, 2011. Before Leyla Güven's hunger strike, his brother Mehmet made the last family visit to Abdullah on September 11 2016. After Leyla Güven's hunger strike, on January 12, 2019 Turkish state give permission to Mehmet Öcalan to see his brother. However it was a short visit and Güven's hunger strike was against his solitary confinement. Öcalan was only able to send out news that his health was good. A few days later, Leyla Güven announced through her lawyers that she would continue her hunger strike. In 2012, political prisoners started a hunger strike for the same reasons, however that action ended on its 68th day following a request from Abdullah Öcalan.
It is important to remember Güven's statement in full: "Today the politics of isolation on Mr. Öcalan is not imposed on him alone, but on the entire Kurdish people through him. Isolation is a crime against humanity. I am a member of this people. I am starting an indefinite hunger strike to protest the isolation of Mr Öcalan. I will not submit any defense to the court from now on. I will continue my protest until the judiciary ends its unlawful decisions and this politics of isolation is terminated. If need be, I will turn this protest into a death fast." (Leyla Güven, November 7, 2018)
Figures including HDP's former Co-Chairperson Figen Yüksekdağ and many other imprisoned women have joined short-term support hunger strikes in support of Leyla Güven. On January 15 2019, two imprisoned women politicians, Sebahat Tuncel, former HDP MP and current Co-Chairperson of the Democratic Regions Party (DBP), and former HDP Hakkari MP Selma Irmak, announced that they will start an on-going hunger strike indefinitely. It should be noted that the hunger strike has been carried out by women since the very beginning and has emerged as an important tactic of resistance by women.
In Turkey, hunger strike is quite a common form of resistance. The method is used by revolutionaries who believe that their body is the last tool that can be used in prisons. Well known communist poet Nazım Hikmet, 1968's executed youth leaders Deniz Gezmiş, Yusuf Aslan and Hüseyin İnan, 400 prisoners opposing mandatory prison uniforms in 1984, thousands of prisoners in 1996 and 2000, protesting prison conditions and the construction of F-Type prisons (which would mean removal of the previous ward system and establishment of the isolation system, in short meaning far greater restrictions on social interactions between prisoners), Kemal Gün who wanted a funeral for his murdered guerrilla son, dismissed academic Nuriye Gülmen and the teacher Semih Özakça who wanted to return their jobs, are just a few examples. Those who lost their lives during hunger strikes are too many to count. As an example, in 1996, after the prison hunger strike became a death fast, 12 revolutionaries lost their lives, and in the 2000 death fast, 122.
The police responded to the short-term support hunger strikes for Güven by attacking HDP buildings. On January 19, thousands of people went to the streets with the slogan "Leyla Güven is Our Honor" in Diyarbakır. Leyla Güven has been on a hunger strike for more than 80 days. On the 67th day of her hunger strike, her daughter reported that she had difficulty in taking fluids and was experiencing cramps and nausea. On January 17 2019, Güven's daughter Sabiha Temizkan posted a picture with her mother in Twitter with the comment: "Mom, don't leave me." Leyla Güven is a source of hope, pride and resistance for the people who demand democracy in Turkey. The resistance of Güven deserves our support.
"She's not just my mother. A woman with a strong emphasis on femininity. Her insistence on peace brought her to this point and revealed her life. When I said that I'm very scared and I'm worried about her doing this, as her daughter, she said 'But other children are suffering, other mothers are crying'" (Sabiha Temizkan, January 17 2019)
Leyla Güven was released on her last hearing on January 25 2019 - the 79th day of the hunger strike. Güven emphasized that her release, as an individual, is of little importance and she will continue her hunger strike at home as her demands are not met. In the first interview that she gave on her day of release, she said that she had started having health problems after the 50th day of her hunger strike. However, Güven has not stopped, saying that "Isolation is a crime against humanity." Her ongoing struggle underlines the need for solidarity and international support.