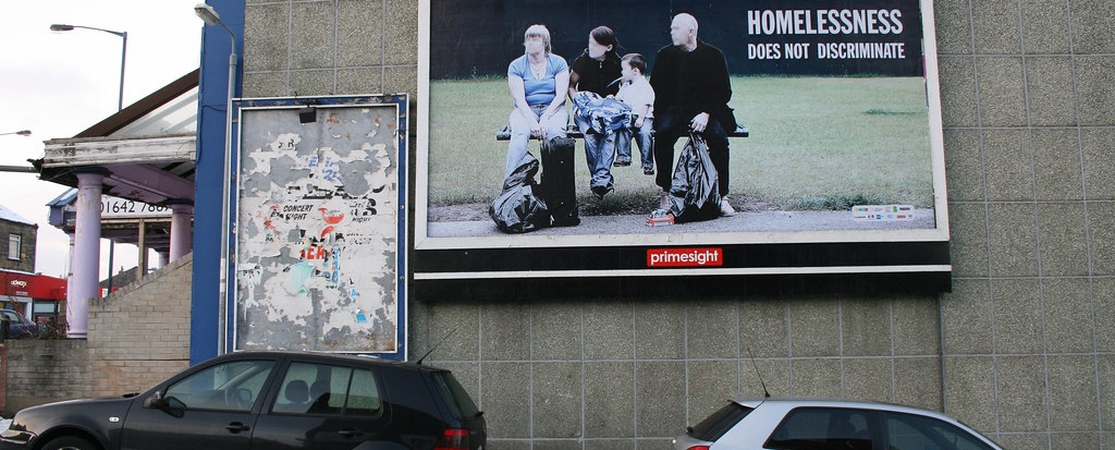 Labour Homelessness Campaign: Questions from the Editors
by The Editors / November 23, 2019
{ General Election 2019 }
---
We caught up with Labour Homelessness Campaign activist Tom Balderstone to ask him about the campaign's work, including its current voter registration drive.

1167 words / 5 min read
---
Of all the glaring social injustices badly exacerbated by the last decade of austerity - not to mention the apparently unshakeable commitment of recent governments to keeping Britain's house price bubble inflated - homelessness is one of the most immediately visible, as a walk through almost any city centre will soon demonstrate. Since 2010, rough sleeping in England has risen by over 250 per cent, while nearly 85,000 households were trapped in temporary accommodation as of March 2019. Cuts to benefits, and the disastrous introduction of Universal Credit, have dramatically intensified the problem, with devastating effects for many.
The Labour Homelessness Campaign aims to strike at the root causes of homelessness, organising to change Labour Party policy on the issue and to build a network of campaigners and volunteers across Britain, encouraging party members to participate in solidarity work alongside homeless people themselves. Currently, the Campaign is working to register homeless people to vote in time for the forthcoming general election on December 12th. We caught up with Labour Homelessness Campaign activist Tom Balderstone to learn more.
NSTell us about the Labour Homelessness Campaign, why it was founded and its achievements so far, particularly with regard to its current voter registration drive.
TBThe Labour Homelessness Campaign is a grassroots group aiming to work towards ending homelessness through a progressive political solution. In less than a year we passed a radical motion at the Labour Party conference which was more-or-less adopted into the recent party manifesto. In the last few weeks though many of us have been focusing on supporting those affected by homelessness to register to vote. There are thousands of homeless people across the UK and they're massively under-represented. The vast majority, something like 90% aren't on the electoral register - and many of them aren't even aware that they're eligible to register.
So in response to this problem we started a small campaign which has already been really successful. There's online resources on how to register, and how to support others to register. There's an awareness campaign we've run on social media, and we've reached out to support services working in homelessness up and down the country trying to support them to get as many of their service users registered as they can. Many of our members have also been on the streets talking to rough sleepers and other people getting them signed up to vote. This last bit has been super important - as we don't just want to parachute into the spaces of vulnerable people to win votes. We're here for the long term, in solidarity with those affected by homelessness, which is why it's so important that we've been supporting people as peers and friends and not just doorstopping them to win over votes.
The voter registration drive isn't about winning votes for our team. We've spoken with people already who've said they'll vote for The Greens or the Brexit Party and that's their choice - but we think it's incredibly important to amplify and centre the voices of marginalised people, whatever they feel. We can't claim to be a democratic movement while the voices of the most vulnerable aren't being listened to. I personally believe it's incredibly important that Labour makes itself the home of these democratic efforts. If we want to represent all people then we need to bring them into the conversation. Voting certainly won't change all problems - and the parliamentary system is far from a perfect democracy, but it's still a small step we should be pushing for if we want meaningful change. The Tories are terrified when people vote - they thrive in a broken democracy and so we should make sure we're the people making the effort to bring everyone into the conversation.
NSWhat will the latest Labour manifesto, if implemented in government, do to transform the lives of homeless people in Britain?
TBThe recent manifesto has meant a lot for homelessness. Ending rough sleeping and other forms of homelessness is not an overnight issue - but something that requires a real transformation across our society. The commitment to eradicate rough sleeping by reversing the austerity that has directly targeted them, along with the commitment to end homeless criminalisation and build 100,000 social homes a year are all incredible promises that need to be upheld if we're to take ending homelessness seriously. Some of the change, like scrapping the Vagrancy Act, will immediately improve the lives of many people affected by homelessness - while others will take months and even years to make an impact. But if the vision for a better world is upheld then we could seriously see all forms of homelessness eradicated in our lifetimes.
NSIt's been pointed out that declaring yourself as having no fixed address on the electoral register might have certain adverse effects; for example, potentially inhibiting access to loans or mortgages for up to a decade. Evidently, this could be a powerful disincentive for some homeless people who might otherwise want to vote. How would you respond to that?
TBIt's true that there are downsides to make yourself officially known as homeless - and we're honest with people about these. You can't blame anyone for not wanting to make that effort when it's so difficult to see any benefit. It's important to note that homeless people are still discriminated against and face difficulties even long after they have moved into permanent accommodation. This isn't there fault and it points to obvious flaws in the system, and we hope that in the future we can look at some of these more nuanced issues and work on real solutions. Obviously having limited access to a mortgage can be a huge problem - but in the current system the access barriers to housing for people affected by homelessness are already so enormous that taking out a mortgage for a home is a pipe dream that's already completely beyond most homeless people.
NSWhat can people do to help the Labour Homelessness Campaign, both in its voter registration efforts and more broadly?
TBThere's still time to help people register to vote. You can print the forms online and help someone you know fill them out. Anyone that's over 18 and a UK citizen, or a citizen or Ireland, Malta, Cyprus or the Commonwealth with right-to-remain can register and vote. But we have so much to do outside of the election and we're always in need of more help. Follow us on Twitter to see what we're up to lately, and get in touch if you'd like to help out - you can volunteer for a one-off event or become a regular part of our team. If you're a Labour member you should consider passing a motion at your CLP in support of the group, and get in touch about how you can organise an action or advocate towards meaningful change. Any level of commitment is welcome - if you've experienced homelessness or not you can help make a real difference in our campaign.