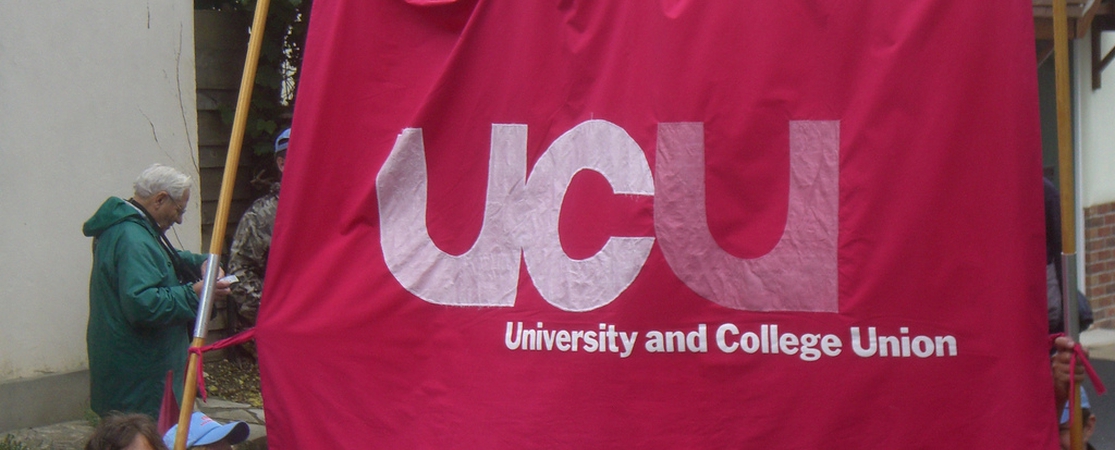 Further Education: Fighting for a Future
Anonymous / May 18, 2018
{ Beyond Westminster }
---
Many staff at colleges across Britain - as well as feeling demoralised and undervalued - are finding it increasingly difficult simply to make ends meet.

841 words / 4 min read
---
UCU members will be on strike over pay at various further education (FE) colleges in England during May and June because, with pay having fallen by 24% in real terms since 2009, many staff at colleges across Britain - as well as feeling demoralised and undervalued - are finding it increasingly difficult simply to make ends meet.
The pay dispute started in February and continued with two and three day strikes in March. The disputes are already more serious than the previous strike wave in 2011 over pensions, although the current strikes are localised and not national. Bradford and Hull colleges have also voted for strike action against job cuts.
Already suffering from long-term underfunding, the FE sector has been in a state of deepening crisis since 2008 with cuts and layoffs as well as worsening conditions, all of which led to long and hard fought strikes at Tower Hamlets and Lambeth colleges. Staff at both will be on strike again this summer. The Institute for Fiscal Studies (IFS) has noted that increases in spending on FE have lagged well behind that of schools in recent decades: while in 1990 FE investment per student was 45% higher than that for secondary school pupils, the IFS forecasts that it will be 10% lower by 2019-20.
There's a lot that's special about FE. It's where people go to do stuff they'd always previously been told they were no good at, and its classrooms are full of people who are making big changes in their lives, expanding their horizons, and meeting their true potential. But after years of cuts and austerity, both the staff and students are overworked and anxious.
The adult skills budget in 2016 was down 35% on 2009, and there have been further cuts since then. This means fewer courses available for students, less support for students with disabilities or in difficulties in their home life, and pay cuts, increased workload and redundancies for staff. Several colleges have merged without staff or students having any real say, leading to job cuts and students and workers having to travel long distances.
The range and variety of courses that used to be offered by FE colleges - providing the chance to learn different languages, take cookery classes, develop artistic skills and play musical instruments- are being increasingly narrowed down as the lack of funding means that more and more has to be justified according to specific targets about employability and other such criteria. Currently the push is towards apprenticeships, but these are often disguised low-paid jobs rather than real opportunities to study and are not the right way to learn for a lot of students.
Learning for the joy of it, for the fulfilment of your potential, is now less of a possibility for working class people as more and more creative courses are 'full fee only'. These courses have important therapeutic benefits, for example, for people with mental health problems, or low confidence. They've given people a chance to discover unknown talents, or just do something they enjoy; these chances are now being snatched away. Many vocational courses are also much more expensive, which has led to a fall in the number of unemployed people studying in FE. Qualifications in construction or healthcare can cost thousands of pounds and students - many of them from deprived backgrounds - are expected to take out burdensome loans.
At the same time students, who are often poor and struggling with bad housing and other issues, need more help from staff in colleges - due, for instance, to the housing crisis and benefit cuts - but less help is available. College teachers, untrained and unsupported, are trying to help students some of whom are even sleeping on night buses. Student advice and counselling services, themselves subject to big cutbacks, cannot meet the massive need for help.
Union reps at many colleges report a rise in bullying by management and many people are leaving the sector due to stress. This rise in workplace bullying can be attributed to both deliberate victimisation, of union reps or people who are 'bolshie' and also pressure on managers to meet impossible targets. BAME, disabled and working class staff are more likely to be on the receiving end of management bullying.
The current dispute is over pay, but that's far from the only grievance at work - this strike is also a result of dissatisfaction and frustration across the board. Several colleges are taking protracted strike action for the first time in many years due to the build-up of pressure on the sector. The FE sector is lower paid than both school and university teaching and in many colleges around a third of teachers are on zero hours contracts, so striking entails real hardship for those staff taking industrial action. Please support your local strike - there are online fundraisers for hardship funds, or even better, go to visit a picket line and talk to the strikers themselves.
The author of this article works in FE, and has asked to remain anonymous.