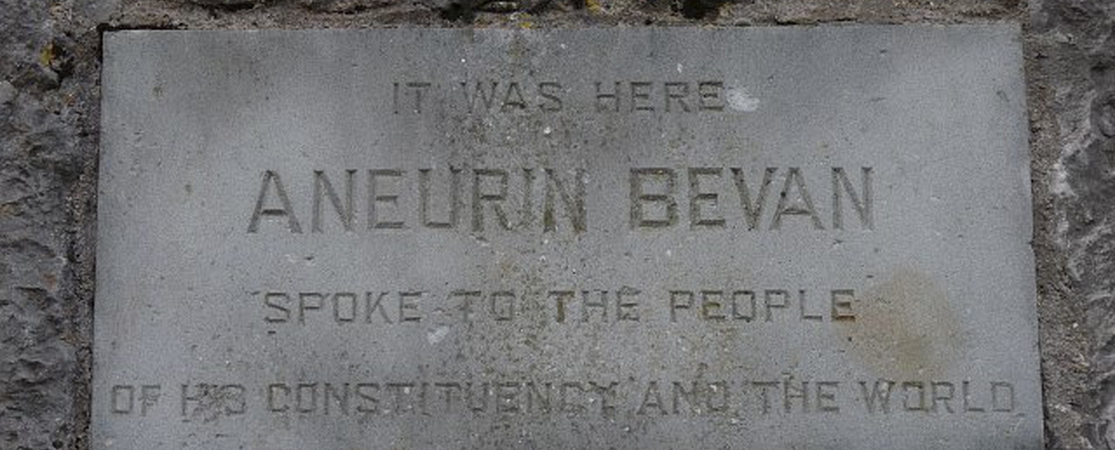 Clear Red Water?
These are exciting and at the same time scary times to be a socialist in Wales. The country, it seems, stands at a series of crossroads. Political debate with real substance is firmly on the agenda. Decisions must be made, directions chosen. Sadly, you would not find that out from the vast majority of the mainstream London-based media. They have resorted again to that old maxim, 'For Wales, see England' (did they ever really see it otherwise?). And unfortunately, that would also seem to be the position adopted by sections of the Welsh left who have themselves become totally transfixed by events in Westminster - and Islington.
We remember and celebrate the most significant achievement of arguably Wales' greatest child: the birth 70 years ago of the National Health Service, entitled by the incredible post-war Labour reforming government as 'This Day Makes History.' Wales was then at the centre of British politics - and offered a template that astounded the world. The words of Aneurin Bevan bear testament to his all-embracing vision for the NHS:
Society becomes more wholesome, more serene, and spiritually healthier, if it knows that its citizens have at the back of their consciousness the knowledge that not only themselves, but all their fellows, have access when ill, to the best that medical skill can provide… The essence of a satisfactory health service is that the rich and poor are treated alike, that poverty is not a disability, and wealth is not advantaged.
A product of the Tredegar Medical Aid Society, the NHS grew from the strongly communitarian traditions of Welsh society - and specifically those communities that sprang directly out of the experience of the industrial revolution in Wales. Here, as in so many examples, Wales did not just follow, but led. And it was these principles that formed the philosophy of Rhodri Morgan, Wales' greatest devolved leader as his government took power. As outlined by the analytical socialist volume Clear Red Water:
One by one, the nostrums of New Labour and its Thatcherite predecessors were emphatically rejected, as Morgan reasserted the role of the state as a force for good in politics, emphasising the importance of universality and the solidarity of interest that is reinforced by universal provision.1
But the clear course set when Rhodri Morgan was at the helm has been lost. Admittedly, the current Welsh Government has had to live in more straitened circumstances. It is claimed that £1 billion that should have come to it from the coffers of Westminster has been cut as a result of Westminster's ideological austerity measures. However, the easy and relatively open government pursued by Morgan has given way gradually to one of a more controlled and controlling nature as practised by his successor Carwyn Jones.
The Welsh Assembly Government appears also to have acquired a less bold and more defensive mindset as regards its policy direction, though arguably that can be partly traced again to the budgetary constrictions that it currently faces. However, no such excuse appertained to the unilateral move of Jones to invite the British nuclear fleet to set up base in Pembrokeshire during a period of constitutional uncertainty as regards Scotland's position in the union in 2012, or to his recent decision to back Alun Cairns, the Conservative Secretary of State for Wales's sudden plan to rename the Second Severn Crossing 'The Prince of Wales Bridge' as a present to Prince Charles.
The close grip that Jones exercises over his cabinet has to some degree occurred as a result of the Corbyn revolution in the party as a whole. This left victory has been viewed by controlling elements in the party machine in Wales as a dangerous insurgency. Witness the recent mobilisation against the popular and populist Julie Morgan - widow of the late Rhodri Morgan - herself a formidable former councillor, MP and now AM - when she stood for the post of Deputy Leader of the Labour Party in Wales. An election system that it appeared was reminiscent of the age of rotten boroughs was dusted off and deployed to ensure her defeat. (The electoral college gave each Welsh Labour Assembly Member, MP and MEP a vote equivalent to some 450 ordinary members' votes.) This sub-democratic method of election was effectively that wielded by the Blairite party hierarchy to stop Rhodri from becoming Welsh first minister in 1999.
Now with Carwyn Jones' announcement of his intention to step down as leader of the party - and first minister of Wales - the stage is set for another key election. Popular revolt by the Welsh rank and file has forced a democratic review into the entire Labour machinery here - with urgent attention placed on the election systems in light of this new contest. But already this has been met with strong warnings from big union battalions as to their future role as king/queenmakers.
Mark Drakeford, at present Finance Secretary in the Welsh Government is the left choice on the ballot paper. An academic, who was political advisor to Rhodri Morgan, he was in point of fact chart-maker of the 'Clear Red Water' policy. An independent-minded Corbyn backer, Drakeford is supported by Welsh Labour Grassroots - holder of the Momentum franchise in Wales but itself an established socialist campaign within Welsh Labour of some fifteen years' standing. Drakeford is well regarded by his Assembly colleagues - both within and without the Welsh Labour party. As a Cardiff councillor he was willing when his conscience demanded to break the whip of the ruling Labour group. Other parties are said to regard him with respect for his competence and courtesy. His tenure in the key cabinet positions of Health and Finance shows he has the necessary experience of high office.
Vaughan Gething is the candidate of the old Welsh Labour establishment, regarded as a safe pair of hands in the face of a Corbynist challenge. A badge of this is the fact that he has served as the President of the Wales TUC. (To illustrate his commitment to the union cause he apparently belongs to no fewer than three of the major affiliated unions.) As yet he is one short of the required nominations from AMs - as the more centrist and right-wing possible candidates jostle for position as the lead horse of their faction. Born in Zambia and the first Black president of the National Union of Students Wales, he is proposed by some as a new direction in terms of his personal background. Eluned Morgan, member of the House of Lords, former MEP and herself a cabinet member has also declared, stressing the need for a female first minister, whilst ministerial colleague and former MP Huw Irranca-Davies is the last potential runner to state his desire to enter the race. The centre-right contenders facing up to challenge Drakeford are numerous, and fighting largely for the same nominations and votes.
But the key element in the equation is the commencement of a Welsh Labour Democracy Review, the first part of which – dealing with the voting system for leader – will conclude with a special conference in September, prior to the selection of the new leader. This review is to be led by the ultra-loyalist ex-MP Paul Murphy. His negotiating skills were honed under Tony Blair as Secretary of State for Northern Ireland during the peace process. He may need to polish off those powers of diplomacy again for this task. Welsh constituency parties are keen for reform whilst the voices of trade union full-timers are wary of what they see as the possible undermining of their key role in selecting the leader, though Unite Wales have now surprisingly - and possibly decisively - declared late support for the One Member One Vote system as the party finalises its democracy review.
Meanwhile, another avowedly left-wing party, Plaid Cymru is in a state of extreme disarray. For some time under their socialist, working-class leader Leanne Wood the nationalists have directed their attack on Carwyn Jones for being neither sufficiently Welsh nor socialist in his policies. Whilst Labour centrally had previously been viewed as working hand in hand with big business, Corbyn's election has forced a new critique. Corbyn now is branded by many nationalists as being an old top-down English socialist with no appreciation of devolution. And maybe his worst crime in the eyes of Plaid is his traditional socialist Euro-scepticism.
But if the Labour party is traditionally portrayed as a political broad church, then Plaid can be described as a mining village possessing its myriad of various non-conformist chapels. And the electoral and recruiting successes of Corbyn have brought those internal divisions in Plaid to the fore. Though the party won an extra MP in the last general election, bringing its total to four, two of these seats are held by the slimmest of majorities. Meanwhile, several senior Plaid politicians are touting some future form of co-operation with the Tories in the Assembly in order to oust Labour from its continuous occupation of the senior government role there since the inception of devolution in 1999. A combination of a yearning for power and exasperation drives some in the party in this perilous - if not suicidal - direction.
Other senior voices warn that Leanne's leftist drive must be reined in so that Plaid can now become the new centrist party, the orange pools of Welsh Liberalism - once so widespread - having all but evaporated in recent years. "We cannot out-Corbyn Corbyn" was a leading Plaid Cymru AM's comment. And indeed there are murmurings that Leanne's fervent Valleys socialist message has fallen on deaf ears in many parts of Wales as the voters have not flocked to embrace the nationalists as the new messiah.
The self-advocating Neil McEvoy is still causing embarrassment to his party even now after having been expelled from Plaid's Assembly group and suspended from party membership for a career-threatening eighteen months (recently reduced on appeal) due to 'actions or statements damaging, or potentially damaging, to the public reputation of the party'. Despite his exclusion he's currently externally seeking to create an internal faction within Plaid! Some of the more fundamentalist elements of the nationalist movement have considered the creation of a new party altogether - espousing more virulently right-wing beliefs, one of the more vocal of their number having failed to launch that vessel on a series of occasions however. The Plaid leadership would for the most part eagerly welcome their departure from the fold.
But the traditional nationalist message, which has been largely dormant, is now being reverted to in some quarters - particularly as Wood's strategy has failed to provide a significant electoral breakthrough. And in comment boxes on some nationalist websites Welsh Labour is branded as a 'Quisling' regime as regards its position of support for the union, with the emergence of more progressive Labour leaderships at Westminster and Holyrood also adding fuel to the fire of criticism. The vocal pro-Independence grouping YES CYMRU leads the charge against Welsh Labour - targeting youth for recruitment to its cause, with the stridently effective website Nation.Cymru acting as a form of Welsh nationalist insurgent media operation.
These cracks have finally opened up. Three leading Plaid AMs have now called for a leadership contest to be offered to the membership instead of a re-coronation for Leanne Wood. Firebrand, gay ex-MP Adam Price, now in the Assembly after a spell at Harvard University, will face the slick former BBC correspondent Rhun ap Iorwerth as well as Wood. After an initial wave of criticism against Wood, her supporters responded solidly with 50 of her party's councillors pledging their support to her cause. But still these crises within the broad tent of Welsh nationalism mean at the moment that in order to achieve unity they increase the volume of their attacks on Welsh Labour and the cry for independence as the solution to all ills.
All this does not augur well for Wales' or Britain's political future. Although Labour has consistently held power since the inception of devolution it has generally depended on the support of other parties to do so - either through formal coalition or informal agreements. If Plaid sought to form a rainbow coalition with the Conservatives, as mooted by some of their eager and ambitious leaders, that would lead to splits and divisions internally and externally, fracturing the Welsh left severely.
In addition, a Corbyn government in Westminster would doubtless also be looking for alliances in order to form a radical government that will be facing the wrath of the British political establishment, media and big business. As Clear Red Water stated so prophetically for the Welsh context, "it is.... necessary for Welsh Labour to abandon tribal 'party patriotism' and seek out allies among progressive forces, in order to be able to implement that agenda."2
After all the dust settles in both camps there must be some form of left political co-operation re-established. Oh yes, and it was the Welshman Robert Owen, remember, that gave the co-operative ideal to the world!