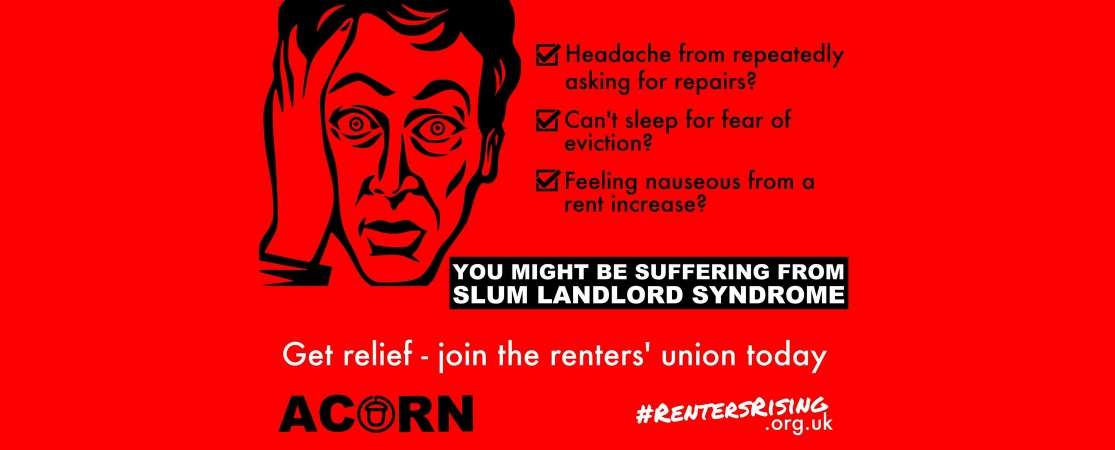 ACORN Manchester and the Fight for Housing Justice
by Will Todd / January 28, 2018
{ Beyond Westminster }
---
Over the past decade, north-west England has seen a dramatic rise in the number of people renting privately, and the costs they have to manage.

873 words / 4 min read
---
Over the past decade, north-west England has seen a dramatic rise in the number of people renting privately, and the costs they have to manage. Just last year, for instance, it was reported that tenants living in the region had been on the sharp end of the highest rent inflation in Britain, with rents up by an average of 3.6 per cent - with landlords' returns hitting five per cent.
As young families and professionals, retirees, students, and underpaid workers, we are yet to see anything like a proportionate increase in living standards and security. Instead, we experience the poorest living conditions, and the highest associated stress and anxiety, with many feeling isolated in their struggles against landlords and letting agencies. Research from housing charity Shelter, published in April 2017, found that one in five adults in England had suffered mental health problems due to housing problems. The situation in Manchester exemplifies this struggle, with over 120,000 people left stranded on the city's social housing waiting list and the fastest rising rents outside of Westminster.
In response to Manchester's burgeoning housing crisis, members of the local community are taking action by establishing a branch of ACORN, a Tenants' Union that has seen consistent success across the UK, having already secured repairs worth hundreds of thousands of pounds for private renters. Operationally similar to a trade union, community organisers recruit members, identify and develop leaders, and support them to bring people together around shared concerns, building mass-scale, direct-action campaigns. Recruitment into this union model has proven to be widely effective, with the turnaround from interested to involved and then to organising member expedited by the shared experiences of renting privately.
These experiences, specifically the relationship between tenants and their landlord, reflect a broader class struggle which has only intensified in the context of continuing austerity. In many cases, the landlord is several steps removed from the tenant by a letting company, buffered by despondent agents and a bureaucracy made for the benefit of the property owner over the occupier. Complaints lay unheard in a chain of emails, whilst an increase in rent arrives immediately at the doorstep. Like the benefit claimant or asylum seeker whose wellbeing is dictated by unsympathetic processes, the tenant can easily feel isolated and powerless as an individual. The Tory government, meanwhile, refuses point-blank to take the kind of decisive action that could bring about a real shift of power away from landlords (who have come to represent a substantial segment of its support base) and towards hard-pressed tenants.
Through case by case direct action, ACORN seeks to close this gap to hold landlords properly accountable, and the initiative is already seeing success in Manchester. This month volunteers met with tenants stuck in an ongoing battle with their letting agent over broken central heating, the cost of portable electric heaters they were forced to use for months and a number of accumulating maintenance issues. Within the week, ACORN delivered a letter to the agency outlining demands for immediate repairs and a contribution to the tenants' electricity bill: within hours each of these demands were met, with contractors at the property that same afternoon. In this amazing victory we can see just how effective the unionisation of private renters can be - and how rapidly it can deliver substantial results.
In the wake of Grenfell and rising homelessness - a particularly pressing issue in Manchester and the source of mounting struggle locally - the public is painfully aware of the housing crisis, and reflexively supportive of any cause that aims to challenge it, as is evident by the many other local organisations that have mobilised around campaigns for legislative change. Greater Manchester Housing Action (GMHA) is another group that pressures the City Council to take responsibility for its own part in the problem - in particular the rise in developments of luxury apartment complexes in the place of affordable housing, a practice familiar in many cities, that is in part facilitated by the council's unwillingness to properly scrutinise developer profits and enforce regulations that oblige developers to create affordable homes. On March 1st at Manchester's Mechanics Institute, GMHA will host a Renters' Forum, in collaboration with ACORN and other local organisations.
ACORN has also proved to be a strong part of this growing collective voice elsewhere in Britain; in Bristol, the local ACORN branch pushed for the adoption of an Ethical Lettings Charter, now enforced by the council, that calls for lower costs and fees for renters, more secure tenancies, safer, healthier homes, and a more equitable, transparent property market. Ahead of its public launch event at the end of the month, where ACORN Manchester's own campaigning focus will be debated and voted on, membership continues to grow and volunteers continue to work with and support tenants in a number of similar cases dealing with issues ranging from leaks, damp and unfair charges.
If you're privately renting in the Greater Manchester area, you can get involved by contacting the ACORN Manchester Facebook page, or by signing up as a free associate member at acorntheunion.org.uk. ACORN Manchester's public launch event "Manchester vs The Housing Crisis" takes place at Friends Meeting House, 6 Mount Street, Manchester M2 5NS on Tuesday 30 January, 6:30pm-8:30pm.