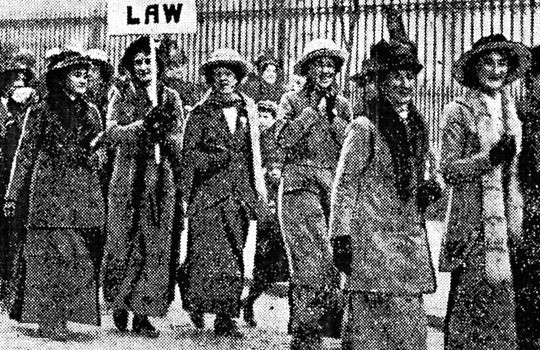 The Bailiff's Trousers: Mrs Barbour's Army and the Glasgow Rent Strike
With the advent of World War One, workers flooded into cities like Glasgow to take up jobs in munitions and shipbuilding. Even before conscription, husbands and fathers were away fighting in large numbers. To private landlords, all of this presented an opportunity.
New residents needed accommodation to take up war work, which was a chance to push up prices : with men away, landlords thought existing female tenants were easy prey for the rent hikes they wanted to impose. They reckoned without the strength of local women, and their networks of friendship and mutual support.
Glasgow women had already formed a Women's Housing Association to protest about the about the dreadful living conditions they and their families were forced to endure, and the deliberate neglect of their homes by landlords: a rent hike on top of this was the final straw. It brought about one of the most notable and effective rent strikes in British history, with a 'Mum's Army' at the forefront.
Rent strikes were not a new tactic and were often female-led, not just because home-working mothers could be on the spot to defend their homes, but because traditions of mutual support by working-class women were already well-established. Whatever their status outside the home, there was no doubt that at community level, woman ran the show.
Across Britain every area had its home-grown midwife, counsellor, undertaker: sometimes the same woman. Victorian women also headed 'gin committees', responsible for organising nights out for local woman and, crucially, finding them the best and least contaminated gin supplies at a time when gin was adulterated with sulphuric acid, among other delights.
London women had used rent strikes as an adjunct to the Great London Dock Strike of 1889: docker's wives fashioned handmade protest banners like the one strung across the East End's Commercial Road bearing the witty, landlord-taunting verse:
Our husbands are on strike,
For the wives it is not honey:
So we do not think that it is right,
To give the landlords money
In just eight weeks in early 1914, Leeds rent-strikers defeated a proposed rent rise of 6 pence in eight weeks in early 1914, and profiteering landlords were blacklisted from renting any other home in the area in future.
The next year saw 'Mary Barbour's Army' of women swing into action in Scotland.
The third of seven children, Barbour was born Mary Rough in 1875 in Kilbarchan. She left school at 14, working initially as a wool twister and later a carpet printer, and married shipyard worker David Barbour at 21.
No working-class woman of the period was exempt from personal tragedy arising from the wider social situation. The first of the Barbours' three sons died at only ten months, the victim of meningitis and just one name on the terrible role-call of infant deaths among the poor, with insanitary living conditions often responsible.
Mary and her family settled in Govan in 1914, where she quickly joined the local Co-operative Guild and Independent Labour Party.
Mary was instrumental in forming a housing association, along the lines of the Glasgow model, for the women of South Govan in 1915.
As forced rent increases spread, women like Barbour were at the forefront of organising the resistance.
Numerous tenants' committees were formed, with the direct aim of preventing families from being evicted by any means necessary, including physical action against Sheriffs' officers. Barbour's friend and fellow campaigner Helen Crawfurd recalled:.
This is how they organised the resistance: one woman with a bell would sit in the tenement close, watching while the other women living in the tenement went on with their household duties. Whenever the Bailiff's Officer appeared to evict a tenant, the woman in the passage immediately rang the bell, and the other women put down whatever work they were doing and hurried to where the alarm was being raised.

They would hurl flour bombs and other missiles at the bailiff, forcing him to make a hasty retreat.  It is said they even pulled down his trousers to humiliate him!
The noble Bailiff, de-bagged and flour-dusted, fleeing from this furious Mother's Army and its home-made artillery must have been a sight to behold.
By November 1915, as many as 20,000 tenants were on rent strike, and the action was spreading beyond Glasgow to other parts of the country. Hundreds of women sentries were now on duty across Scotland, armed with bells, whistles and football rattles, ever-ready to muster the anti-eviction troops.
The women were adept at employing their menfolk for extra muscle where this was useful: on one occasion in Govan, a woman was tricked into paying the rent increase with the false assurance that the other tenants had paid and the strike was over. Mary Barbour got wind of this, and rallied the men from the shipyards in their thousands to march to the offices of the housing agents, where they demanded the money be returned to the wronged woman. One look at the vast crowds of stern-faced workers in front of their offices had a wonderfully concentrating effect on the mind of the agents, who wasted no time in doing what they were told.
Just across the Clyde from Govan, agents decided to prosecute 18 tenants for non-payment of the rent increase, bringing matters to a head towards the end of 1915.
Those prosecuted were mostly shipyard workers and their families. A wave of immediate sympathy walk-outs were called, and strikers assembled to march in a huge deputation to the Sheriff's court, with thousands of women among them.
There was understandable panic inside the Court when this formidable procession arrived at their door, and a hasty 'phonecall was put in to then Munitions' Minister, Lloyd George. Seeing how the land lay, Lloyd George told them to release the tenants before matters escalated; the scene outside the court turned into a giant all-night street party as the women and men celebrated their momentous victory.
Less than a month later, this most successful and brilliantly-organised example of working-class direct action bore fruit: Parliament passed the Rent Restriction Act, the first such piece of legislation in Europe. Rents were now to be fixed for the duration of the war, plus an additional six months from its then-unknown end.
Mary's involvement in this struggle made her a heroine in Govan and much further afield. It was the start of a long political career for her, always fighting for the working-class and for women in particular: she would go on to campaign for free school milk, family planning, children's playgrounds, municipal wash-houses, and an end to slum housing.
But we must remember that she didn't fight alone: as Helen Crawfurd later put it, 'This struggle brought great masses of women together'.
'Mrs Barbour's Army' were both exceptional and very typical working-class women: throughout history, women like them have come together to defend themselves with courage and ingenuity, taking roles of some kind, if not the lead, in almost every great working-class political movement.
Their contribution is still too often neglected. Whenever we are told that women's role in an event was peripheral, that they were on-lookers only, we should hear warning bells- and rattles- ringing loudly down the years.
Further Reading
Melling, Joseph, Rent Strikes: People's Struggle for Housing in West Scotland, 1890-1916
C. Burness, 'Remember Mary Barbour' Scottish Labour History
---
author