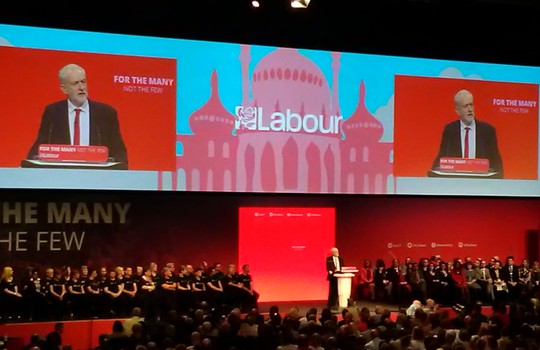 My First Time at Conference... with a Baby
This is the second of our editors' reflections on Labour Conference and The World Transformed. Part one is here.
The two tasks of democratising the Party ahead of us are, firstly, the dry, dull and technical process of changing Labour Party rules, and secondly, the momentous challenge to transform Labour Party culture – to prefigure the type of society we would like to see in our everyday interactions in our meetings and campaigns, and, in our social relations with party members in general. The two are inextricably linked; we need the structures of support and comradeship of the second in order to inculcate the solidarity and persistence needed to succeed in the necessary but antagonistic, and often boring, fight for the first. In my first time at Conference, I felt that I participated in advancing both these aims, and I brought my one year old son along for the ride.
Diane Abbott talks about how the closer she got to positions of power, the further away real power actually felt, "my life has been a search for power, and every time I get to where it's supposed to be, I've been told it's just gone". As a delegate, I had a similar experience; I thought I would be closer to the decision making of the Labour Party, after all, we are, as members, in some way responsible for the party we are a part of. However, I have to admit to finding the process by which decisions are made obfuscatory and alienating, often not really knowing how to vote, what I was voting for, or, importantly, the consequences of that vote. (Who wrote the composites? Where did they go? What did reference back really mean? If I followed a delegate from the floor who I thought had valid reasons for a reference back, was I just slowing the wheels of democracy?) I had to rely on my Momentum app and frantic text message instructions from a politically sound friend from a different delegation. But, I didn't feel I was in control, or that me being there, in particular, mattered hugely.
Perhaps it was part of my democratic duty to find all this out, but as a full-time carer to my son, with no internet connection and a precarious housing situation, circumstances mitigated against the diligent sorting of all the email attachments, doorstops of reports and other assorted bits of information I was given. My attendance at the London pre-Conference briefing did not help, as, having made the journey, me and my son had to promptly turn around and leave as he made it quite clear he was in no mood for a powerpoint presentation. Given one of the things carers of children can do relatively well, while otherwise having our hands full, is listen, this was something only a few small adjustments by the Labour Party could have fixed. It would have been easy to relay the presentation into a separate room that had a mat and some toys, so that my son's noisy babbling did not disturb anyone; or, stream the briefing online so I could participate from home. (I did ask for the powerpoint to be emailed to me, but, in the face of probably a mountain of preparations for Conference, the staff member duly forgot.) It doesn't take much to be more inclusive when childcare is so inflexible and expensive, and, starting as we mean to go, it is good to include children in politics and the public realm, with only a few adjustments needed to make sure proceedings aren't disturbed.
When my son came to Conference, again there were a few small adjustments that could have helped. It is wonderful that Conference provide a crèche, but as my son is not yet used to being without either myself or my partner, we felt it would be too much for him. So, at 9:30am sharp, we were going through security when I was turned away because my son needed a security pass too.
Of course, if this is the method for counting who is inside the building in case of fire or another emergency, that's fine, but, at 13 months, he hasn't had much of a chance to get a criminal record. It was 50 minutes later when he had been processed and given his own pass, which I will keep forever, in case in later life he does the unforgivable and decides to become a Tory (or to help with an authentic Labour backstory for when he Hilary Benns me)!
Having said that, the security guard let us skip the queue at Conference Services and the staff member went through the application as quickly as possible. Once in the Conference Hall, everyone was extremely friendly and helpful, and seemed genuinely excited to have a baby join in procedures. He happily crawled around Seamus Milne's ankles at the side of the Hall, and everyone was tolerant when we left a trail of half digested saltanas down the corridor, when he heckled Emily Thornbury with constant shouts of "tiger", and even when he clapped Keir Starmer's speech. It was wonderful that we weren't excluded, and Conference just needs to follow The World Transformed's lead by having a small children's area to make the space more welcoming and appropriate. In general, people's tolerance at both places was great; when I was concerned his cries were drowning out Hilary Wainwright at the New Socialist event, a steward said that if people can't handle that, they shouldn't be here and gave me her seat near the door so I could come in and out more easily.
At both Conference and The World Transformed, I felt a real sense that it was possible to transform our social relations and create "glimpses of alternatives in accord with the values that you are fighting for"1. Everyone was kind to each other (except the exceptionally rude heckler at our event); strangers engaged you in thought-provoking, good-natured conversation; delegates called to speak often brought a tear to my eye with their passion, hope and, often, humour, and the delegation responded with warmth, openness and respect. And, although technocratic and alienating, I could also see that the arcane procedures of Conference were being used to begin the long process of democratisation, making the party more accountable, and more in the control of, its members. Rather than subordinating members to the rules, the rules are beginning to be made fit for purpose as a tool for the members. It's pigeon steps, but it's a start; and one, importantly, that is supported by our leadership. One of the most interesting and, perhaps, under remarked upon (I think my sole clapping can be heard in response) lines of Jeremy Corbyn's speech, was when he said that Labour's aim was "not simply to redistribute within a system that isn't delivering for most people but to transform that system" and "for people to take control of their own lives". Why wasn't this line given a standing ovation? Because who knows yet what it means? For, "only when the core of existence stands revealed as a social process can existence be seen as the product, albeit the hitherto unconscious product, of human activity", creating the possibility that "this activity will be seen in its turn as the element crucial for the transformation of existence"2.
Photo: Andrea Marie
---
author