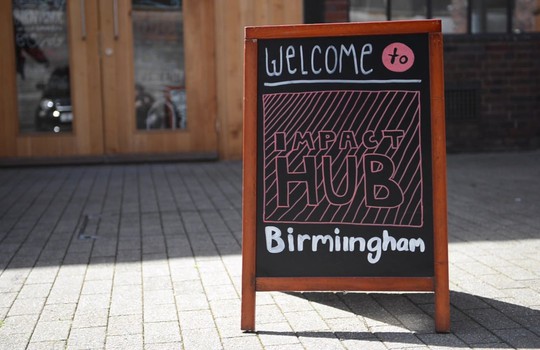 Interview with #RadicalChildcare at Impact Hub Birmingham
Amy Martin founded #RadicalChildcare at Impact Hub Birmingham in 2015. After piloting a pop up co-crèche at Impact Hub Birmingham - a work space with on-site crèche, they launched weekly provision in February 2017 and are now embarking on a project to challenge, re-imagine and expand upon the limitations of the current childcare system, with the aim of making "Birmingham a home for system wide innovation around childcare, children and families."
New Socialist Theory and Strategy co-editor Andrea Marie spoke to them about the challenges of setting up childcare driven by the needs of parents rather than being dictated by the market and what needs to change in order to allow this kind of provision to flourish.
Amy Martin - Founder of #RadicalChildcare
Paige Jackson - Co-Producer of #RadicalChildcare
Imandeep Kaur, Andy Reeve and Indy Johar - Co-Founders of Impact Hub Birmingham
PILOT TO PRESENT
Can you explain what the pilot pop-up crèche scheme was? Why did you feel it was needed? How did it differ from other provision on offer?
Amy Martin (Founder of #RadicalChildcare): Whilst on maternity leave with my first, Theo, I read a report by Nesta called Mothers of Innovation. I found it hugely motivating, it detailed the many ways that Mothers can change the world. The report explains that socially, commercially and economically, mothers are a force for innovation around the world and explains how and why mothers make such great innovators. I also came to the realisation that my working life was never going to be the same and that now more than ever I had to find work that enabled me to spend quality time with my family as well as work that was rewarding.
I was struck with how difficult the childcare conundrum was for everyone, especially freelancers like me, as for many traditional child care settings - a nursery or pre-school can prove expensive and rigid, with long waiting lists, large deposits, rigid contractual days and fees that duplicate the household mortgage or rent payment.
It was serving industrial 9-5pm workers and like many my work didn't match up; being freelance can mean droughts and busy periods, it can mean working evenings or early mornings and I couldn't find childcare that supported my work schedule. It seemed like many people made choices about childcare based on economic reasons, not necessarily what seemed best for the child. Going to work in order to afford childcare seemed incongruent to me. I, like many, see the childcare industry, largely run by private companies as hugely flawed. The best provision goes to those who can afford it rather than those who need it, our poorest children miss out.
Front line workers are often young women on minimum wage, there is little professional development or career progression for these young women but yet they are given the mammoth task of helping to raise our children in their most formative years.
I was a year into motherhood and disillusioned with my childcare options. I wanted to sense check with others in my situation and was invited by Immy Kaur at Impact Hub Birmingham to host a discussion. We hosted a lively conversation with a brilliant bunch of mums, dads, nans, policy makers, funders, artists, freelancers - those with and without children - on the complexities of the issue. Whilst babies and toddlers played I shared my #RadicalChildcare utopia, we explored what radical innovation in childcare might look like in Birmingham and discussed examples of other models from other parts of the UK and beyond, what made them successful and considered the specific needs of our community, especially freelance and nomadic workers. A few months later Arts Council England awarded me some funding and in 2015/16 we piloted 2 seasons of co-crèche at Impact Hub Birmingham, a pop up mission driven space with on-site childcare for working parents from the creative industries, plus a season of stay and plays.
The idea was simple – get some professional childminders in a room, supported by parent playworkers with some resources, toys, musical instruments, play kitchens, teepees etc. and offer to look after people's children whilst they worked downstairs. It was offered on a pay what you could afford basis and it worked. Sessions were 3 hours and a local children's centre advised me with the logistics - the staff ratios, health and safety, child protection etc. Parents who hadn't used 'traditional' childcare yet – either because they felt that traditional childcare wasn't for them or because their babies were only months old, were able to gently stretch the distance between them and their babies and see how it felt. The atmosphere was (mostly) serene and moms could come and go to breastfeed and check in as much as they liked.
You can learn more about our humble beginnings here
The pilot was not drastically different to other childcare provisions, but what differentiated it was that it was a parent-led provision (led by users as opposed to being dictated by the market). This was both empowering to the parents/guardians, children and facilitators and ensured a more intimate and purposeful structure, which was focused on the specific needs of the community.
Following the pilot we officially launched our weekly provision in February 2017. Not only have we provided a unique childcare provision in Birmingham but we are the first Impact Hub within the global community of 104 Hubs worldwide to offer this.
How have you moved on from the pilot in terms of the Hub crèche and Parent Membership scheme? What does it offer parents that other childcare does not?
Paige (Co-Producer of #RadicalChildcare): We now run this provision on a weekly basis for three hours every Thursday morning as part of the parent membership at Hub. This membership was primarily designed to support members who have pre-school aged children and need, or wish, to work away from home in a work conducive environment. Unlike other childcare services, parent members benefit from having their infant/s in close proximity to them, which can be especially reassuring if they are not used to leaving them in the care of others without them, for extended periods of time.
It challenges the status quo that childcare and work are binary choices, which they are not. It also enables parents to be supported by a vast network of other parents/guardians, and other members who can sympathise and empathise with them.
In addition to peer support the membership also gives parents/guardians the opportunity to just be people in their own right and identify as individuals, not just parents; in fact testimonials have highlighted that in becoming a parent member their confidence has improved and it has supported overall positive mental health. A few parent members who have left and their children now attend Nursery full time have relayed back to us that the crèche helped to build their child's confidence in preparation for extended periods of childcare and that our provision acted as a perfect buffer for both them and their child.
Can you explain what you are doing now in terms of the two year project looking at #RadicalChildcare in Birmingham?
Paige: From our inquiry and work so far, we have understood childcare as a system challenge; the issues and challenges are broad and won't be quickly fixed by single point solutions. So, we knew this work needed to be far beyond just our experimental crèche work.
RadicalChildcare aims to challenge, re-imagine and expand upon the limitations of our current childcare systems, which lacks the innovation to support and empower a plethora of family structures and communities.
No two families are the same, every family has their own unique cultural, economic and social identity which inevitably informs their decisions and choices. #RadicalChildcare represents both the individual and the collective frustrations, within our society, in protest for more equity and for more of a flexible, affordable, higher quality approach to childcare in the UK. We know that future innovation in this space needs to be citizen led, but also needs a broad system of partners from policy to protest.
Why not take a look at the #RadicalChildcare Proposal online here
We are super excited to have just received funding, from the Big Lottery Fund, which will resource the project over the next couple of years. In September, this year, we announced our launch into the development phase of a 2 year system accelerator that will help grow and invest in a broad range of ideas, not merely startups. We are starting six months of further exploration and research into the proposed areas of work that will be programmed in the proceeding two years, including: citizen engagement through facilitated workshops, parent-led innovation and an enquiry into the impact of short term childcare on children.
To learn more about the development phase, visit our website
PARENT AND WORKER INVOLVEMENT
You employ both early years practitioners and artists, why is this important in terms of the content of the sessions for the children?
Paige: Yes we do indeed and the simple answer to this is because it takes a whole village to raise a child; as the old adage goes. Our children's education and care settings should be as reflective of the outside world as much as possible. Children's services should be supporting their development and well-being, in addition to actively facilitating children's comprehension of society. Having practitioners and playworkers from a range of backgrounds with different experiences is not a tick boxing exercise designed to measure diversity, which is a tactical ploy that many of our institutions and organisations use today, instead our own personal experiences have enabled us to recognise and understand pervading biases and prejudices within British society. In childcare particularly there is still a strong preference for female childcarers, which not only affects people's chances of work but also isolates children's experiences to one that is far from realistic and or holistic. As a society our internal bias' and prejudices do our younger citizens a great disservice, which we do by curating false spaces for them that are inadequately representative.
I believe parents can be involved in the crèche as 'Playworker wizards' - part of a skills exchange (working 12 hours in exchange for premium membership at Impact Hub Birmingham). To what extent do parents and non-parents take this up? What is involved in the playworker training that they get? To what extent have fathers, or men in general, taken this up?
Paige: At present this is not the current format, that the parents can be involved as Playworker wizards. One of the main reasons for this is because we could not have all the parent members, at one given time, supporting the crèche as they simply would not get an opportunity to work; it would not be fair on the parents. We did think about rotating parent playworkers per session, but we soon came to the realisation that the absence of parents not on shift was disruptive for the children and often led to tears and upset. We do however recognise that this system can work if planned well, as demonstrated by some parent-led crèches in London (Grasshoppers In The Park being one located in Hackney) but we are still in the very early stages of running the crèche.
What we do have are several non-parent playworkers, from a plethora of backgrounds (some creative, some not) who work at the crèche. This role works on a trade exchange basis, whereby they receive full membership to Impact Hub Birmingham for their time and support. We have found that the gender ratio of playworkers is more balanced than that of practitioners, despite almost identical callouts, again this is most likely as a result of cultural stigmas which still perpetuate. This certainly was the case for one of our new Early Years Practitioners, who is highly qualified and very good at their role, yet they have experienced a great deal of discrimination in the past.
How do you offer childcare workers (both professionals and those involved in the skills exchange) more control over their work, given that, in the UK as a whole, childcare workers generally have poor pay and conditions? How do you balance offering flexible provision with ensuring good conditions and regular work for workers?
Paige: We are currently restricted to the provision being run one morning a week. However, upon entry to the Hub, both practitioners and playworkers know that they are welcomed and revered for their work. Without them the Parent Membership could not exist, which in turn would affect the balance of our community. It works like mutual symbiosis in an ecosystem, we are all integral to the success of the collective and so we naturally support each other in order to achieve this. It's the little things like: free hot drinks, an open breakfast bar, supportive staff who encourage candid communication and pay that is significantly above the national living wage and the living wage. We fully recognise and value that our staff have a very significant role in shaping and influencing the formative years of our younger citizens; the most crucial stages of development in a human beings life.
From very early on we learnt that the efforts of individuals working in this sector are often undervalued and undermined.
Once again this is subsequent to cultural misconceptions and a skewed perception of the jobs' value.
STRUCTURAL OBSTACLES
What obstacles did you face setting up a crèche on a more permanent basis?
Paige: Wow, well let's say it wasn't a walk in the park!
Along the way we have discovered that to run a crèche on a more permanent basis - which we have started to plan - costs a fair bit and requires a dedicated team to manage and run. As we approach a more regular and expanding provision, there are a lot more legal and financial responsibilities to take on.
It is a possible indicator why other work spaces have avoided offering on-site childcare provisions, although we do hope to partner up with and learn from Third-Door - a flexible workspace and nursery based in Putney, london - who have over 7 years' experience. It is also important to note that we currently run the provision as a loss leader, so we subsidise a lot of the overhead costs in order to ensure that the provision is as accessible as possible to a wide range of members.
There have been significant problems with the implementation of the government's 30 free hours due to the low subsidy, what problems have you found with 30 free hours?
Andy (Co-founder of Impact Hub Birmingham and financial advisor): Our provision does not yet accept childcare vouchers at present. We are aware that this offer has led to issues for some settings, limiting the number of free places they can offer, sometimes charging parents for resources such as nappies and food, forcing provisions to hire less qualified and cheaper workforce, to the most extreme of cases where services have had to close down altogether. This is an unsustainable and problematic model which needs to be redressed if it is to have a more enriching effect on our children. In an ideal world all children would be eligible for universal education/care from ages 0-18 years, which would be subsidised by the government. In doing so this would relieve parents of unnecessary financial pressure and stress and would afford them more time to focus on parenting instead.
Given the type of (often freelance) workers that use Impact Hub Birmingham, offering childcare that fits around parents' lives is important, is this the driver of your provision? How, in the current situation, are you finding it conflicts with other goals, such as offering affordability, high quality and sustainability? How do you balance these competing demands?
Paige: Indeed we do have a lot of members who work more nomadically and less traditionally 9-5pm. This is reflected across the whole of the UK as C21st work environments are rapidly changing, compounded by the uncertainty of Britain's economic future, post-Brexit. More and more people than ever before are leaping into the world of self-employment and freelance work in order to support their aspirations and suit their needs. So yes, this certainly was one of the significant driving forces that inspired us to set up the Parent Membership and crèche provision. Whether joining out of necessity or because of choice, it's important, for us here at Hub, to provide the space and opportunity for everybody. Our setup has never affected the quality of our provision as this has always been a high priority, however in the beginning we were uncertain how long we would be able to sustain the provision financially as the membership fees continue to be subsidised by Impact Hub Birmingham.
Unfortunately, we continue to live in a society that still needs to be challenged about Britain's colonial history. A history in which the foundations of wealth and Empire has and continues to profit on the capitalisation and destruction of others, whilst some are bestowed inherited privilege.
Despite hard work, ambition and determination many British citizens have not been afforded the privilege to a quality education that would support them in earning a decent living wage, which in turn would greatly impact their ability to support their families. Sadly, in 2017 we still absurdly value and de-value professions through antiquated feudalistic and patriarchal measures.
A child's chances later on in life are markedly influenced by their early education, but generally speaking, as a society we struggle to even provide families and children with the absolute necessities and yet we are supposedly one of the most developed countries in the world. Collectively we need to be more supportive, as Audre Lorde once said "There is no such thing as a single-issue struggle because we do not live single issues lives".
You say you have entered into a contract with a childcare provider. What's their role, and was this necessary in order to be able to roll out the pilot scheme on a bigger scale? At New Socialist, we are interested in forms of childcare that are outside the market, how do you ensure that market mechanisms are subordinate to the aims of organising "childcare that truly works with how people would like to live"?
Paige: For the first 7 months we entered into a contract with Naomi, the proprietor of Juste4Kids, this was a family run start-up business providing pop-up childcare. Having being recommended by Amy, and speaking to Naomi about how she and her staff envisioned to deliver childcare, we mutually supported each other's aims and kickstarted the crèche here at Hub on a weekly basis. It was as much an opportunity for us to work with a strong cohort of professional childcare practitioners who, already had links to the community, as it was us supporting their growth; again this idea of mutualistic symbiosis. Naomi had also worked extensively with Amy and a group of parents and non-parents during the initial research stages of the pop-up crèche, so it made sense to follow through with the provisions with somebody who was already familiar with our work and ethos. As aforementioned, the childcare that we wanted to deliver was less about making it work with how people would like to live but more to do with being able to deliver childcare that truly works according to how people are living. We were and are still aware that there are some families who are unable to access our provision, and this will be understood more as we work with specific individuals and community groups, despite the fact that Hub already subsidises a considerable amount to make the Parent Membership as accessible as possible whilst also ensuring that it is economically viable. Again going back to my point earlier, I believe that childcare provisions are trapped in this vicious cycle of trying to offer affordable, high quality childcare universally, whilst being able to maintain an economically feasible provision. This has proved to be the biggest balancing act for us so far.
THE FUTURE OF PROVISION
What you are developing across Birmingham, with the aim of making "Birmingham a home for system wide innovation around childcare, children and families" is really interesting. How do you imagine the future of childcare in Birmingham?
Paige: Everybody has their own personal opinions but I think most people that I or my team have spoken to have expressed that communities need more devolved power to plan, setup and run their own initiatives which are suitable to suit their own needs.
Individuals, families and communities should have more transparent and easily accessible resources and support to help them build their confidence and skills to deliver grassroots collective provisions in a range of ways.
I see the future of childcare in the UK more purposeful and driven by a society that has a greater understanding and awareness of the importance of child development and well-being and one that recognises that our children are already citizens in their own right opposed to kids waiting to suddenly transform into informed civic beings on their 18th Birthday.
I imagine a future where childcarers are valued a lot more than they already are - valued as much as our engineers, our doctors and our University lecturers. A future where every child has access to high quality care and education, resources and areas to play, discover and learn. Despite Birmingham being the youngest city in Europe there is very little space for children to gather and play, especially in the City centre.
The CBD is very much the central "business" district, which is great in the sense that it attracts a lot of business into the region but terrible because whole generations of younger citizens have been undervalued, overlooked and not been provided with the quality or quantity of provisions needed to support their development all the way through to adulthood.
So I really do hope to see as much attention paid to the curation of child friendly and child inclusive spaces in Birmingham over the next few years as their will be towards HS2 and economic growth and development.
Here are some ideas and future vision's as captured by Amy Martin, Founder of #RadicalChildcare and Indy Johar, Co-founder of Impact Hub Birmingham.
What policies and legislation would help you, both on a local and national level?
Paige: Here are a few of the many policies and legislations that would help us here at Hub as well as parents/families/communities across the in the UK:
Universal Free Childcare 0-18 years;
Higher payed and extended paternal (secondary carer) leave e.g. the "Use It or Lose It" system which is being used in countries such as Sweeden;
The Nesta innovation foundation are investing in new engagements that support and promote parental inclusion within the childcare sector;
Support training and resourcing of parent-led co-ops as encouraged by the New Economics foundation;
Supporting the creation of anti-poverty child care systems as recommended by the Joseph Rowntree Foundation;
Greater overall support from OFSTED.
Are you looking to any international models? If so, what?
Paige: Yes, we have looked at a few international models across the globe particularly in Sweden and in the US. One of the most interesting models we came across was the on-site corporate-sponsored child care provision at outdoor clothing company, Patagonia, which was set up in 1983. For over 3 decades now their childcare model has grown from strength to strength from its informal employees taking it in turns to babysit each other's children format, to now having a formal nursery run by professional child practitioners; offering high quality childcare to all its employees. Co-founders Malinda Chouinard and Yvon Chouinard, as parents themselves recognised the need to support families as they juggled to balance work and childcare and went about addressing this issue. In fact they have curated a wonderful book titled, 'Family Business: Innovative On-Site Child Care Since 1983', a comprehensive account of their company's journey from it's very humble beginnings up to the present day, full of witty anecdotes and invaluable lessons learnt - I highly recommend!
Why not take a look at some other projects we love here
Do you think other workplaces should be investing in childcare? What could other workplaces offer and how could this be encouraged?
Paige: Without a doubt, absolutely, I strongly feel that more workplaces should look into providing on-site childcare or partnering with childcare providers to support their workers, the majority of whom are most likely parents/guardians themselves. I believe that more organisations/companies should be actively lobbying their local councils and the Government to offer more support to guardians and child care services, so that we can all collectively focus on the children themselves and delivering the care and education they deserve.
INHERITANCE
How do you see #RadicalChildcare relating to the Playgroup Movement (which led to the Pre-School Playgroups Association) and to the women's movement more generally (in terms of women's demands for childcare that led to the Playgroup Movement)?
Amy: It relates because #RadicalChildcare much like the Playgroup Movement has come from a direct need from parents and children.
Many of the co-working crèche initiatives being set up around the country have been and are being set up by freelance parents wanting to find flexible, affordable provisions; often not for commercial purposes but to serve a local community of other freelance parents.
The introduction of legislation led to the demise of playgroups which forced a lot of parents to minimal childcare options, most of which were not affordable and commercialised. The way that we work is changing and so the childcare industry needs to adapt. Otherwise proactive parents will do it themselves!
---
author