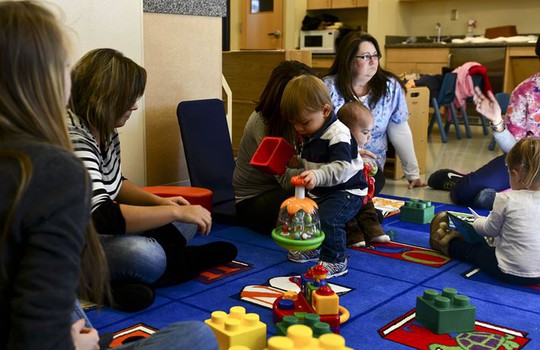 Interview with NEF's Lucie Stephens: Reinventing Childcare for the 21st Century
Lucie Stephens is Head of Co-Production at the New Economics Foundation and is currently working with parents to design and deliver parent-led cooperative childcare. New Socialist Theory and Strategy co-editor Andrea Marie spoke to Stephens about the state of existing childcare and how we might do things differently.
The government have recently extended the free childcare entitlement to 30 hours for 3-5 year old children of working parents, and the Labour Party are pledging to increase this offer to all 2-5 year olds. Within this current consensus to increase childcare, what's the current state of childcare and are there any issues arising?
British parents face the second highest childcare costs in the OECD, with couples contributing on average a third of their salary for pre-school care.
Parents in London pay 36% more than elsewhere in Britain. Overall, 60% of families in England pay for some form of childcare1. For many families, this is part of a broader patchwork of arrangements with paid care and informal sources of support such as grandparents, friends and neighbours too.
Quality of childcare remains patchy, and is particularly problematic in poorer areas. In poorer areas childcare providers face higher numbers of vacancies, lower profitability, greater business vulnerability, and higher dependence on free hours. Research by the New Economics Foundation has shown unequal access to high quality childcare triggers and intensifies a range of income, gender and social inequalities2.
Childcare is a very poorly paid profession, with low morale, and few opportunities for advancement. Training is of mixed quality, and most childcare workers are on very low wages. Research in 2015 found that pay is particularly low for childcare workers employed in the private sector, £5.60 per hour compared with £7.80 in the public sector. 98% of the childcare workforce is female, cementing gendered images in young minds about whose role it is to care.
Working lives are changing and parents are looking for greater flexibility in their childcare arrangements. A growing number of people are self-employed often moving in and out of work. This means that the traditional childcare offer of regular weekly hours doesn't meet their needs.
So childcare is facing challenges with affordability, quality and flexibility with a workforce that experiences poor pay and conditions while demand for childcare continues to grow.
We need to ensure that childcare isn't seen as a single issue, as something separate, a 'women's problem' or a 'families problem'. Childcare is absolutely fundamental to, and a critical part of, the social infrastructure. To make childcare work we need a rounded approach that involves employers, local communities, housing providers, local and national government all playing a role. It requires adequate funding.
We need to question the extent to which we can really see childcare as a market place driven by profit.
That is not to dismiss all private provision, there's some brilliant private provision out there, but when there's a limited amount of public money invested into making childcare affordable, it is difficult to see money taken out of the system in the form of private profit whilst parents and childcare staff are struggling to make ends meet. Parents need to regain control over childcare in order that we can play a much more active role in shaping what the purpose of it is, what the values are within it, how and when it is provided.
Do you think that, structurally, the private childcare market place can deliver this 30 free hour offer?
The current childcare market will struggle to provide high quality 30 hours of 'free' childcare. There are various pieces of research and campaigns from within the sector that highlight that the rate of funding for the '30 free hours' does not cover the real costs of provision. As a result many providers are limiting the number of places they offer and charging for additional costs, such as meals, nappies and additional activities in order to top-up the shortfall. The National Day Nurseries Association have noticed an increase in nursery closures, saying those most affected are small but much-loved and long-established preschools.
NEF recently released research that showed for the Government's new 30-hour free childcare to be sustainable, nurseries would have to pay their staff below the minimum wage to break even. This would mean a pay cut for 62% of the least-qualified nursery workers in the country. Of nursery workers with at least A-level equivalent qualifications, 85% might expect a pay cut.
In practice nurseries will almost certainly look to make savings elsewhere, either by charging more for 'extras' or cutting services. Evidence from the sector shows that many providers are facing higher administrative requirements and fear for their future sustainability.
With smaller, independent nurseries closing there is a risk of greater reliance on a few big childcare chains. There is really interesting lessons from Australia. ABC Learning were a large childcare chain. At their peak, they were providing childcare for over 18,000 families. Their model was buying up smaller childcare providers and standardising the childcare offer. When the global financial crash came, they collapsed and the doors closed overnight. This left 18,000 families without childcare, which had huge implications for the children, for the workforce and consequently for the economy. They had become too big to fail so the Australian government had to step in and bail out these nurseries. I'm not saying we are at that stage yet in the UK but there are a number of large chains, that have multiple sites.
For example, Busy Bees, one of Britain's largest nursery chains, currently operates over 340 sites, regularly caring for over 19,000 children. In 2013 Busy Bees was bought by a Canadian Pension fund for £220 million. When childcare is operating at this scale parents are inevitably seen as consumers rather than participants. This reduces the role that parents can play.
Do the Labour Party need to be more imaginative than their current offer to fund the 30 hour entitlement better?
Nearly four-fifths (79 per cent) of all childcare places are provided by commercial businesses, underlining the government view that their role is to stimulate the market, rather than directly provide services.
The biggest providers are chains backed by private equity investors, who are likely to look at a nursery with a very different eye to that of a parent. We need any new policies to look beyond the presumption that the majority of childcare will be provided for profit.
We need to ask ourselves instead of this market place, might there be a more community owned approach that can create good conditions for childcare staff, provide the flexibility and quality that parents want and add value to the local community. NEF's work shows that parent-led childcare does this.
Is there this type of community owned or co-operative provision in the UK at the moment?
NEF has been researching this recently. More than 40 nurseries in England are run by the Mid-counties Co-operative. Over 60% of parents using this childcare are members of the co-operative, so receive a share of the profits – which worked out as a 3% discount in 2011 or over £150 per year. In these examples parents are members but don't play an active role in the nursery.
The distinctive elements of parent-led childcare are straightforward: they are about parental ownership and parental contribution:
The majority of parent co-ops we have found started informally - a group of parents realising they had an unmet childcare need, and helping each other out in an organised way, perhaps rotating care for each other's children between their houses. This is significant - the culture is that the parents own the childcare setting - they are not being invited in by the professionals.
Successful parent co-ops expect parents to contribute time and skills to the management and administration of the nursery - from managing communications, to fundraising, to admissions, to staff management. The level of involvement is usually guided by how many hours the parent's child is attending each week.
Internationally parent-led provision is much more prevalent. There are over 500 parent co-ops in New Zealand, making up 12 per cent of the market there. In Canada, parent co-ops make up about 9 per cent of childcare provision, reaching 34,000 families. There are 910 parent co-ops in Sweden, looking after over 20,000 children. And in the United States there are over 1,000 parent co-ops today, yielding a revenue of $420 million and creating 6,000 jobs. They do exist in the UK but the numbers are quite limited and it's not a choice for all families at the moment.
This approach is linked to things like the pre-school movement. Belle Tuataev established the first pre-school in London in the 1960's. A group of mothers came together to find a place where their pre-school children could come together to play.
In the 70's and 80's, through necessity, groups of women particularly were involved in organising and supporting groups in order to ensure opportunities for their kids, opportunities for them to link up and work together with other mothers in their area and to get some of that cover that they required so that they could re-enter the workplace. It was very reliant on women and at a time when, for women, the workplace was less significant than it is now.
Our interest in reviewing those models is seeing how we reinvent them for the 21st century family, because the examples like Grasshoppers and Childspace have evolved to be relevant to modern day families.
For example, in the sites we have visited childcare shifts are shared between both parents, meaning there are more men in the setting than is usual for the sector, showing children that care is not gendered. The hours that parent-led settings are open have evolved to reflect the changing requirements of the families that are their members. This emerges because parents play a role in the management and delivery of the provision.
Why do you think both men and women are involved more in this type of provision?
I think it's a push and a pull, it's partly to do with families trying to balance the childcare shifts that they can do - by sharing that between both parents, no-one is using all of their holiday time and it's not shutting someone down in terms of their capacity to be able to work. But I think it's also driven by desire.
The surveys are showing that more and more parents expect and want to be able to play a more engaged role in their kid's early years.
Surveys such as the Modern Families Index are showing there is a real change in people's expectations of family life and the role that they want to play with their children, particularly for millennials. For example in their 2017 survey 36% of Dads (41% of Millenial Dads) said they would be willing to take a pay cut and work fewer hours in order to spend more time with their families and balance family responsibilities better. This is revealing that people's desires for work and family life is not matching the reality that people are experiencing at the moment.
How do you think childcare can be tailored more towards what parents want?
In parent-led childcare parents are playing a role not just in how things are delivered but actually in designing what it is that they need. Working collectively parents are able to shape services that meet their needs.
This is happening in lots of different ways. For example in Birmingham, entrepreneurial, self-employed parents are finding that the rigidity of the current childcare offer doesn't match the reality of their families. They've opted to work flexibly but they can't find a childcare offer that reflects that. So many parents who we've spoken to are saying that they are being forced to work longer hours than they would want to in order to pay for childcare that they don't really need or want and they feel trapped.
For parents today the system can feel very transactional. Our role is as a consumer and so the choice we have is between the price you might pay from one provider to another – and to be honest there's not even that much choice in fee's in lots of areas. There isn't an opportunity to influence the culture and values of a setting, the flexibility or the mechanism by which that care is provided or who is providing that care and what they are paid.
The New Economics Foundation is interested in helping parents to take control and play a much more active role in the early years. We want to bring together the unique skills of the 7.7 million families with dependent children to compliment the skills of 427,000 childcare professionals who work in the childcare and early years sector. It's not about taking childcare professionals out of the picture, but it's recognising that parents can bring something else. It's also about supporting parents to learn and develop. I should declare, I have a personal experience of co-operative childcare as well.
Can you tell us a bit more about your experience of using co-operative childcare?
My husband had to work for a year in Toronto, Canada so we moved out there when my daughter was 2 years old. I was still doing 2 days a week in the UK from a distance. Suddenly we were in a new city with no family networks and no friends and I needed to find some childcare for my daughter. Luckily I came across a parent led childcare co-op in the neighbourhood. It had the flexibility I needed, but also, within a month of joining, we had a network of 16 families with children of a similar age who lived nearby.
It really went beyond meeting our childcare needs, it was joining a family of families.
They quickly became friends, were people who we spent that year with, who we had play dates with, who looked out for us and helped us out loads. It changed what could have been a very isolating experience of parenting into something that was more of a shared endeavour.
What really struck me through being part of the co-op was the depth of our relationship, which became very deep very quickly. When I was doing my shift, I saw their children at their very best and their very worst. You began to understand that everyone else's kids went through the ups and downs that yours did and that you could share those problems and support one another through that. Working alongside parents and professionals I picked up techniques from the professionals but also got support from parents. Sometimes it was as simple as acknowledging that sometimes parenting can be really hard and you don't always get it right. It's hard to create these networks of families, even though we know 'it takes a village to raise a child'.
Parenting can be a lonely experience for a lot of families in the UK. Action for Children found that 24% of parents said they were always or often lonely and data from the Office of National Statistics shows that personal wellbeing dips between ages 35 to 54, a time that typically covers parenting years. Having a route to build parent networks that meet your immediate need for childcare, but also become a support network around you and your children, I think, is a really really powerful element of it. And that is in opposition to a broadly consumerist model where your choice is take your child elsewhere, pay a different fee, find a different service. It's not about actively engaging in and starting to shape your child's early years experiences.
How does parents being involved affect childcare workers? How can we include them in ownership and control in a co-op?
Of the few examples that we've found, particularly in London (and again, that's partly through the reality of a lot of these examples being heard about through word of mouth, as there's not a clear network, advertising or sign-posting as there is in other countries), what we've seen is staff tend to be on better pay and have higher qualifications than is average for the sector.
Parents recognise the importance of what they're doing and are actively investing in those staff as a resource for the setting.
Staff tend to have been in post for a lot longer than is average. This is important because the kids need to be able to form secure attachments with people, so there's a real positive that staff tend to stay around longer. In terms of the managers of the nurseries, we tend to see qualifications that are higher than average, and all of the nurseries that we've looked at have been rated as either good or outstanding by OFSTED.
What makes parent-led nurseries work well?
Over the last year we've had funding from Trust for London to look at parent-led childcare and what it would take to get more of these nurseries off the ground. We've worked with the Family Childcare Trust to understand what support could we provide, or others provide, to parents to make this happen. When we've been to places that were working in this way, what was quite clear was that the professionals are so key when parents were playing an active role. Professionals clearly valued and trusted parents and saw the potential of parents. They were very frank, you know, and at times it didn't go so well, sometimes there was conflict that had to be resolved and other things, it wasn't totally rosey but, at its root, they saw parents as the most important early educator in a child's life and a critical partner for them to work with. In settings where parents weren't playing that active role, there tended to be a professional culture of parents being a bit in the way and a slight distrust of how much you can ask a parent, how much that they would do.
We've also been interviewing parents to find out what they made of this type of approach, given that it's below the radar. We were particularly interested in speaking to lower income parents because where the model is strong at the moment, it tends to be, middle-income families who are most engaged. A lot of those parents are working flexibly, so the financial savings are really important to them. In the interviews we targeted parents, who hadn't been involved in any setting like this.
There was a significant number of people who were really interested in playing a more active role in their child's early years and feeling that they currently faced a fairly black and white choice, either you don't work and you stay home, or you hand the baby to someone else's care and you are at arms lengths from that. People seemed to feel comfortable that they could fit shifts in the nursery alongside existing commitments.
Importantly all the parents that we spoke to said for them to feel really confident in doing it they would want a level of training themselves and to know that other parents who were taking part had also been trained.
What type of training do parents want or need to take part in a co-op?
Parents definitely need training and support to take part. They need to be DBS checked, to understand health and safety procedures and children's phases and stages. The aim is not to turn parents into mini childcare professionals, but it is about building parents confidence. Formal training and ongoing mentoring from professionals will help parents to understand play based learning and the different phases and stages of the children. Parents will learn about challenges for children with special educational needs and disabilities and how to support those children in a setting. Parents will need to be part of a conversation with the staff about common standards in terms of parenting approach, what is acceptable in terms of discipline and other things when children are in the setting.
So training will be a really critical part of providing support to parents and it will be both formal training in helping them to build their confidence in one another and build their networks between one another, but also then the informal training and training that comes from doing shifts alongside the childcare professionals and things that you pick up then.
One parent in Scallywags Nursery in Bethnal Green, London said that if you've got professionals who are willing to be under parents scrutiny day when they're at work, that takes a particular type of person with particular confidence.
What do they do in other countries to encourage co-operative provision?
We're just at the beginning of looking at what is happening in other countries where there is a more established sector, to understand what might help here. In Canada, where there is a significant sector, they have legislation that, if the nursery is registered as a coop, you are allowed then to supplement a few parents onto the rota for a number of staff, so there is a legal incentive to enable coops to set up that then builds into that legislation the fact that they can put parents onto the rota which will bring down overheads – staff costs, and staffing makes up to between 80-90% of the total cost of childcare on average so that seems like quite a strong incentive.
The payment of childcare subsidies is much more devolved in Germany.
In Munich, where there is a network of childcare co-ops, they have recognised the value of this type of approach where parents are playing an active role in the setting, so the subsidy that they give to every child is increased by 20% if they are in a parent co-op. That is quite a strong financial incentive.
So there are things in place in different countries that are starting to making it more profitable.
What could be done in terms of legislation and policies on both a national and local level that could encourage co-operatives?
In very practical terms, at the moment one of the major barriers that parents would face if they were wanting to set something up like this is the upfront costs and the difficulties in finding suitable premises.
It costs around £100,000 to get started – including finding suitable premises, equipping the space and getting registered with OFSTED.
So we're interested in ways in which parents could be supported to get through this stage, perhaps something like a Parent Innovation Fund or a Childcare Innovation Fund which enables people to draw down different funds to test out different models, get past some of those up front costs which would be such a barrier to so many communities. We could perhaps look at implementing that on a repayable loan basis, so that once organisations are up and running and financially sustainable, then they might be able to repay some or all of those fees. So it's doesn't need to be a one way investment necessarily.
After the enormous start up costs, what's the other financial barriers that parents face to establish alternative provision in the current situation?
The other piece of work that we've done over the last nine months with the Family and Childcare Trust is build a financial modelling tool that, because it's so complex, builds in all of these different variables. We will now be working with a group of parents to co-design a childcare offer to meet their needs in their community and then make sure that is financially sustainable over a five year period: what the costs would be, what sort of fees you would need to charge if you want your staff to all be on a living wage, etc.
If affordability is the key driving force, does that mean you have to compromise a little on flexibility, and we can only really understand that when we're doing our financial modelling and looking at what the trade-offs are.
But because so much of childcare provision is private for profit, lots of that knowledge is viewed as commercially sensitive and it's behind closed doors, so it's a real education for parents to understand how charging works.
What do you think about a demand around paying parents directly for the care of their children, which could be something they pool together with other parents to create informal networks of care, or to create an arrangement which they formalise to pay childcare workers, would that fit with the co-op model? How can we help parents access those different resources?
More generally we are interested in parent-led innovation, and, in terms of looking at the evidence for what's good for kids, that opportunity for socialising and playing alongside other children is really important.
The route by which you create that space and put parents more in control I think is really interesting, as well as how you begin to unlock some of the wider resources in the community, as there are empty spaces and under used spaces.
I was just meeting with a housing association the other day who were really interested in how some of their community buildings could be made more available to the community. This could be for groups of childminders who might want to connect and do activities together and bring some of their care costs down. Or you could see that working more through groups of parents who might want to come together and use some of these existing spaces. Ideally you can create a blend of both parents and professionals. It's about putting power back in to the hands of parents. To some extent the assumption over the years has been if you put money in parents hands then they will somehow be able to have control, and I think parents are feeling that it's not enough to simply have the money, you're still stuck then in this transactional approach where you are consuming the model as a product rather than being in the driving seat and helping to design the types of product that you need. So it's the combination of money and knowledge and access to different types of resources and support that I think will really start to unlock it for parents.
I notice with some co-operative provision that there is an opt-out from doing shifts in the nursery whereby if you can't do your day you can just pay a bit more instead. Do you think that flexibility helps parents when, say across a year, there will be times when they can't commit extra time, or does it take away from the ethos of that service?
Grasshoppers say they built that in because if, at a certain point in time, particularly if a parent has other care responsibilities, perhaps a new baby that can't come into nursery with them, or caring responsibilities for another adult, then they might struggle to provide their shifts for a period of time, and it tends to be very short term. Similarly, someone at Scallywags said, if you did the hard economic analysis of what my costs are from not being employed today, less the costs I would pay for childcare for the day, I probably wouldn't say I was making a huge saving, but the other benefits that you get from being involved as a parent and that wider sense of value beyond pounds and pence still makes it a good choice for them.
When we were looking internationally, some providers in the US were looking at different ways of adapting their shift patterns so parents in some cases were able to enlist relatives as well. So there were grandparents sometimes coming in and doing the shifts in place of parents. There was someone in the nursery in Hackney who was doing that too.
They were saying actually that often the burden of care has been transferred onto grandmothers. They can be in the sandwich generation providing care for elderly relatives and taking on quite significant care responsibilities for grandchildren. So including them in the co-op brings the intergenerational benefits to the children in that sense of seeing different people be part of their care, giving them different experiences, but also including them in the co-op might be relieving the burden from some of these grandparents who would otherwise be providing significant amounts of childcare at home alone.
Parents can also take on other responsibilities, for example, doing the book keeping in the evenings from home. It's still a vital function for the nursery to keep running and it keeps their costs down, for those that can't be in the nursery.
It just highlights again how the conversation about childcare runs immediately into a wider conversation about work. We need to think about quality work and good work for people in the childcare sector and how we value the role that they play which is so vital for kids' early years. But we also need to think about what work we do and how work enables and supports us to also be parents and families. Childcare should be an issue for employers as much as it is for parents.
What challenges are there to extend co-operative childcare?
The challenge we've got is making sure that the different models and the type of innovations that are coming through and being parent led are accessible to all families. Because there is a risk at the minute that those with the social and financial capital to innovate are able to do that, it could then be increasing choice and opportunity for a group who already have a relatively powerful relationship to others in society.
Trying to make sure that parent-led provision is available to families with low and high social and economic capital.
We want to see this approach engage more families, whether that's families with single parents, families with same sex parents, families on high or low income.
How much do childcare co-ops have a relation to the women's movements?
It has been very much about parents wanting more control and a chance to decide their role and for some parents it's also about reclaiming the positive elements of caring which women may otherwise feel distanced from by being in a workplace and in employment.
This is a different way of incorporating those as a positive into life alongside being able to play other roles as well.
I'm excited by the way it appears to be shifting parents' expectations of one another. The kids who are going through the nurseries now are seeing their care provided equally by male and female have a very different sense of what their role will be as carers in the future and that's fundamental to us equalising opportunity.
The fact that 98% of the childcare workforce are women is going to be cementing some of these expectations for kids no matter what they hear, it's what they are seeing and what they're experiencing in the day to day that is continuing to reinforce some of these stereotypes.
---
author